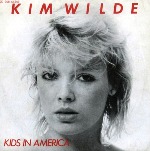 Many children have followed in their parents' footsteps and in the music business just look at the 'kids' whose career was more successful than their parents, both Enrique Iglesias and Miley Cyrus have surpassed their father's fame, but probably the most successful British female to do that is Kim Wilde, whose father, Marty had 13 UK hits, her mother, who was Joyce Baker and a member of the Vernons Girls had five hit, whilst their daughter has had 30.
Marty was 19 when he had his first hit single and Kim was 20. Marty started writing his own songs at an early age whereas Kim was a bit older, but she didn't have to worry as Marty's son, Ricky, embraced the art of songwriting and became a pop star himself between 1972 and 1974. With singles like I Am an Astronaut and Teen Wave and charted in Scandinavia. After Teen Wave he joined his father's band and collaborated with him in writing a dozen of his sister's hits including her debut, and most successful, Kids In America.
So how did Kim and Ricky's careers being? Ricky explained, "I went from leaving school at 16 to joining my dad's band, I was in his band for about a year and doing the same songs every night, after a while I was thinking 'this is great fun, but I want a little bit more than this'. My dad always said, 'songwriting is where you can really do well'. So I thought I would give that a go. The first song I wrote was a track called Falling Out. We went into the studio and recorded about three or four tracks with me singing and Kim doing the backing vocals. Then I tried to get a record deal. Thankfully, one of the first places I went to was Mickie Most's label RAK and Mickie heard them and liked them and said, 'You better come in and record them'. I wanted to produce them but Mickie didn't feel I was ready as I was only eighteen then. I was a little bit pissed off about that but it wasn't a big deal. So I thought, what the hell, I'll just cut these tracks with another producer. So while we were recording these, I said to Steve, the guy producing us, 'Is it alright if Kim does some backing vocals?' And he said 'yeah'. So she came in, singing like a canary, and Mickie came in while all this was going down, and he said to Steve, 'she looks good, she's got a really nice voice and I think she could do things, this girl. I think we should do something with her.' Of course I was sitting there thinking 'hang on a minute, I wanna have a crack at this'. I thought this could be my chance. So I booked a studio in Hertford that was owned by a band called the Enid for a couple of days and I went home and wrote Kids In America with dad, took Kim in, recorded the song, took it up to Mickie and said, This is a track I've done with Kim, what do you think?. He said, "I think it's an absolute smash."
Marty remembered, "The melody line was written by Rick at our Hertfordshire home and it really came quite quickly, in about half an hour. We originally thought it would be a great title for an album as well as a single and had this vision of the sleeve which would feature a New York skyscraper with Kim's face in an aura in the background instead of the sun or moon. It was our first hit, written for enjoyment and we were delighted that it got as high as it did."
Having written the song and gone into the studio, there was one thing missing, Ricky explained, "Bless dad, he's the one who came up with the title. We were in the studio and we had everything but the title, and he goes: 'What about Kids in America?' "That's the one, that'll do, lovely."
What did Kim think at the time? "I knew it was a hit, and within a month it had been remixed in Mickie Most's studio. The record was all quick-quick-quick. It was demo'd quickly, mixed quickly, and went up the chart quickly. That's the way I like pop music to be: write a good song, sing it, and get on with the next before there's time to think about it too much."
Not all the lyrics make sense, for example, the line; 'From New York to East California' will take you round the world and across the country's most westerly State. When Kim was asked about it, she replied, "Where the hell's that? I still don't know!"
Many acts have covered the song most notably in 2007 when The Jonas Brothers retitled it Kids of the Future and included it in the Disney movie Meet the Robinsons. The song was also covered by Len for the movie Digimon and by No Secrets for Jimmy Neutron: Boy Genius. There are a few other versions by bizarrely named bands like Lawnmower Deth, Chaos Engine, The Local Oafs and Naked Aggression. Better known acts have covered it too, Atomic Kitten, The Bloodhound Gang and One Direction are just three of them. Surprisingly, the first cover version of it was recorded in Finland, with lyrics in Finnish. The title was Kaupungin lapset and was sung by Mona Carita.
The memorable video was fairly simple and directed by Brian Grant. Kim remembers the experience. "Of course I'd never made a video before and I found it very easy to do. I remember having a connection with the camera, which I found surprisingly easy to do, to watch it and to look at it and to dare it, flirt with it. It came very naturally. I wasn't trained for that, I just was a natural flirt, I suppose. Brian actually sent someone out to get some wine to get me a little bit… more relaxed (laughs) and I think it did the trick. "Incidentally, the striped T-shirt she wore in it was bought at a jumble sale.
In 1996, everything changed. "I was in the business from when I was 20 to 36 years old," Kim revealed, "And by the time I stopped I thought I would never sing a song again. I did eight shows a week for some time, and I just couldn't take it anymore. Then I met my husband and thought: Okay let's start a new chapter. It was a relief, a bit scary, but mostly a relief. Within a few years I got my children and turned my back to the music. And it was really great. I didn't miss it at all. I loved to raise my children, went to college and learned about gardening. I was Mrs. Fowler and not Ms. Wilde." She made an equal success of being a gardener and when I interviewed her in 2007 on her way to opening a new garden centre she told me she absolutely loved it.
At the end of 2012 things changed again. She was on the way home from a Magic FM Christmas party and whilst on the tube and, shall we say, a bit tipsy, launched into song. She said, "All the people on the train looked really miserable it looked like they needed cheering up. Unbeknown to her at the time, a commuter, Katherine Eames, began videoing it on her mobile phone. Katherine said, "After a truly rubbish day, I got on the train home and couldn't get a seat, a man pulled out his guitar 'Oh here we go!' I thought. Then a drunken woman starts singing. Hang on a minute, I know that voice! It really was Kim Wilde! This totally made my day. She is an absolute legend!" What did Kim think? "I was with my brother, on my way home after some drinks. When I woke up the next day it'd all kicked off on Twitter and I thought, 'Whatever career I have right now, I probably buried it.' What amazed me was that people thought it was fun and sweet and it's made me realise that the public have more time for me than I thought."
It has since prompted her to get back into music. She released a Christmas album in December 2014 and well as re-recording her 1987 hit Rockin' Around The Christmas Tree this time with another eighties pop legend, Nik Kershaw. She also hosts a show on Magic with Rick Astley from 10am to 2pm on Sundays.