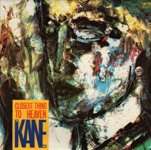 Elvis Presley did it in the fifties, Joe Cocker did it in the sixties, Hall & Oates did in the seventies and Rick Astley and the Kane Gang did it in the eighties, did what I hear you ask? Become white soul acts to make it on the American Black R&B chart. There were others of course, but it was quite a rare thing, so in answer to the age of question, can I white man sing soul, the answer is obviously yes.
The Kane Gang were a trio of Geordies from different walks of life. Martin Brammer, who was the lead singer was formally a computer stationary salesman, Paul Woods was the guitarist and keyboard player who had previously worked as a journalist for the Sunderland Echo and David Brewis, who played all the other instruments, once worked in a record shop. All three had played in small local bands and in 1982 formed the Kane Gang, naming themselves after the 1941 movie Citizen Kane, and signed to a local label called Kitchenware.
None of them had any idea of the direction they wanted to take musically and began dabbling with different styles ranging from Burt Bacharach to XTC with some mod inclinations too. David and Martin wrote a track called Brother Brother which became their debut single, "That was the first song we'd ever written that we were happy with," Martin recalled, "We realised that it was sort of material we should be doing. Paul sang the top lip to my bottom lip and David played the music and wore the strides."
Their label mates Prefab Sprout and The Daintees were all keen to keep things fresh. "In the early days a conscious decision was made that each Kitchenware article was going to be the last," explained Martin. "As a general policy we wanted to avoid being lumped together as musically acts that have little in common."
Brother Brother failed to make an impact, but their second single, Smalltown Creed, seemed to point the accusing finger at the south's weaker counterparts. Was that its intention? "It's not meant to be taken that way," Martin said, "It was more of a plea for people not to be ashamed and I definitely didn't write the lyrics to intimate that the northerns are better people." The song was produced by Pete Wingfield and limped to number 60. Those who remember listening to Gary Davies' lunchtime show on Radio One in the eighties may remember his jingle 'Ooh Gary Davies… On Your Radio', that was performed by The Kane Gang using the basis of Smalltown Creed. It was also later used as the basis for the theme for the children's television programme Byker Grove.
They began working on their debut album which was called The Bad and Lowdown World of the Kane Gang which was shortened to just Lowdown in America. The majority of the tracks feature both Sam Brown and P. P. Arnold on backing vocals and the next single released from it was Closest Thing to Heaven, a beautiful soul ballad based on fictitious story of two childhood sweethearts with not a care nor a worry in the world.
They followed it up later the same year with a cover of the Staple Singers hit Respect Yourself which reached number 21. Their next batch of hits, Gun Law (1985), Motortown (1987) and their cover of Dennis Edwards' Don't Look Any Further, all failed to make the top 40 although the latter did top the US dance chart.
Paul Woods left the band in 1991 to embark on a solo career. He also worked with Brewis on an album which was never released. In 2004, after a lengthy hiatus, David Brewis teamed up with his brother Peter, who had previously been a drummer for the Futureheads, to form a new band called Field Music which in 2013 Al Kooper, former Blood Sweat and Tears member, claimed were his favourite group.
Brammer has been, by far, the most successful having written hit singles for Lighthouse Family (Lifted, Loving Every Minute and Raincloud), Grace (Hand In Hand), Mark Owen (Child), Rachel Stevens (Funky Dory), Tina Turner (Open Arms), James Morrison (The Pieces Don't Fit Anymore and Undiscovered) and Olly Murs (Busy and Oh My Goodness).