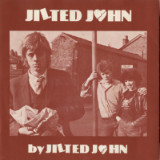 One song, or particularly its chorus, is more memorable than most if you were a teenager in the late seventies. Who can forget Jilted John telling us his travails of his girlfriend Julie and his rival Gordon especially when it was drummed into us that he was a moron? How did this unlikely pop star get such a memorable song that is still so fondly remembered 40 years on?
Jilted John was born Graham Fellows in Sheffield in 1959 and attended drama school at the Manchester Polytechnic School of Theatre having been in school plays since he was 10. "My Billy Liar is legendary," he told Kieron Tyler, "It was a professional school but there seemed to be a lot of mucking about. We used to do these movement classes and I remember taking the piss out of the whole thing. Then punk arrived and it was all very exciting. Whilst I was as drama school in Manchester I recorded the song and really I became a musician by default having written this song with no musical knowledge at all." He recalled years later, "Having written this song I wanted to record it, so I went into a local record shop and asked if they knew any indie or punk labels. They said there were two, Stiff in London and Rabid just down the road. So I phoned Rabid up, and they told me to send in a demo."
He asked a couple of local bands, The Smirks and Walter & the Softies, both of which featured the late Colin Goddard, if they would help with a demo and then took it to the label. He gave them two songs, Jilted John and Going Steady, "They loved it and brought in [producer] Martin Hannett to produce it for a vinyl release," John said. When they released the track it had Going Steady on the A-side and Jilted John on the B-side.
Jilted John tells the story of a man whose love life comes to an abrupt end when she turns to him one evening and reveals that she loves him but there's this other block she fancies. Not wanting to rub salt into the wound, she magnanimously says that she didn't want to two-time him so they were finished. When he asked her who this bloke was, she tells him it's Gordon. John obviously knows Gordon because his reply was, 'not that poof (which he pronounced puff probably to avoid a radio restriction) he said, to which Julie defends Gordon by saying, 'yes, but he's not a poof'. Now she's upset and says, 'He's more of a man that you'll ever be'.
Everyone reacts differently to this sort of news, some take it calmly and get on with life and others, in extreme circumstances contemplate suicide, but John sought solace by going out at getting some food from the local chip shop, but unfortunately encounters Julie and Gordon both in attendance cruelly laughing at him.
Rabid records sent out copies to radio and John Peel, naturally, was the first to play it, and thankfully played the B-side saying that it was very catchy and if a major label was to pick it up, it could be a big hit. It worked, someone at EMI International (a subsidiary of EMI) heard that and did just that. The song went to number four in the UK chart.
David 'Kid' Jensen introduced the first of his three appearances on Top of the Pops. "I forgot my words at least once," John recalled, "because it was live and there was this musician's rule that you had to re-record the track and sing live." Their three visits showed the spikey haired Gordon doing strange hand movements moving them from left to right with one above the other was well showing clenched fists landing, alternately, one on top of the other. In case you're wondering Gordon was better known as Graham's school friend Bernard Kelly.
Two further singles were issued, The Birthday Kiss and True Love which was partially named after the parent album True Love Stories, but none of which made any impact on the chart which is probably just as well as John stated to Kieron Tyler that he wasn't happy with the brief success and being recognised in the street saying, "I wish I'd handled it a bit better. I was young and it was very hard. You just get swept along with it." It did, however, bring John a small part in Coronation Street where he played Les Charlton who took a fancy to Gail Tilsley whilst her husband Brian was away in Saudi Arabia. When he returned he wasn't happy and John suffered the indignity of being duffed up by a man who only came up to his belly button.
"I went back to drama school after a weird summer of being on Top of the Pops to complete my studies." He was generally an out of work musician for a few years but somehow ending up with a new recording contract. Someone at the record company played Graham some really bad demos which they had received over the last few years. John decided to record some of them and send them back, anonymously, to the same producer who clearly had a sharp ear and realised who it was. His advice was to give up the singing career and take up comedy, which gave Graham the idea of his next alter-ego John Shuttleworth, the fictitious radio DJ and singer with a distinct lack of self-awareness. Something which might just be a little biographical because Graham is seemingly not a man with any confidence he has said, "The success I've have enjoyed has been soundly based on failure and I'll full of projects that have made absolutely no money."