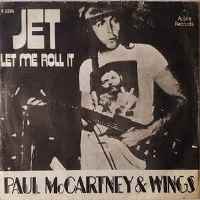 Cat Stevens, Red Foley and Pink Floyd did it, as did Henry Gross and Paul McCartney, what you ask? Write a song about their dog. Paul is famous for writing Martha, My Dear about his Old English sheepdog he owned at the time and that track appeared on the Beatles' eponymous album or the White Album as it is known. What about Jet? Is that also about a dog as is popularly believed? Let's find out.
Paul and Linda are animal lovers and have a farm with a variety of pets on. They are particularly big on dogs as they had a Dalmatian called Lucky as well as a Golden Labrador called Poppy. As for Jet, well there were two animals in the McCartney household with that name; there was a black Labrador and also a pony.
First things first, regardless of whether the song was named after the dog or the pony, it does not really matter, but the song is not about about the moggy. In 1976, two years after its release, Linda explained, "Paul wanted that one to be totally mad." Paul put a little more context to it as he explained to GQ in 2018, "I was in a song writing mood and I was up in Scotland. I just thought, OK, I just gotta go somewhere and try and write a song. We happened to have a little pony that was called Jet on the farm. I took my guitar and hiked up this great big hill. I found myself a place which was in the middle of nature, and just sat there and started making up a song. I was wondering where to record and I fancied getting out of England, so I asked my record label which is EMI to supply me with a list of all the studios they had around the world – I knew they had a lot. One was in China, one was in Rio de Janeiro and one was in Lagos, Nigeria. So, I went, yeah Lagos, come on, because I like African music a lot. I love the rhythms of African music so I chose that not realising that it would be a really basic little studio." The studio was quite primitive and Paul had to do some structural work to it before they could record the song remembering, "I liked the primitive aspect of it and being in Africa was a pretty interesting experience." The song was mixed at AIR studios in London. However, according to engineer Geoff Emerick in his book Here, There and Everywhere, he said, "Whereas most of the Band on the Run album was recorded in Lagos, Nigeria, Jet was recorded entirely at EMI Studios in London after the group returned." Make of that what you will.
So if the song is not about the dog, what is it about? I'm not even sure Paul knows! "I make up so much stuff. It means something to me when I do it, and it means something to the record buyer, but if I'm asked to analyse it I can't really explain what it is," Paul said in Paul McCartney: In His Own Words. He continued, "I don't know where all the words came from. Well I know where Jet came from – I liked the name. The words are probably about me and my father-in-law. The early days of getting married and when your father-in-law is kind of a nuisance. He's probably the 'Major' in it but it's only a song so you kind of work your things out. As for the word Suffragette, "It sounded silly or crazy and I like it." It seems the words were mostly chosen to fit the melody rather than for their meaning therefore, it generally has little significance.
I often wondered if 'Suffragette' was going round Paul's mind having heard the B side of David Bowie's Starman which was Suffragette City and released around 18 months prior to the recording. I only make that connection because David Bowie's producer, Tony Visconti, did all the orchestration on the album Band on the Run.
The saxophone session player on the track is an old contemporary of the Beatles. Howie Casey was formally in a Liverpool band called Derry and the Seniors who Paul had met in the Cavern Club in the sixties.
In 2000, Melbourne-born brothers Nic and Chris Cester, having been highly influenced by McCartney, formed a rock band in Australia and named themselves after the Wings track. They had seven UK hit singles, their best-known being Are You Gonna Be My Girl which reached number 16 in 2004.