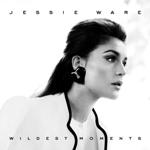 So many new fangled terms to describe genres of music crop up all the time, some stick around for years like Rock & Roll, soul, funk, R&B (although that's changed), punk, glam and disco. More recently we've had crunk, bashment and grime, but if I was to ask you who the Queen of Electronic Soul is, would you have any idea?
Well done if you said Jessie Ware. At this point there will be people thinking to themselves, who? Well Jessie is a London-born singer songwriter who has been cited as the missing link between Sade and Adele. She released her debut single, 100% in the summer of 2012 which crept into the bottom end of the UK singles chart. Just two months later the follow-up, Wildest Moment went to number 46.
That song received more airplay because it had a story that The Sun newspaper had great delight in printing. So, what was Wildest Moment all about? Jessie explained, "It's about a fight I had with my best friend Sarah. She and I argue a lot but we are also the best of friends. This was a song that demonstrates that we can go from being amazing together to being so terrible. I love her dearly but it was easier to write a song about it than enter a fight."
The whole incident that inspired this song took place at a wedding of all places, a wedding of her manager Daniel Tuffin. It was a very drunken affair with a cake that Ware had made being thrown back at her and a trifle being lobbed at Sarah. "I thought it was quite funny – we were being idiots – but it escalated into her being really angry at me," recalled Jessie.
Wildest Moment was one of three songs written with the singer-songwriter Kid Harpoon. "He was the one who was like, 'forget the minimal electronic stuff, let's make some big pop tunes!" said Ware in an interview with The Guardian. "He wanted to bring out the Alicia Keys in me." The video, which was done in one take, consists simply of Ware sitting still singing the song, with the camera slowly rotating around her.
She was about to undertake a tour of Australia, New Zealand and The USA, and to make the song more appealing to her American audience she re-recorded it with an added rap by A$AP Rocky. This version appeared on the stateside version of the parent album, Devotion. "I love A$AP Rocky," she told Billboard magazine. "I know I wanted a rapper on it but I didn't know how I was going to do it. Rocky was promoting his current record in the U.K and he was interviewed asking which UK artists he'd like to collaborate with and he mentioned me. I was like, 'Oh my God, he knows who I am.' So we were like, let's just send this track and just hope it happens. And just before the deadline we get an email with his verse in the post. It was just so exciting." It was the last song written for the album. "It was scarily easy," she told The Observer newspaper. "It came out in a couple of hours and it was like: 'Cool, that's done.' Sometimes the musical gods are on your side; someone is smiling down on you."
In the UK, her album made number five and spent four months on the chart. The single had added promotion when it was used in a TV ad for Durex. Some of her fans weren't too happy about it and began Tweeting her believing that she was not aware of its inclusion. "I had to say to people, 'No, I okayed that!' I was happy it was promoting safe sex and I think my best friend who the song's about was a bit iffy about it because she's like, 'Oh God, people are going to think we're more than friends.' But no, I'm so proud of it to be honest. I've always wanted to make sex music. Now I can say I'm in a sex advert."
Jessie has just finished recording her second album which contains a track co-written with Ed Sheeran. The first single from it was called Tough Love. Two weeks ago she performed it on the Polish version of X Factor as well as a duet of Wildest Moments together with the winner of that night, Artem Furman.