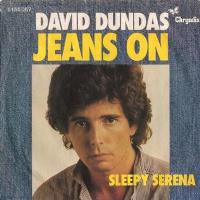 Music has been used to advertise products on television since the 1950s, Cliff Adams' Lonely Man Theme was memorably used to advertise Strand cigarettes, yes, younger readers, they did used to advertise cigarettes on TV. In America, in the 50s and 60s, famous musicians were paid to record ads for Cola Cola, talking of which The New Seekers' I'd Like To Teach The World To Sing became a UK number one after the song was used by Coke. Various makers of jeans used different songs to make the viewers aware of their product and Levi's certainly made some clever and memorable videos as well as songs, but it was another jeans company who gave David Dundas a big hit.
David was born David Paul Nicholas Dundas in Oxford and is the son of Lawrence Dundas who was the Third Marquess of Zetland which entitled David to called himself Lord Dundas, so a very classy act indeed. David was educated at Harrow before attending the Central School of Speech and Drama.
Before embarking on a singing career, he became an actor and has appeared in various UK television series' including A Man of our Times, Boy Meets Girl and ITV Saturday Night Theatre. He also appeared in the 1968 film Prudence and the Pill, the 1969 war film Mosquito Squadron and portrayed Prince Edward in the 1975 television series Churchill's People.
Brutus jeans had launched a TV campaign to showcase their latest brand of jeans and had a memorable song to go with it. David was chosen by the brand to sing the song in the advert and was aired so many times that it stuck in people's heads. David thought he could make it into a pop hit and so called on Roger Greenaway, the renowned British song writer who had penned 60s hits for the Fortunes, Gene Pitney, Engelbert Humperdinck, Cilla Black, the Hollies and Blue Mink. In 1971, he had his first UK number one when he re-wrote some lyrics of Susan Shirley's True Love and Apple Pie and made it into I'd Like To Teach The World To Sing (In Perfect Harmony) after it was used by the Hillside Singers in an ad for Coca Cola. Roger and David wrote a few more words and altered the original, 'I pull my Brutus jeans on' lyric to 'I pull my blue jeans on, I pull my old blue jeans on'. Both the jingle and the full song were recorded in David's bedroom.
David went on to write further jingles for both television and radio and, alongside Roger's Cook and Greenaway, they penned many early jingles for Capital Radio with David singing two memorable once; 'Grab a little piece of heaven, with Roger Scott from 3 to 7' and 'Get a little soft rock, country, blues, with Tony Myatt from 11 to 2'.
The follow-up to Jeans On was Stick on your Lollypop that didn't stick around at all but the next single, Another Funny Honeymoon, reached number 29 in the UK. The follow-up to that was called Where Were You Today and that was also used in a TV advert for C&A. It got plenty of small screen exposure, but little radio airplay and thus did not become a hit.
Jeans On was covered by the country singer Keith Urban on his 2002 album, Golden Road and sampled by Fatboy Slim on the track Sho Nuff which was the second track on the CD single of The Rockafeller Skank in 1998.
Another good earner for David was a short four note piece called Fourscore which was used by Channel 4 as their signature tune. It's said to have earned him £3.50 every time it was aired, and they used it for four years.