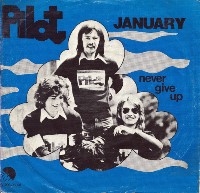 I was overhearing a conversion once at a music quiz I was participating in years ago and two guys were discussing who was the first Scottish act to have a UK number one, one said it was Pilot and the other insisted it was the Bay City Rollers. Not wanting to show off, I went and interjected politely said they were both wrong. "Really?" one asked, "who was then?" Marmalade I told them. The other one said, "They weren't Scottish!" I walked away and left them to it. No doubt one, or both, of them applied for Popmaster years later!
Long before Marmalade had topped the chart in 1969 with that cover of the Beatles' Ob-La-Di Ob-La-Da, a 16 year-old Edinburgh-born David Paton answered an advert in the Evening News for a lead guitarist with a popular band of the day, The Beachcombers. He was successful and they secured a contract with CBS Records and had a regular slot at the Marquee Club in London. In 1968, they changed their name to The Boots and released two singles, The Animal In Me and Keep Your Lovelight Burning both of which sold virtually nothing which led to financial problems and, in 1970, the band called it a day.
Later that same year, he briefly joined an early incarnation of the aforementioned Bay City Rollers, but left before they had any success. In 1973, Paton, the lead singer and bass player, formed Pilot with another brief former Bay City Rollers member, keyboard player Billy Lyall and soon recruited drummer Stuart Tosh and, a few months later, guitarist Ian Bairnson. Their name is derived from P(aton), I(an), L(yall) and T(osh) and added an O in for good measure and came up with Pilot. They signed a management deal with Nick and Tim Heath whose father was the band leader, not the former Prime Minister, Ted Heath. After showcasing a couple of demos, they also signed a recording contract with EMI records and recorded their debut self-titled album which featured some string arrangements from Richard Hewson who had worked with the Beatles and would later be the man behind the RAH Band. The album was produced by the legend that was Alan Parsons.
The first single from the album was Just a Smile which failed to sell, but a couple of months later EMI released Magic which worked a treat and over the years would probably be their most successful as the chorus has been used in numerous television adverts. It peaked at number 11 in the UK, but broke them in the States where it went top five. Then came January.
It was released in the second week of January 1975 two weeks later it was number one, had it been released a week earlier, it might have made number whilst still in January, but, no, it peaked in the first week of February. It probably didn't bother them at the time because it wasn't actually about a month. "My wife was reading a book and the main character was called January, " David explained to me. "She said, 'January is a nice name for a girl don't you think?' and it just stayed in my head and I wrote the chorus with that in mind. The verse and the chorus are totally unrelated; the  verse is about how I felt at the time with the success of Magic. I didn't write the song in January, it was in October, just after the release of Magic. It was quickly recorded as the next single. We were recording the album, Second Flight, in Air Studios in London when January got to number one. I didn't know the song was number one until I arrived at the studio where I was greeted with handshakes and congratulations."
Three further singles followed, Lady Luck which failed to chart and then Call Me Round (number 34) and a re-issue of Just a Smile (number 31) and then chart success ground to a halt. The band kept at it until 1977 with the release of seven more singles, but sadly, they all did nothing and the band split with all members continuing with other projects.
Bairnson, Tosh and Paton all became members of the Alan Parsons Project and 1978 was a good year because Bairnson was invited to join David Gilmour playing guitar on label-mate Kate Bush's number one Wuthering Heights and it was he who played the guitar solo. Such was its success they were both invited back to play on Kate Bush's next album Lionheart. Tosh also briefly joined 10cc and drummed on their third and final chart-topper, Dreadlock Holiday six months later. Lyall embarked on a solo career with limited success, he sadly died of an AIDS-related illness in December 1989. shortly after, his manager Tam Paton revealed that Lyall was gay.
In 2003, Paton and Bairnson reformed the band and re-recorded their 1977 album Two's a Crowd and re-titled it Blue Yonder. Then, in 2014, they came together, not for the last time, to record the album A Pilot Project. There was one more reunion between Paton and Bairnson in 2021 when they recorded the The Magic EP which featured brand new versions of Magic, January, Just A Smile and Over The Moon. Two years later, in April 2023, Bairnson passed away at the age of 69 after being diagnosed with a progressive neurological condition that affected his speech, he also suffered a long battle with dementia.
Paton also revealed to Spencer Leigh that he'd met Paul McCartney several times at Abbey Road Studios saying, "Paul even showed me how to play Blackbird. When he recorded Mull Of Kintyre he came in to the studio where I was working with Alan Parsons and asked me to sing backing vocals on it."