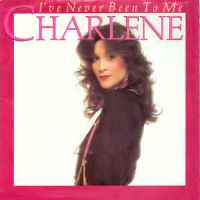 I can't imagine what it would be like to have a vocation in life, give it go only to find it didn't work out the way you planned and get so disillusioned that you give it up completely. Then, all of a sudden, by a stroke of luck you're back in that same business. Well, that's what happened to the singer who recorded this week's suggested song. Her name is Charlene.
Charlene Marilynn D'Angelo was born in June 1950 in Los Angeles. She always knew she wanted to be a singer because when the Beatles and the Rolling Stones first came to America, she managed to get seem them and then realised stardom was attractive.
She got a lucky break when she was offered the chance to join Petula Clark's backing singers at Caesar's Palace in Las Vegas. There she was spotted singing by Berry Gordy who signed her to his Motown label in 1973. Her first single All That Love Went to Waste did just that. The label billed her as Charlene Duncan which was her married name. In the autumn of 1976, Ken Hirsch and Ron Miller wrote a song called I've Never Been to Me and less than two months later she got to record it.
"I'd been signed to Motown for three or four years and I was doing demos for Michael Jackson and Diana Ross," remember Charlene, "and a gentleman by the name of Ron Miller approached me and said to me, 'Charlene, I'm Ron Miller and I want to introduce to you a song that I wrote.' He said, 'when I heard your voice I wrote the female version for you. He had written the male version after the captain in the movie Jaws. He pushed the button and on came, 'Hey lady, you lady, cursing at your life, you're a discontented mother and a regimented wife. I've no doubt you dream about the things you'll never do but I wish someone had a talk to me like I wanna talk to you.' I just put my head down and I just started to cry because, at the time, I was an abused wife, I was an abused woman who dreamed of being out of my situation. I felt that I would never get out of it." She concurred to Ian Wishart, "I'd married at 16, had a child to my first husband, and Ron Miller's song just spoke to me and I just cried and cried. He actually stopped the tape to give me space to cry. It was such a beautiful song. All the pain and the hitting that my husband did at the time, it just sounded like my life. I experienced an abortion with that husband and when that line, 'Sometimes I've been to crying for unborn children, that might have made me complete' came, it meant everything to me."
Originally, that latter line caused some controversy because although it wasn't anything to do with abortion people perceived it that way. It referred to a female who had wished she'd had children but never made the time. Charlene's original version had a spoken part which said, 'Hey, you know what paradise is? It's a lie, a fantasy we created about people and places as we like them to be. But you know what truth is? It's that little baby you're holding, and it's that man you fought with this morning, the same one you are gonna make love to tonight. That's truth that's love' but some people at Motown deemed it to be too feminist and had it deleted from the initial release.
When Motown released the single it went to number 97 on the pop chart and, "I was so sad," Charlene remembered. I thought to myself if this song isn't a big hit, then nothing I'm ever going to do is ever going to be. So why waste my time? I was discouraged, I was broken, I was so sad. So, then I got away from the business." She became a Christian and went on to work with autistic children. Then she moved to England with her new husband, a record producer named Larry Duncan.
In 1981, Scott Shannon, a DJ on a WRBQ-FM in Tampa, Florida, discovered the album and began spinning the track. Charlene continued, "I found out that Scott was good friends with Jay Lasker at Motown and he kept saying, 'What's happening with Charlene and I've Never Been to Me, I love that song?' he then said, 'You know what, I'm doing a contest on my show and I'm going to play two songs and get the listeners to vote for their favourite.'" He put Olivia Newton-John's Physical up against I've Never Been to Me and Charlene explained what happened? "He said my song got thousands and thousands of votes and Olivia got about 150. It went mad and suddenly I was selling 66,000 copies a day. It went over a million in no time.
In the meantime, back in the UK, "I never knew this at the time, I was happy, I was working in a sweetshop in east London when I got a phone call from my mom who said, 'Charlene, someone from Motown is looking for you, then about a month later I got a call from the president of Motown Records and he said, 'your song is on the charts in America, you've got a double bullet, you've got a hit,' and just like that, my world turned upside down, I was on Concord airlines flying back to America  and my life just turned around."
The song was released in the UK, but it was the pressing with the spoken passage in and no one had realised until it made the chart. By then it certainly didn't matter because it reached number one exactly one year after Motown had re-issued Michael Jackson's One Day in Your Life, the song Charlene had done the demo of. Charlene also recorded a Spanish language version, which interestingly replaced the line 'I've been to Nice, and the isle of Greece' with 'I've been to Acapulco and Buenos Aires'. By the time the song hit number one in the UK, she was now Charlene Oliver because she had divorced Larry and married an Englishman called Jeff Oliver. Both songs were six years old when they hit the top. In the wake of her new-found success, Motown teamed her up with Stevie Wonder for the duet Used to Be. It failed to make the Top 50 in the US and missed the chart altogether in Britain.
Although Charlene recorded it first, Randy Crawford's version was released on her album Everything Must Change two months before Charlene's. Other versions were by the jazz singer, Nancy Wilson the TV entertainer Marti Caine, Mary MacGregor, Motown acts Mary Wells and The Temptations did separate versions in 1982, Howard Keel, Ned's Atomic Dustbin in 1992 and Jane McDonald in 2014.
The official video was shot at the 17th-century stately home, Blickling Hall near Aylsham in Norfolk and Charlene wore the same dress that she got married in, but we're not sure which marriage it was.
In 1994, the song was used in the The Adventures of Priscilla, Queen of the Desert, Charlene, who was now living in Santa Clarita in California, said, "I got a call from Ron Miller who told me about the movie, I couldn't wait to see it. OMG, the movie was incredible. I loved it. When the musical opened up in Australia I was asked to come and perform I've Never Been to Me for the cast on opening night. It was amazing. I realised then that I was a gay Icon. I totally loved the amazing adventure I went on."
In an interview with a Dutch Television programme, she was asked if she did ever find her 'me' she said, "No, I'm still searching."