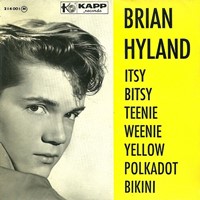 Back in 1960, when this week's suggested song was first released, there was no benefit of a video to help promote the song, you had to use your imagination of what a song might be about or form an image in your mind of the story it was telling. Fast forward, 30 years and a cover version goes to number one with an accompanying video, a pretty ropey one too I have to say, but nothing was left to the imagination, it was right there in front of you, a gorgeous-looking woman on the (makeshift) beach wearing a sexy yellow polka dot bikini. But in 1960, it was quite a different story.
Itsy Bitsy Teeny Weeny Yellow Polka Dot Bikini was written in 1959 by Paul Vance and Lee Pockriss and it was in the summer of that year that Paul Vance took his two-year-old daughter, Paula, to a beach and watched her playing on the sand in her new yellow polka dot bikini. The reason it was teeny weeny was because it was on a two-year-old.
Vance often sang on his own demo versions, but on this occasion, he thought a female voice would suit it better, so he hired a session singer and two other female backing singers. Once finished, he took it to David Kapp at Kapp records who was sceptical about releasing it as he thought it was a bit risqué and told Vance in as many words. When Vance explained that it was about his young daughter Kapp relented and agreed to release it, but expressed the opinion that he thought a male voice would suit it better. As luck would have it, the label had just signed a new artist.
The teenage singer Brian Hyland would go to the New York's Brill Building hoping for a record deal. His first single for Kapp Records, Rosemary, did not sell but the second had more promise. Brian recalls, "We had cut Don't Dilly Dally, Sally but Kapp wanted something stronger for the A-side. Paul Vance and Lee Pockriss had shown Itsy Bitsy Teeny Weeny Yellow Polka Dot Bikini to a lot of singers but no one wanted to do it. Kapp thought it was right for me and got really excited about it. "They gave me the demo on a Friday and I had to learn it over the weekend," recalled Hyland in an interview with Bruce Nash. "We cut it on the Monday and I was pretty relaxed during the recording session. Even though it wasn't really the kind of song that I usually liked, but I had a feeling that it was special. When we recorded it, there seemed to be a real buzz in the air about the song. It was a number one hit in America which meant that I could stop riding on the subway and buy some Martin guitars." Despite having a male sing the lead, the song benefits from the sexy sounding Trudy Packer who adds the, 'two, three, four stick around we'll tell you more'.
Timmy Mallett began broadcasting while he was studying at Warwick University and then he worked for Radio Oxford and Piccadilly Radio in Manchester. The wacky and highly excitable entertainer replaced Roland Rat as the children's favourite on TV-AM and then presented his own shows, The Wide Awake Club (1984-89) with Carol Vorderman and Wacaday (1985-92). Wacaday featured a word game which incorporated an oversized large pink sponge mallet, known as Mallett's Mallet. He would attack celebrities with his mallet, including Mrs Thatcher.
In 1990 Andrew Lloyd Webber suggested Timmy should revive Itsy Bitsy… and he recorded the song at Nigel Wright's Scratch Studios in Chertsey, Surrey. Lloyd Webber released it under the name Bombalurina, which was one of the felines in Cats, and a new label, Carpet, was formed. When Timmy went on location, he played the song in a nightclub in Crete and the DJ told him it would be a monster hit. When he was convinced it would be number one, Andrew Lloyd Webber threw a party at his mansion in Berkshire and everything stopped for Bruno Brookes' chart rundown on Radio One. A few weeks later Timmy married Lynda Bingham in Wye and said, "I may be number one, but it's nothing compared to be being married to the number one girl in the world."
The Bombalurina video was very corny with Mallett blurting out 'Oh yeah' all over the place, but did feature a couple of lovely ladies, Dawn and Anne, prancing around a fake beach. Dawn later married Gary Barlow. The added extra push that helped the song to the top of chart was a headline The Sun newspaper ran after spotting Princess Diana in a bikini; 'Itsy Bitsy's Di's A Dream in Her Bikini' that same week Timmy made his debut on Top of the Pops.
Nowadays Brian Hyland is better remembered for his classy ballads, Ginny Come Lately and Sealed with A Kiss, another cover that went to number one courtesy of Jason Donovan, but whenever he comes to the UK for a sixties tour, he includes Itsy Bitsy in his stage act with his wife Rosemari chanting the female's part. His son, Bodi, plays the drums and Brian surprises many of the audience by playing raunchy rock 'n' roll.
Timmy Mallett later devised a stage show for universities and he is a pantomime star who has the kids singing along to Itsy Bitsy. In 2004, he was on the substitute bench for I'm A Celebrity…Get Me Out of Here and although none of the celebs walked out, he generated publicity by singing the song from the top of Sydney Harbour Bridge.