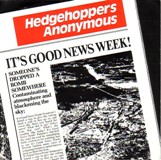 Protest songs have been around for centuries with the earliest known one being written in 1382 when a folk song called The Cutty Wren protested against English feudal oppression. They became more popular towards the end of the 19th century when issues about women's rights and the abolition of slavery were highlighted. As the 20th century dawned, other subjects like the Great Depression, the Civil Rights movement, the Vietnam War and racism all spawned protest songs with one of most well known ones being Billie Holiday's 1939 offering Strange Fruit. By the 1960s there was a mountain of them including Sam Cooke's A Change Is Gonna Come, Barry McGuire's Eve of Destruction, Bob Dylan's The Time's They Are a-Changin' and, this week's subject, It's Good New Week by the 1965 one-hit wonder group Hedgehoppers Anonymous.
The band were formed in 1963 as the Trendsetters and comprised lead singer Mick Tinsley, bassist Ray Honeyball, lead guitarist John Stewart, rhythm guitarist Alan Laud and drummer Leslie Dash. Four fifths of them, Alan Laud being the exception, were Royal Air Force personnel who were based at RAF Wittering, near Peterborough. "I met John Stewart who had come back from Aden," remembered Mike Tinsley, "We got the idea of forming a band on the base. We started picking up dates at the officer's mess and also playing at the camp's Saturday night A1 club as a support to acts like The Hollies and the Swinging Blue Jeans."
The English producer and singer/songwriter Jonathan King, whilst at University, had been signed to Decca records and had a hit in the summer of 1965 with Everyone's Gone to the Moon. He saw them performing in Cambridge and got them signed to Decca. He took them under his wing and the following year changed their name to the Hedgehoppers, an RAF slang term for the Vulcan bomber which flew low to avoid radar, and added Anonymous to it.
Jonathan had a song he'd written called It's Good News Week, which as Jonathan told me, "was written slightly after Moon but I was influenced by the words of Dylan and P.F. Sloan." One verse contained the original lyric, 'Lots of blood in Asia now, they've butchered off the sacred cow, they've got a lot to eat' but they are not on the hit single. Was it the BBC who complained? "No, it was America," Jonathan explained. "I was told they would not play a song with a lyric about 'sacred cows' in it so I was asked to change it, which I did, first, slightly for the Hedgehoppers version and then totally for my own album version," so he altered them to 'Families shake the need for gold by stimulating birth control we're wanting less to eat.'
It initially caused a problem for the band, not with regards to the lyrics but over their name. "I was working on a nuclear base, and it was taking the mickey," remembered Mike, then the brass took an interest and the C.O. of the base was very angry. We were marched in, hats off. I suggested it was a good publicity for recruitment" but the C.O. wasn't impressed and Mike decided to leave the RAF and hit the road.
It's Good News Week reached number five and after 12 weeks dropped off the chart. They recorded four other tracks; Don't Push Me, Baby (You're My Everything), Daytime and Stop Press all of which went nowhere and by the end of 1966 Hedgehoppers Anonymous were no more. Tinsley cited a lack of airplay and a songwriter as the main obstacle. "I had thought of songwriting whilst with Hedgehoppers but hadn't," Mike said, "It was the pressure, but I felt I had more to offer."
Mike took part in the Japanese Yamaha Music foundation Competition and began song writing for Joe Dolan and Kelly Marie. Now 74 years old he continues to sing and record.
Jonathan still keeps his hand in in the music business and his keen ear and eye for spotting talent is still appreciated by many people in the business.
The song got a new lease of life when, in 1996, it was used for four years as the theme music for an Australian satirical news-based comedy quiz show called Good News Week.