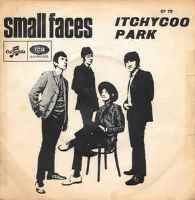 The year 1967 was the Summer of Love and those who were there will know what went on, well some might anyway. It was also the year of writing songs about drugs and then denying it. The Beatles did it with Lucy in the Sky with Diamonds and the Small Faces did it with Itchycoo Park. I mean,'What did you do there? I got high' seems quite blatant and that's why the BBC banned it at the time but the band were adamant it wasn't. So, what was it about?
The Small Faces were formed in 1965, inspired by the arrival of American soul music, in particular, by the Memphis sound that was driven by the rhythm section of Booker T & the M.G.'s with an organ-sound they wanted to emulate. They were having fun doing exactly what they wanted to do, but it got even better when they joined the Immediate record label who were a management company as well as a record label which was set up by Rolling Stones manager Andrew Loog Oldham. Steve Marriott, the group's lead singer, explained in a BBC interview how fortunate they were, "We were in a very funny position where our management was also out record label so whereas before you'd have a record company, a manager and an agent and they would all kind of work against each other in some ways. One would schedule when you went in the studio, another wanted you out on tour and the other wanted you to do interviews etc. so this way they were more interested, being a record company, in making records which is what we enjoyed. They just wanted the records and publishing because that's where the dough was."
Their first hit, Whatcha Gonna Do About It? which 'borrowed' a riff straight out of Solomon Burke's Everybody Needs Somebody to Love, got to number 14. That was followed by Sha-La-La-La-Lee in February 1966, next came Hey Girl followed by their only number one All or Nothing. They had four hits in 1967, I Can't Make It (26), Here Comes the Nice (12) and then Itchycoo Park which took them to number three.
The band comprised Marriott, a former child actor who had played the Artful Dodger in the stage version of Oliver! He first met guitarist Ronnie Lane in 1964 at a gig where Marriott's then-band, The Moments, were playing. They briefly lost contact but hooked up again the following year when they re-met in a London record store called J60. There they also met Jimmy Winston who became their keyboard player, Kenney Jones, who had been in a band called The Outcasts, became their drummer and they finally recruited Ian McLagan via an advert in a music magazine and he replaced Winston.
Itchycoo Park was written by Steve Marriott and Ronnie Lane. Marriott said of it in an interview with Creem magazine, "The thing about Itchycoo Park was that the era was wrong, and the word 'high' freaked everybody out especially all the radio stations. But that song was real. Ronnie Lane and I used to go to a park called Itchycoo Park. I swear to God. We used to bunk off school and groove there. We got high, but we didn't smoke. We just got high from not going to school. Itchycoo Park is the nickname of Little Ilford Park in London. An "Itchycoo" is slang for a flower found in the park called a Stinging Nettle, which can burn the skin if touched. Said Lane, "It's a place we used to go to in Ilford years ago. Some bloke we know suggested it to us because it's full of nettles and you keep scratching."
Ronnie had this to say about it in a 1991 interview with Record Hunter, "Itchycoo Park basically came from me. I lifted it from a hymn, God Be in My Head, and I also got the theme to the words in a hotel in Bath or Bristol. There was a magazine in the room with a rambling account of some place in the country and it was about 'dreaming spires' and a 'bridge of sighs' – there was a write-up on this town – and I just thought they were nice lines."
The song uses a trick called phase shifting or phase reversing as I learned it at my days at the BBC. It's a technique where the vocals become distorted. This can be achieved by playing two versions of the same track at the same time. The first hit to use this sound was Toni Fisher's The Big Hurt back in 1960. Record producer Glyn Johns, who produced Itchycoo Park, added, "It was a staff producer at Olympic Studios named George Chkiantz who came up with the effect, and I was looking for a place to use it. The Faces were always looking for new sounds and encouraged me to use the technique on this song." Like Bohemian Rhapsody, which also uses that effect briefly, it doesn't work live as Ian McLagan explained to Uncut magazine: "We tried to replicate the phasing effect when we played it live. It was hopeless."
As I mentioned the BBC, in their wisdom were quite naive because, as Small Faces manager, Tony Calder, explained in All Too Beautiful, Steve Marriott's biography by Paolo Hewitt and John Hellier, "We told the BBC Itchycoo Park was waste ground in the East End which the band had played on as kids. We put the story out at 10 in the morning and by lunchtime we were told the ban was off." The same thing happened in 1984 with Grandmaster Flash's White Lines (Don't Don't Do It) – they banned it and I mentioned to a producer that the lyrics talk about not taking drugs and suddenly they started playing it.
Itchycoo Park was re-issued in 1975 where it made the top 10 again then a cover by Manchester dance group M People peaked at number 11 in 1995.
Ronnie Lane suffered from multiple sclerosis from around 1978 and died in June 1997. Steve Marriott died in a fire in his home in 1991, McLagan died in December 2004 and Kenney Jones well he replaced Keith Moon in The Who and has done session work for numerous acts including Chuck Berry, Jerry Lee Lewis, Rod Stewart, Rolling Stones and Joan Armatrading and was inducted into the Rock and Roll Hall of Fame in 2012.