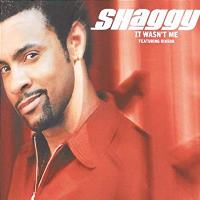 In this day and age so many songs are credited with a 'featuring' act or an 'x' collaboration and thus usually indicates that the main credited artists will provide much of the input with the collaborative act adding something extra to the mix. Usually an equal billing i.e. 'and' or 'with' will imply a more or less 50/50 duet. However, this week's suggestion the 'featuring' person provides the majority of the story. How come? Let's find out.
Shaggy was born Orville Richard Burrell in Kingston, Jamaica in October 1968 and after taking singing lessons, he began singing on the street with friends when he was discovered. As a kid he was tall and slim with a hairstyle that was part afro and "part hedge" he once admitted. His friends likened the look to that of Scooby Doo's mate Shaggy and that is where the name came from. "I hated that name until I came to England and discovered what 'shagger' means. Suddenly I liked it. These days, when chicks ask how I got my name, I say, 'It's because I'm a shagger – want me to shag you?' Heh, heh," he explained to John Aizlewood.
In 1986, he moved to Brooklyn, New York with his mother, he said of her, "She was a very, very stern woman; I wish I had a closer relationship with her," but he continued singing and earned his keep in dancehall. The following year he joined the Marines, sort of by accident. "I swear to God I didn't know the Marines was the hardest service," he continued. "I just wanted to get off the streets. I saw a Marines uniform and thought it looked really mean. The recruiting officer sold me a bunch of bullshit and I was in."
Shaggy began working as a DJ supporting Maxi Priest, who had recently topped the Billboard singles chart with Close To You and in doing so it became the first American number one by a British reggae act. In 1992 the pair toured around Brazil. "That was the turning point. I saw 30,000 people who didn't speak English singing along with his version of Wild World and I knew that's what I wanted. Maxi was criticised because he had this pop element, but he had seen the bigger picture and wanted it. Bob Marley was criticised for the same thing."
Shaggy's first UK hit was in 1993 when his cover of a Folkes Brothers track called Oh Carolina topped the chart for two weeks. He had further hits with In The Summertime, Boombastic (his second chart-topper and helped by a jeans advert), Why You Treat Me So Bad, That Girl and Piece Of My Heart, but then in late 1997 he found himself without a record deal, "I received a letter saying I was not on Virgin any more. I never saw that curve ball coming; it shattered my ego and self-esteem," he revealed.
Having spent four years without a recording contract, Shaggy moved to Long Island and built a studio in his basement. He began writing songs for films. He contributed tracks to Kevin Costner's 1999 film For the Love of the Game, Speed II and Jungle To Jungle before teaming up with noted writer/producers Jimmy Jam and Terry Lewis for Luv Me Luv Me, a duet between Shaggy and Janet Jackson, which was featured in the movie How Stella Got Her Groove Back. All this led to him being signed by MCA. "I don't hold any grudges against Virgin," he maintained. "I tell you, nothing clears up animosity like a hit record. I bet they are scratching their heads thinking, 'Damn! We should have kept him'."
He recorded the album Hot Shot, which initially failed to make any impact. It was only when a DJ in Honolulu, Pablo Sato, downloaded an MP3 of It Wasn't Me, a track from the album and began playing it to death on his KIKI-FM radio show that the public began to take notice.
The song was inspired by a comedy routine Eddie Murphy performed in his movie Raw. He explained that no matter what your girl accuses you of, never admit to anything, just say 'It Wasn't Me.' The story tells of a guy who is caught red-handed by his girlfriend, cheating with the girl next door. He then tries to deny all allegations despite her catching him on camera. "Everybody cheats at some time or another in their lives," Shaggy claimed. "I just wanted to put a funny twist on it. I think a lot of people saw themselves in it. Bill Clinton was a cheater, Jesse Jackson did it too."
The majority of the song features Ricardo 'Rikrok' Ducent, whom Shaggy met through one of his backing singers. Shaggy said, "He had a good personality, a good vibe and was a very humble kid. I let him demo the track with a view to getting someone else to sing on the final version, but when my producer, Shaun Pizzonia, heard his vocals, he convinced me to leave him on the track." Rikrok added, "Shaun came up with the beat, Brian (Gold) came up with some words, Shaggy came up with the verses and I came up with the melody." The song features on the album Hot Shot and, not one to blow his own trumpet, but Shaggy said, at the time, "The album is exceptional. I knew I had to come back with an album that was incredible and getting dropped by Virgin was fuel to my fire!"
In the UK, the song initially spent three weeks on the chart as an import where it reached number 31. Once it was released in the UK it crashed into the chart at number one. A few weeks later, a bootleg parody surfaced about a mother who catches her son masturbating. It was titled Caught Me One Handed as recorded by The Parodies (aka Bob Rivers) and was just a little too rude for radio. Typically, in the proper version, the BBC deemed the lyric 'Banging on the bathroom floor' too rude so a radio-friendly version was recorded with the re-worded 'Making love on the bathroom floor'.
The video was also amusing showing the girlfriend trying to get revenge by trying to run her cheating man over in a juggernaut but it ends with the culprit jumping off a bridge onto the roof of the said vehicle.
The only thing that's ever bothered me about the song it why the hell were they at it on the bathroom floor of all places. It can't be the most hygienic of places or maybe they put a bath towel down first. Who knows?
At the 2018 Grammy Awards ceremony, both Shaggy and Sting were performing with the show's host, James Corden and when James mentioned the song and asked Shaggy "Whose idea was this anyway," Shaggy's response was "It wasn't me!"