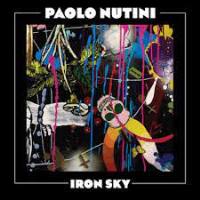 Some political songs have a habit of making the listener sit up and take notice and others have their political content hidden sufficiently that the listener merrily listens and/or sings away unaware of its point. I think the latter happened with me upon first listen song when it hit the chart in 2014. So, what exactly, is Iron Sky all about? Let's find out.
Although there was a radio edit at four minutes 32 seconds, the full six minute and seven seconds commercial release certainly does it justice. I like Paolo Nutini because, although I've never met him, we think alike. I loathe self-check outs at supermarkets, I'd rather someone keep their job because sooner or later that machine will put them out of a job. Paolo said in an interview with The Independent, "The world throws up new meanings every day, but it's mainly that man-versus-machine thing. You know: you go into WH Smith these days and they steer you to the electronic checkout. I always think: 'Why so calm?' Don't you realise that thing that doesn't have kids and it doesn't have a life to lead and yet it's going to have your job?"
Nutini said, "A lot of people are saying 'Is it about Scottish Independence? Is it about Palestine?, it is about the Ukraine?, the reality of it is the world is constantly throwing up and regurgitating and there are many examples of what the song could be about. But the idea of a machine being able to do a job quicker and save the company, which is already making millions of pounds, even more money is annoying."
At three minutes 19 seconds the song momentarily pauses and we hear, 'To those who can hear me, I say, do not despair. The misery that is now upon us is but the passing of greed, the bitterness of men who fear the way of human progress. The hate of men will pass, and dictators die, and the power they took from the people will return to the people. And so long as men die, liberty will never perish. Don't give yourselves to these unnatural men! Machine men with machine minds and machine hearts! You are not machines, you are not cattle, you are men! You, the people, have the power to make this life free and beautiful, to make this life a wonderful adventure. Let us use that power. Let us all unite!' These words were not spoken nor sung by Nutini but to people of a certain generation they will recognise the voice. It's the voice of Charlie Chaplin lifted from his 1940 film The Great Dictator.
The film tells the story of Dictator Adenoid Hynkel who tries to expand his empire while a poor Jewish barber tries to avoid persecution from Hynkel's regime. Hynkel is portrayed by Chaplin and was inspired to make this film after a trip to Berlin in 1931 which saw the now-famous Chaplin mobbed by fans, but the Nazi hierarchy referred to him as a Jewish acrobat even though he wasn't actually Jewish. That spurred him to add his voice to the horror that was going on in Europe.
Nutini said, "I was watching the film and I listened to what he said and I edited the speech and it seemed to echo what I wanted to say in the track." What was a feather in the cap for Nutini was that he had to get permission from the Chaplin estate to use his voice, "To have them come back excited by the prospect only galvanized me more," Nutini said in an interview with Q magazine, "to have Charlie Chaplin on your side certainly helps!"
He performed the song live at London's Abbey Road studios and present was Adele who immediately tweeted: "This is one of the best things I've ever seen in my life, hands down."
Charlie Chaplin will always be remembered as a great comic actor in the early part of the 20th century, but what some will not know is that he was also a talented composer later having his fair share of chart success. His two most famous songs are Smile which was featured in the 1936 movie Modern Times and recorded by a multitude of people including Nat King Cole, Barbra Streisand, Diana Ross and Robert Downey Jr. In 1953, he wrote the theme from the film Limelight of which Frank Chacksfield and Ron Goodwin both had top three hits and three months later Geoffrey Parsons and John Turner added lyrics, called it Eternally and Jimmy Young also took it into the top 10. some 14 years later he wrote This Is My Song which, in February 1967, Petula took to number one and in April Harry Secombe took to number two.