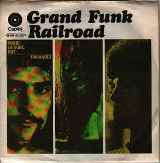 What do Frijid Pink, Grand Funk Railroad and Santa Esmeralda all have in common? No? They were all one-hit wonders with covers, and longer ones at that, of songs the Animals had a UK hit with. The first two were with heavy rock versions, the latter was a disco version. This week I look at Grand Funk Railroad who, in America, were for more successful than in the UK with 20 hit singles, including two number ones and sales of over 20 million albums, but, this week's choice, Inside Looking Out, didn't even make the Billboard Hot 100.
The band were a trio formed in 1968 in Flint, Michigan and comprised lead singer/guitarist Mark Farmer, drummer Don Brewer and bass player Mel Schacher and their name was inspired by the Grand Trunk Railroad which is the American branch of the Canadian National Railway which runs between Chicago, Illinois and Port Huron, Michigan. Farmer and Brewer had both been members of Terry Knight & The Pack whose most successful hit was a cover of Ben E. King's I (Who Have Nothing) and Schacher had served as bassist with ? And The Mysterians.
Farmer wanted a career in football but after breaking a finger and suffering from bad knees and then being expelled from night school, he took up music. Once the band were established, they decided to employ Terry Knight, who had also been a radio DJ in Detroit, as their manager. The first gig he got them was at the Atlanta Pop Festival where they played to 125,000 people for free. Some gig!
In 1971, they covered The Animals' 1966 hit Inside-Looking Out, but in a slower tempo and altering a few lyrics, most notably the line 'When my time is up be my rebirth, like I was worth on God's green earth' which became 'When my time is up, you'll be my reefer, life gets worse on God's green earth' sneaking in a drug reference.
The song itself is loosely based on a song called Rosie which was an African American Prison Work Song. In the 1920s and 30s prison camps, especially in the deep south like Mississippi, they had inmates who used to work for 12-15 hours a day chopping trees, cutting cane and shovelling gravel as well as other menial back-breaking jobs and to help them pass the time and get through the day, they would make up songs. Alan Lomax (the song's co-writer) and his father John (an American teacher and musicologist) and gone to visit some of these prisons in the 1930s and Alan said, "These songs belong to the musical tradition which Africans brought to the New World, but they are also as American as the Mississippi River. They tell us the story of the slave gang, the sharecropper system, the lawless work camp, the chain gang, the pen." Alan visited other prisons 10-12 years later and found much of the same work ethic but with the added heartbreak of prisoners having to endure harsh beatings and various other violent treatments. He visited more prisons as late as the 1970s and although some of the violence had lessened, they were still singing songs like Rosie which clearly has stood the test of time as a prisoner's anthem. Given the circumstances Alan, who was involved with a number of other prison songs, decided not to release an album of them for about 10 years.
The Animals' version ran to about three minutes and 40 seconds which was quite long for a mid-sixties song, but the Grand Funk version clocked in at a whopping nine and half minutes and thus to fill one side of a seven-inch single if had to play at 33 ⅓ rpm.
Grand Funk Railroad had problems with their manager and in March 1972 decided to sack him. In return, Knight began filing lawsuits for various things and it all got very ugly. The band employed an Attorney called John Eastman who was Linda McCartney's father, to help sort the situation, however, in the interim period, they lost momentum. Once sorted they added a fourth member, organist Craig Frost, and in 1973 released the Todd Rundgren-produced album We're An American Band of which the title track became their first of two American number one hits, the other, in 1974 was a blistering rock version of The Loco-motion.
The band broke up in 1976 with Farmer deciding to spend time with his family on his 1500-acre farm in Michigan whilst Brewer and Schacher formed Flint who released just one album before calling it a day.
They have made the occasional reunion but none as big as in 1997 when, for the first time in 20 years, the threesome were on stage together embarking on a world tour with a tri-city concert raising money for the Bosnain-American Relief Fund to provide money for the war-torn area.