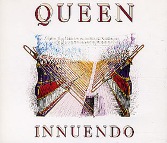 This Thursday marks the 20th anniversary of the death of the rock world's greatest showman. Love or hate him, he knew how to entertain and have an audience eating out of his hand. Anyone who saw a recording of Live Aid will get an idea of how in command he was, if you actually there you would have witnessed a master at work and understand why Queen stole the show in front of the world's biggest audience.
During 1989 and 1990 Queen recorded what was to be their final official studio album. It was called Innuendo and the title track, which was a similar length and had the same song structure with its varying tempos and style changes as Bohemian Rhapsody, was written by Freddie and drummer Roger Taylor as a tribute to Led Zeppelin.
The music came about after Brian May, Roger, and bassist, John Deacon, were jamming in the studio in Montreux. From then on Freddie Mercury composed the song and added the long interlude. The melody is Mercury's as well. The lyrics were started off by Mercury but completed by drummer Roger Taylor. The orchestral middle section, unlike the complicated Bo Rhap was all done by Freddie and producer Dick Richards on synthesizers.
The wonderful Spanish guitar licks was not Brian as he admitted that he couldn't play Flamenco guitar. That solo was played by Yes' Steve Howe who happened to be passing the studio and was popping in for a chat with Richards at which point Freddie invited him to join them on the track.
Freddie had known for a few years that he had contracted HIV and by now, his condition had deteriorated so much that a bed was set up in the recording studio so he could lie down during takes. Throughout the recording, the band knew Freddie was not well, but he hadn't actually told them. Even though the tabloids carried gossip headlines, no one knew what was wrong with Freddie – not even the band, until January 1991, when Freddie called a meeting at the Mountain Studios in Montreux, near where he had bought himself a hideaway house. It was then he turned to Brian, Roger and John and said, "You probably realise what my problem is". Once Freddie realised they knew, he said, "Well, that's it, I don't want it to make any difference, I don't want it to be known and I don't want to talk about it, I just want to get on and work until I can't work anymore". Brian later recalled, "None of us will forget that day. We all went off and were quietly sick somewhere".
The follow-up single, I'm Going Slightly Mad insinuated that Freddie was going mad. For the video, which was co-directed by Freddie, he made the rest of the band portray different symptoms of madness. Such was Freddie's condition, his make-up was caked on to hide the cracks in his face, and a wig was used to hide his thinning hair.
Freddie made a press statement on 23 November finally confirming that he had AIDS. It still came as a shock even for those who had suspected and he passed away the next day. I cried that day. I had been a fan for many years, and was lucky enough to have met the great man on two separate occasions. The second time being more daunting than the first I have to admin and not because he was famous either. If you ask me, I might just tell you!
The last song Freddie ever recorded was These Are The Days Of Our Lives which was released as one side of a double A-side with the re-issued Bohemian Rhapsody. It topped the UK chart at Christmas 1991 making the latter track the first of only two songs to return to number one in its original form.
It was a sad lyric only made surreal then you think what Freddie was going through when he wrote it. Freddie didn't really look like himself in the video, he could hardly stand up. But his sweet ad lib at the end – 'I still love you' – was a kind of goodbye to Queen's fans everywhere.