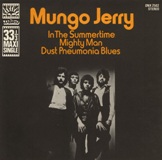 Quite often an innocent lyric in a song seems to slip through the radio broadcasting net while others seemed to get banned, or 'restricted' as radio bosses like to say these days, for no apparent reason. Elvis Costello's Oliver's Army is probably the most famous which to this day still gets major radio play and still mentioned the N-word. A few years ago, Radio Two tried to 'edit' the word faggot out of the Pogues & Kirsty MacColl's A Fairytale of New York which sounded just awful and was eventually reinstated. Did it actually offend anyone? The one I focus on this week is a line from a 1970 UK number one hit which actually encourages us to 'Have a drink have a drive, go out and see what you can find' – which you will surely recognise as In The Summertime by Mungo Jerry, but not advised to do!
Ray Dorset, who was the founder, singer and guitarist with Mungo Jerry, was born in 1946 and, as a teenager, had seen The Rolling Stones and The Yardbirds at the Station Hotel, Richmond, "I was still at school," he recalled, "But my uncle had just won the football pools and gave everyone a load of money. I bought some strange clothes and I had long hair and the headmaster said, 'You're a spiv. You'd better leave.'"
He then formed a band in 1968 which included Paul King on banjo, Mike Cole on string bass and Colin Earl on piano. Ray also 'played' a shaker-type instrument called a cabasa. Barry Murray, a producer at Pye Records, was a friend of Ray's and signed the group to the label's subsidiary imprint, Dawn Records. "We backed Jackie Edwards for a while and Dawn wanted to call us The Incredible Shark but they changed it to Mungo Jerry, which came from Old Possum's Book of Practical Cats, but they got the spelling wrong." The book's author, T.S. Eliot had written it as Mungojerrie, but possibly only Andrew Lloyd Webber noticed the misspelling at the time. Pye Records wanted to get hip because they were a mishmash and they wanted something that was more offbeat," remembered Ray, "Barry started Dawn Records and he asked us to make an album, which we did in a couple of afternoons and evenings."
Their debut hit was In The Summertime, which according to Ray was born out of necessity; "I was working for Timex and had bought a maisonette and it was costing me £7 a week and as I was only earning £13, I didn't have the money to buy records and learn new songs. I was writing songs that sounded like old ones and In The Summertime was me trying to write a Canned Heat song, but it came out totally different. It wasn't a long record but Barry Murray said, 'If we can make it a bit longer, we can go over three minutes and get double royalties.' I said, 'well, get the sound of a car revving off and then start the song over again.' The studio engineer drove his car past the studio and we recorded it. We joined it together and it worked out okay."
Ray penned the song in 1968 and says that the famous melody just popped into his head one day, and the next day he wrote the lyrics very quickly. "It's got no chorus; all its got is a melody that goes over and over again with a set of lyrics that conjure up a celebration of life, especially if you're a young person: it's a great day, you've managed to get a car – preferably with the top off – you're cruising around, and if you're a guy you're picking up girls."
Dawn Records broke the standards of conventional record releases by making the track a maxi-single which had two songs, Mighty Man and Dust Pneumonia Blues on the B-side and all three tracks were on sale at a very reasonable 10 shillings (50p). "I remember, I asked my boss for the afternoon off to do Top of the Pops," said Ray.
Two weeks before the song was released, the band appeared at the Hollywood Music Festival in Staffordshire which also featured the Grateful Dead, Black Sabbath, Free and Traffic. The 35,000-strong crowd obviously liked the song because when the song was released the following week it entered the chart at number 13 and the week after it shot to number one where it stayed for six weeks and became the biggest selling single of the year.
One notable thing about the song it that it doesn't have any drums on it, the 'banging' sound you do hear is Ray stamping his foot to the rhythm which was influenced by John Lee Hooker, who regularly used his foot as a percussion instrument.
You may also notice that the title is only mentioned twice within the song, but it has become a summer anthem and is regularly played on stations around the world. TV advertisers and film companies often find a place for this song, "It's an honour for me to have a song that I wrote that people want to associate with so many different moods and feelings and events," Ray said. "The longer it goes on, the more it becomes like my Happy Birthday, because when everybody thinks of the summer, they think of In The Summertime.
In the summertime of 1995, the song was part of a drink-driving campaign on national television as well as being revived by Shaggy featuring Rayvon and reached number five. It was covered again by the Jungle Boys, which featured Mike Read and Lord Brocket following their appearance on the third series of I'm A Celebrity Get Me Out Of Here, in 2004 which could climb no higher than number 72. It also served as an inspiration for Whigfield's number seven hit Another Day in 1994.
The song has notable appeared in The Simpsons (2004), Life on Mars (2007) and New Girl (2014) and the films The Substitute (1996), Breaking Out (1999), Mr. Deeds (2002), Anita and Me (2002), Wedding Crashers (2005) and Despicable Me 2 (2013).
Mungo Jerry had a follow-up number one, the rarely heard Baby Jump and seven other hits including the top 10s Lady Rose in 1971 and Alright Alright Alright two years later. Ray made a brief comeback in 1999 under the banner Mungo Jerry and the Toon Travellers with the EP Support the Tune – It's Your Duty with the lead track being The Blaydon Races.