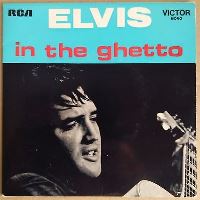 Elvis Presley is the biggest-selling musical act in chart history. some 44 years after his death he is still having hit albums which the record companies are still cobbling together and fans are still buying. His most recent album was in 2020 when From Elvis In Nashville spent one week on the chart. There are various Best Of's and Greatest Hits that keep popping into the chart with regular monotony too and his songs, mostly hit singles, are still being streamed in their droves. His biggest selling physical single that people actually owned is It's Now or Never and his most streamed song – the one that people have listened to most times is Can't Help Falling in Love. Two songs in the all-time top 10 most streamed are A Little Less Conversation (with JXL) at number five and In the Ghetto at number 10 – both were written by Mac Davis.
In 2002, when the DJ/remixer Junkie XL chose to remix an obscure Elvis album track, he probably didn't think it would be as successful as it was. Having run it past the powers that be at Elvis Presley's estate, the go-ahead would only be given if he agreed to amend his name as the estate didn't want a track released with Elvis' name on it alongside the word Junkie. It didn't fit with Elvis' image, so he shortened it to JXL. It entered the UK chart at number one on week ending 22nd June 2002, the only thing is that no one had told the writer about it. So how did Mac Davis find out?
He explained how he found out in an interview with Bob Herbertson, "I was at home and I got a call from (DJ and song writer) Bobby Tomberlin one day who said, 'Hey, congratulations, on your hit', I said, 'what hit?', he said, 'your Elvis record' and I said, 'what Elvis record?' and he said, 'A Little Less Conversation', I said, 'Man, that was about 35 years ago', he replied, 'No, it's number one in England right now.' Man, I couldn't believe it. I knew they'd used the original version as part of a montage in the film Oceans 11 which someone told me about after it had been released. Bobby said, 'They used it in the Nike commercials', I couldn't believe it, all of a sudden, I had one of the biggest hits of my career. Typically, I was the last guy to find out."
Of all the songs Elvis recorded of course he had favourites and two of them were If I Can Dream and In the Ghetto which he had stated in numerous interviews. The first time he heard the demo of In the Ghetto, Elvis said, "That's my song". Mac Davis explained how it came about, "Well, it's a convoluted story, but it's a true one. I had been trying to write a song called The Vicious Circle for what seemed like ages. The word Ghetto was just becoming popular to describe urban areas where poor people were living and couldn't get out and were stuck there and unable to get out into the suburbs. As for the vicious circle, well I grew up with a little kid whose daddy worked with my daddy and he was a black kid and we were good buddies. He lived in a different part of town and I couldn't work out why he lived where he lived and we lived where we lived. We didn't have a lot of money, but we also didn't have broken bottles every six inches in the dirty street ghetto where he lived. Anyway, I always wanted to write a song about where a kid is born and doesn't have a male parent, then falls in with the wrong people and dies and then another kid comes along and replaces him. The next day a buddy of mine, Freddy Weller came over and showed me a guitar lick he'd picked up from Joe South. Later that night I played that lick and started singing in the ghetto and by about two o'clock in the morning I had finished writing the song."
Mac didn't just leave it there, in the middle of the night he wanted to tell someone, "So I called up Freddy and sung him the song down the phone. At the end there was a long silence, he used a few foul curse words and hung up the phone. I found out the next day that he wasn't upset with me, he was just mad that he didn't get to write part of that song."
So how did Elvis get to record it? "Well, I'd written a song called Memories for what was later known as his comeback special," Davis continued, "While that song was going up the chart, his company called and asked if I had anything else as they were going to Memphis to record with [producer] Chips Moman. I told them I had 19 songs on a tape recorder that I'd laid down with just the guitar. The first song was In the Ghetto and the second song was Don't Cry Daddy and they ended up recording both of them for that album."
The song reached number three on Billboard and number two in the UK unable to unseat Thunderclap Newman's Something in the Air. In 1991, the record producer had called on recording engineer Al Schmitt to create a duet with Natalie Cole singing Unforgettable with her late father Nat and resulted in a UK top 20 hit. In August 2007, to mark the 30th anniversary of Elvis' death, his daughter, Lisa-Marie, recorded a duet of In the Ghetto in the same way. She said, "I wanted to use this for something good," and although never a hit all proceeds went to the Elvis Presley Foundation.
Many have recorded a cover version including Dolly Parton, Solomon Burke, Bobbie Gentry, Sammy Davis, Jr, Candi Staton, Nick Cave & The Bad Seeds, Marilyn Manson, The Cranberries and Beats International who just missed the top 40 in 1991.
Mac Davis did have a minor hit of his own, Baby Don't Get Hooked on Me reached number 29 in 1972 and the follow-up came exactly eight years later when It's Hard to be Humble peaked two places higher. Elvis' A Little Less Conversation was Davis' second UK number one – It's Hard to Be Humble's eponymous parent album contained a song called I Wanna Wake Up with You which Boris Gardiner took to number one in 1986.
Davis was inducted into the Songwriters Hall of Fame in 2006 and his clever and straight forward song writing has continued to inspire new and up and coming artists. He was the co-writer on the song Young Girls on Bruno Mars' album Unorthodox Jukebox and was also a co-writer on Avicii's Addicted to You both in 2012, "It made me feel like I'm still viable at the ripe old age of 73," he said at the time. "I try to tell the truth and hope it rhymes," he added.
Davis passed away in September 2020 and was honoured at the Country Music Awards (CMAs) ceremony by Darius Rucker and Reba McEntire who performed In the Ghetto as a duet.