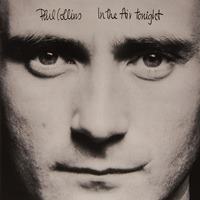 Relationship breakups are always a good source of material for song writing. The Eurythmics are a good example as most of their hits were about David and Annie's relationship with a lot of them containing little snipes. This week's choice is another where a whole album was made up of private messages of trying to lure someone back but then changing direction when it became clear that this wasn't going to happen. The album was Face Value and the song in question is Phil Collins' debut solo hit In the Air Tonight that, for a million younger readers, will only be known and remembered for a drumming gorilla!
Phil Collins was the original drummer with Genesis and when Peter Gabriel left the band auditioned stack of singers, none of which they deemed suitable, so Collins got the job. The first hit that featured his vocals was Follow You Follow Me which saw them have commercial success and gave them their first top 10 hit in the spring of 1978. Most of their hits were penned by Collins and band members Tony Banks and Mike Rutherford but their 1980 hit Misunderstanding was solely written by Collins and that was inspired by his failing first marriage.
In the Air Tonight was the first single lifted from the debut solo album Face Value which has become one of the top 10 all-time best-selling albums in the UK. The song is all about the anger and frustration Phil felt during the breakdown of his marriage to Andrea Bertorello in 1980. It is full of messages once written about ways to correct the relationship, but the lingering tension and uncertainty eventually gave the album its title.
"That song has a life of its own," Phil said, "It will outlive me. In 1977, we did a long tour with Genesis and the result of that was my marriage breaking up. I was angry at the time, sometimes you're on the phone and you're talking and 'I love you I love you I love you' and thinking to yourself 'don't hang up' and then they hang up and you're like, 'f*** you.' When I came back, Mike and Tony were working on other stuff and I had some time on my hands. We'd all bought home studios so I started to fiddle about. I had a really nice local pub that I had friends in and I was going through a bit of a hard time so I'd go down there and have a few drinks and talk and then come back and ready to work. I had no one to answer to, I had a wife, two children and two dogs and then nothing. The lyrics were all improvised and I don't really know what it's about. All I know is there is a lot of anger in there but I didn't really ever intend it to be that way. It was spontaneous and I wasn't afraid to show my feelings."
One of the song's iconic moments is the drum break at three minutes and 39 seconds in. "Barking seals, that's what it sounds like," said Phil. "On the original demo the drums just come in. I recorded some drums at my house and they just enter but you know that drummers like to busy themselves so by the time we got to record it I just did the fill into it. The take before, if we'd used it, would have been something different and the if I'd done another take after that would have been something different again. Myself and [engineer] Hugh Padgham just decided to keep that take and it's what I've become known for, but it was just real luck."
So how did Phil's ex-wife feel when she learned about the album? "She got very mad," Phil explained, "because she felt I was capitalising on the sadness. Some people were surprised that I would write about it, but that really is what writing songs is all about." She said in a Daily Mail interview in 2015 that she was "sick of her ex-husband saying that she left him for someone else, leaving him to write the song in his misery."
The single went to number two on the UK chart but got stuck behind John Lennon's Woman because the world were still mourning the death of the late Beatle. The next two hits, I Missed Again and If Leaving Me Is Easy which both made the top 20 carry the same message.
By the time Face Value was released in February 1981, Phil was with Jill Tavelman who became his second wife. When Phil split with her some 10 years later, that breakdown became the inspiration for his 1993 album Both Sides which Phil cites as his best work.
In The Air Tonight has been a UK top 20 hit three times. As well as its initial number two peak, a barely recognisable and seemingly pointless re-mix in 1988 by Ben Liebrand reached number four. Some 19 years later the song featured in a Cadbury's Dairy Milk TV ad with the gorilla miming the drum fill and that sent the song back to number 14. Artists need to be contacted if their song is chosen for advertising purposes and in a London newspaper interview when Phil was asked if it was made clear about the drums being performed by a gorilla, he replied, "As much as it's possible for such a thing to be made clear."
When Phil performed his song on Top of the Pops, he'd recently learned that Andrea was in a new relationship with a painter/decorator and so on stage next to him was a pot of paint and a brush next to the piano. Andrea said in that Daily Mail interview, "When I saw that I felt sick and betrayed, I knew straight away it was a message to me."