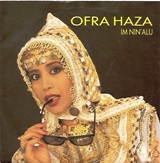 In 2000 Dido's voice was sampled on a hit which became a number one hit before anyone had really heard of her, that song was Stan by Eminem. This was not the first time this happened because 13 years earlier Eric B & Rakim on their hit Paid in Full and in-turn M/A/R/R/S on Pump up the Volume did the same using the voice of Israeli singer Ofra Haza almost 18 months before Ofra hit the UK chart in her own right.
Ofra was born on 19th November 1957 in the Hatikva Quarter which was a poor part of Tel Aviv in Israel. At the age of 12 she joined a local theatre group where she excelled at acting and singing. After a couple of years it was her singing that became more noticeable and was spotted by Bezalel Aloni who later became her manager. By the age of 19 she was one of Israel's most popular singers and was even accepted in some of the local Arab countries. She was described in one Israeli newspaper as 'The Madonna of the East with a voice of near-flawless tonal quality, capable of lending itself to a variety of musical styles with apparent ease. It is thought likely that Haza's voice had the most upper harmonic overtones of any singer in history, reaching as many as 32 on some songs.'
In 1983, she represented Israel in the Eurovision song contest with the song Chai which came second, only losing out to Luxembourg by six points.
In 1987 she nearly lost her life when in February of that year, a Cessna aircraft she was flying in hit the side of a mountain on the border of Israel and Jordan. It took hours for the rescuers to find Ofra and her entourage. The Israeli newspapers assumed the worst and began preparing an obituary. But she was found alive. "We lay there in the desert," said her manager who was on the same plane. "Ofra said that whatever happened next would be God's will. The day after that was like a national holiday. There was such jubilation."
Ofra continued to record albums and was never off Israeli radio. Her second album, Yemenite Songs, was recorded as a thank you to her family – an album of devotional poems and secular street songs passed down from her Yemeni forebears. Wally Brill, a producer who would later go on to record with Ofra explained what the album meant, "There has always been a sort of chav culture in Israel. The notion of Ofra becoming this poster girl of world music was surreal. It's on a par with Cheryl Cole deciding that her next album will comprise of Northumbrian fishing shanties."
In 1987 work began on the album Chai which contained the hit, Im Nin Alu and won the New Music Award for Best International Album of the Year. The German and Dutch release of the single contained the bracketed title (Played in Full) playing on the first song that sampled it which was Eric B & Rakim's Paid in Full.
Im Nin Alu began as a Hebrew poem written in the 17th-century by Rabbi Shalom Shabazi. The opening line, 'Im nin'alu daltei n'divim daltei marom lo nin'alu' which translates as Even if the gates of the rich are closed, the gates of heaven will never be closed. She first performed the song with the Shechunat Hatikva Workshop Theatre and broadcast on television in 1978. It's this version that appears on her 1984 album Yemenite Songs. It was a DJ called Grant Goddard who whilst visiting Israel came across the song. On his return he used it and it set off a domino effect. Over at the offices of the London Indie label GlobeStyle, Ben Mandelson heard the song and set about finding out more. "We contacted her label in Israel and said this is an amazing record. Can we release it? And they said, 'Are you sure? But what about all the Eurovision stuff, all the great pop stuff?' And we said, No thank you, we'd like the Yemenite one, please."
The original recording of the track was all in Yemenite and would have been a first UK hit in that language, but her record company insisted that she re-record the song with some English phrases to punctuate the lyrics and that's the version that made the UK chart.
Ofra was the fifth Israeli act to make the UK singles chart after Topol in 1967, Esther & Abi Ofarim in 1968 and the two Eurovision winners Izhar Cohen & the Alpha Beta in 1978 and Milk & Honey in 1979. Interestingly, most are one-hit-wonders apart from the Ofarim's who managed one other hit, One More Dance which reached number 13.
In 1994 she performed at the Nobel Peace Prize award presentation in Oslo, Norway and four years later was asked to voice Yocheved, the mother of Moses, in The Prince of Egypt and sing the film's keynote song, Deliver Us. When composer Hans Zimmer introduced Haza to the film's three directors, they modelled the character on her.
As she approached her 40th birthday she met and fell in love with a Tel Aviv businessman Doron Ashkenazi, her professional relationship with Aloni came to an end. She married Doron in July 1997 but they had no children together. She continued to record and started writing her own material. In the summer of 1999 Roger Armstrong, the head of Ace records – GlobeStyle's parent company – received a phone call from her. "It was unusual for her to call me," he remembered, "Normally, it would be Bezalel, but of course, he was no longer there." Cautiously Armstrong agreed to meet Haza in a London hotel where she would play him some new songs. "Boy were they good. They just sparkled. I couldn't believe what I was hearing." Craig Leon, who produced those demos, agrees. "She was writing her own stuff and she'd said that this was what she had always been longing to do, but no one would let her." There was a deal about to be done to release them when, on 23rd February 2000 the world learned that Ofra had died as a result of Aids-related illness, she was just 42 years old.
Throughout her career she was seen as clean and pure and was even described as a mirror image of the kind of star Madonna was in the west. "You never saw a picture of her with a man or any dirty gossip. For her, it was all about the voice," said Isthar Ashdoth, a producer and musician who also worked with her. Her former manager, Aloni, added, "She became part of my family along with my wife and two sons. I wrote plays. I wanted to be a member of the Israeli parliament. I was not a songwriter, but I started writing songs for her, and, like a miracle, they became hits."
Literally hours after her death was announced, the rumours began. Many Israeli's believed Ashkenazi, who himself died following a drug overdose in April 2001, had infected Haza with the Aids virus. His family have never revealed whether he had Aids, but, for the first time, Craig Leon revealed that Ashkenazi had told him Haza became infected from a blood transfusion in a Turkish hospital after suffering a miscarriage. She is buried in Yarkon Cemetery in Tel Aviv.
In 2007 Bezalel Aloni published a book called, Michtavim L'Ofra (Letters to Ofra). The book is a mixture of Aloni's own autobiography and partly a biography of Ofra, but it does include letters written by him to her. The same year, on the seventh anniversary of her death, the local authorities agreed to rename part of the public park in the Hatikva Quarter where Ofra lived in her honour.
The songs she wrote have yet to see the light of day. "It's best for people to remember her in a good way, not in a crying way," Aloni said, but he has no legal claim over them. Craig Leon does have copy, but as he's unsure of the status he can't do anything either. May one day we'll get to hear these unheard tracks by one of Israel's greatest export.