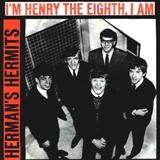 One of the oldest songs to get to number one in the UK was Two Little Boys which became the last chart-topper of the sixties for Rolf Harris. It was originally written in 1903 by Theodore Morse and Edward Madden and first recorded by the Irish-American singer Billy Murray. This week's suggestion began life just eight years later.
Herman's Hermits were one of the most successful British bands of the 1960s where, in the UK, they accumulated 17 hits in just five years, a total matched by Manfred Mann and beaten by the Dave Clark Five (19), The Hollies (20), The Beatles (24) and the Shadows (25). Peter Noone, the Hermits' lead singer, explained in an interview with Songfacts how he got the job, "There was a band called the Heartbeats and one day their singer didn't show up, I showed up, because I had an incredible amount of musical knowledge, like owning records and stuff like that. We lived in a record store, almost, so I had knowledge of all these songs. When their singer didn't show up someone said 'There's Peter Noone He knows every song in the world' and they asked me to step in that night, and I enjoyed it and they offered me the job. So I became Pete Novak and the Heartbeats. I think within a month I took control of the band, which is a kind of Nooneism: You've let me into something, now I want to take control and take over. Me and this guy Alan Wrigley became the inspiration for what kind of music would be played, and we went looking for guys to replace the ones we had with people who were just better, really."
They were formed in Manchester in 1964 and comprised guitarist Derek Leckenby, bassist Karl Green, rhythm guitarist Keith Hopwood and drummer Barry Whitwam. The name change came from a suggestion by a pub landlord who noted that Noone looked a little similar to Sherman, a character in the American cartoon series Rocky and Bullwinkle and so the group were briefly called Herman and the Hermits, but once the line-up was completed it was shortened to Herman's Hermits. "The band got busy, and we spent all day looking for work," continued Noone, "I bought a van paid for by my TV thing. So we just slowly moved into this next level. Everybody lived by now at my grandmother's and everybody eats at my grandmother's. We became close and went around the world. People think it took a minute, but it actually took a long time. There was no overnight success for us. We struggled, and sometimes we'd make enough money to eat after the show. We'd go to a fish and chips shop but we wouldn't get the fish, we'd only get the chips.
They opened their chart account with a cover of a song first recorded by Earl Jean called I'm Into Something Good which gave them their only UK chart-topper, which is one less than they had in America. Over there they charted 22 hits in the same period and their two chart toppers were strangely un-issued in the UK. The first was Mrs Brown You've Got A Lovely Daughter which was written by the British actor Trevor Peacock who is best remembered for his roles as Jim Trott in The Vicar Of Dibley and as Captain Zero in Last of the Summer Wine. It was originally sung by another actor, Tom Courtenay, in a 1963 British TV show called The Lads. Noone had seen the series and recorded it onto tape to learn. Incidentally, Peacock had written TV scripts for the music shows Oh Boy! and Six-Five Special and the hits Made You (Adam Faith), Mystery Girl (Jess Conrad), Gossip Calypso (Bernard Cribbins) and That's What Love Will Do (Joe Brown). He is now 87 and retired. Their other number one, later the same year, was I'm Henry the Eighth I Am.
I'm Henery the Eighth, I Am, as it was originally titled, was written by R.P. Weston and Fred Murray and first published in 1910 and became the signature tune of the music hall cockney comedian and singer Harry Champion (b: William Henry Crump 1865-1942) who recorded the original version of it. Harry's version had a number of long rambling verses followed by the short chorus of, 'I'm Henry the eighth I am, Henry the eighth I am, I am, I got married to the widow next door, she's been married seven times before'. Noone explained what happened when they came to record it, "We went into the studio and I tried it and there were so many verses but I could only remember one so I just kept doing it and that's not even the verse, it's the chorus." He did add 'And every one was a Henry, she wouldn't have a Willy or a Sam' but other than that they ended up singing it three times. Champion also recorded the original versions of Boiled Beef and Carrots and Any Old Iron which were both recorded later by Peter Sellers.
They lyrics don't really make any sense, obviously named-checking the 16th century King who reigned from 1509-1547, but marrying the widow next door Henry never did and, she may have been married seven times before, but the real King only had six wives.
Cockney singer Joe Brown recorded the song in 1963 as I'm 'Enry VIII I Am which influenced the way Noone sang it, the cartoon characters The Chipmunks recorded a version in 1965 and in 1990 you may remember Patrick Swayze singing it in Ghost.
Peter Noone left the Hermits in 1971 and had a brief solo career in which he signed to Mickie Most's RAK label. Most had signed the Hermits in 1965 after he went to see them in Bolton. In 1980, Noone briefly formed a new wave band called The Tremblers who released one album called Twice Nightly and featured Dave Clark, members of Tom Petty's Heartbreakers and backing vocals from Elton John. He always kept his hand in with acting having originally been a teen actor in Coronation Street. In 1983 received critical acclaim when he appeared in the London stage version of The Pirates of Penzance.
Noone is 71 and still touring around the USA. He still sings all the Hermits catalogue but Mrs Brown You've got A Lovely Daughter still goes down the best because Noone adapts the name to the party present.
He recently said, "Nowadays, in the music business, we would take Clive Davis and he would say, why don't you write another verse? We're not putting it out unless you write another verse. Or put some strings on Mrs. Brown You've Got a Lovely Daughter and make it more understandable. Get rid of the accent. People started to change things and do overdubs and stuff. We didn't like any of that. We wanted to be real and be able to play the songs on stage that we had recorded. We never got a trombone in the band and we never got a girl singer. We never had girl background vocals."
In the 1990s Noone presented a programme called My Generation on VH-1 and in the early 2010s was a DJ on the internet-based radio station SiriusXM presenting a programme called Something Good.