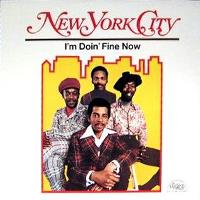 This week's suggestion is one of those songs that so many will sing alone to, because it's such as easy song to listen to and pick up but few will remember who it's by even though it reached number 20 in the chart. Equally, a cover version in 1992 went 16 places better reaching number four and how many people will remember who did it? That song is, I'm Doin' Fine Now, but how did it come about?
Ok, the two artists were New York City and The Pasadenas respectively and the former being four school friends from New York who, in 1971, recorded a one-off single for Buddah records called Seven Lonely Nights under the name Triboro Exchange, named after the bridge that links three of New York City's boroughs. The group comprised, John Brown, Tim McQueen, Edward Schell and Claude Johnson and it was Brown who mentioned in the sleeve notes of their debut album, "We feel personally that a group should be able to sing anything from the lowest, dirtiest blues through spirituals, right up through pop to the heaviest kind of music."
John was the most experienced singer having been a member of the Five Satins and then the Cadillacs, he also occasionally stood in as a member of the Moonglows. It was songwriter and record producer Wes Farrell who signed them to his Chelsea label. Wes had written songs for Craig Douglas and the McCoys as well as The Shirelles and Jay & The Americans in the States. He would later pen hits for David Cassidy most famously Could It For Forever and produce most of his and the Partridge Family's hits . It was also Wes who suggested they changed their name to their home city.
All Wes had to do now was find them some material, so he contacted his friend Thom Bell at Philadelphia International records and asked him if he could come up with a couple of instrumental tracks so he could send them to his new signing. Bell had written and produced a stack of songs for the Stylistics, the Delfonics, the Detroit Spinners and Sister Sledge, so had a trusted track record. Before long, Bell had four tracks laid down and invited New York City to the studio where Tom McQueen recalled to Blues & Soul, "The session was so easy and so relaxed, everybody just mellowed out down there and when we finished we knew we had a hit. I'm Doin' Fine Now was one of the tracks, and it did real fine." The uncredited backing band on the session was the Big Apple Band which was the first outfit fronted by Nile Rodgers and Bernard Edwards. In 1976, the classically-trained pianist Walter Murphy had a US chart-topper with A Fifth of Beethoven, a track that featured in the film Saturday Night Fever and was credited as Walter Murphy and the Big Apple Band, which is not the same band who backed New York City. Walter Murphy band didn't actually exist, it was an idea dreamt up by Walter Murphy's label, Private Stock, believing the song would sell better if credited to a band. As soon as Nile and Bernard discovered there was another band with that name, they changed theirs to Chic.
With the success of the single, an album was produced with Bell and Farrell pooling their resources and the result being a cross section of New York disco and Philly soul. The album had 11 tracks and included cover versions of Hang on Sloopy and By The Time I Get to Phoenix and three tracks written by lead singer Tim McQueen.
The band only recorded one more album the following year, this time with a lot less input from Thom Bell who had been busy writing and producing for other acts, so the majority was penned by Charles Simmons, Joe Jefferson and Bruce Hawes with one cover of Do You Remember Yesterday which was first recorded by the Intruders and written by Kenny Gamble, Linda Creed and Thom Bell. The most memorable thing about it was the cover, which parodied The Beatles' Abbey Road with the four members walking from right to left on Abbey Road and still included the white VW Beetle.