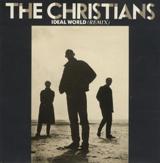 In 1989, a cover of Gerry & The Pacemakers' Ferry 'Cross The Mersey, credited to the Christians, Holly Johnson, Paul McCartney, Gerry Marsden, Stock Aitken & Waterman, topped the UK chart with all proceeds going to the victims and their families of the Hillsborough disaster. The lead credit on the Liverpool line-up was The Christians because, as lead singer Garry Christian remembered, "It was because we were the only act in the chart at the time." It actual fact, they hadn't had a hit for six months when a cover of the Isley Brothers' Harvest for The World had made number eight. In reality, the week the song entered the chart at number one, Holly Johnson had just dropped out of the top 10 with Americanos and Paul McCartney had a new entry with My Brave Face, but it's not that song I'm looking at this week, it's the Christians' first top 20 hit, Ideal World, from 18 months previous.
The band were formed in 1985 by the three Christian brothers – lead singer Garry, bassist Roger and keyboardist Russell, The fourth member was guitarist and keyboard player Henry Priestman whose middle name was Christian, but  two years after forming Roger left because he didn't want to go on tour. How did Garry get into music? "It was as a boy growing up in Liverpool that my passion for music was first ignited," he said. He is one of 13 children most of whom would often sing together at home, one of his sisters briefly dated John Lennon. Garry occasionally stole his siblings' records – The Mills Brothers were a favourite, but it was when he saw his older brothers, Dennis and Roger, leaving the house to do gigs it made Garry want to pursue a professional career.
He said: We loved entertainment at home and there were four of us brothers who used to pretend to be The Four Tops. We had a great time but I really wanted to be able to go out there like my brothers. They were performing in front of actual audiences. I thought it was amazing and I really wanted to be there with them.
Their debut hit in January 1987 was called Forgotten Town and Garry remembered in an interview how that began, "That song came in Henry Priestman's Liverpool flat back in 1986, with an A & R man from Island Records sitting in a corner. Henry had this mirror which was really dusty so I wrote the lyrics to Forgotten Town in the dust and I read them as I was singing it." In my interview with Henry he concurred, "I was the main writer, but some of these songs were so new, and we'd never performed them 'live' before,  that we did indeed have to scratch some of the lyrics (as pointers) in the dust on a mirror in my bedroom, as we attempted our showcase performance! I wrote Forgotten Town about the then situation in Britain at the time, around 1986, which was really affecting the North especially my home town Hull, and also Liverpool, were I was living."
Ideal World is what many people say they would like to live in, but what exactly is an ideal world? It's always perceived as somewhere better than where you are now – something we aspire and hope for. "When we recorded that song," Garry remembered in recent times, "we were talking about what was going on in South Africa, the Berlin wall still being up and things like that. It was a bad scene. But now things are 20 times worse; the world seems to have gone into freefall and into nonsense and we need to get ourselves out of that somehow." Henry said at the time, "I'm a reasonably chipper fellow who gets grumpy and writes a song about it. It's real, that's me, warts and all."
I asked Henry how he got going with Ideal World, "I now usually come up with the lyric, or at least a title, first, but at that time I tended to write the music/melody first, often using nonsense lyrics initially (like McCartney's Yesterday, which famously started out as Scrambled Eggs!), and then I'd either write the lyrics myself, or, in the case with a few songs on that first Christians album, got my friend Mark Herman to come up with lyric ideas, which we'd then toss around. Mark's initial title/lyric for Ideal World was The Game of Love, 'In the game of love, we'd be free to choose' etc etc) but me having written Forgotten Town, and a couple of others which had a slight social comment feel to them, I wanted to carry on in that vein for this song." Echoing what Garry said about the South Africa connection, Henry added, "It was about the apartheid situation and amazingly many of the original phrases & lyrics that Mark had written for the Game of Love song seemed to still work in the song (including the opening line 'before you point the finger, and hope the whole thing disappears' and I just had to come up with other new bits to fit the new subject, including the title."
"I always wanted to get away from Liverpool when I was younger and see the world," Garry confessed, the band have done just that, "Looking back, I can't believe it's been 25 years of The Christians. It's a long time. But then you look at bands like the Rolling Stones and they keep on doing it. There is no reason why we can't too." Life hasn't always been rosy for Garry, he's had his share of family tragedy, he lost two brothers, Dennis took his own life at the age of 26 and Roger, an original and albeit brief member of the Christians, suffered a brain haemorrhage and died at 47. "They were very awful times. Dennis was my eldest brother, he was my hero and I'd looked up to him my whole life. It was very difficult. It was the same with Roger. I was living away from Liverpool at the time and I got a call from my manager telling me what had happened. There is not a day that goes by when I do not think about them and feel sad about it."
In 2010, Garry moved to Cheshire with his wife and son and said, "I've moved up in the world, Cheshire is a wonderful county. I love the countryside, the people are so lovely and you always get friendly smiles. I can't think of anywhere better to live."
As for Henry, he continues to be busy – in 2003 he produced former Take That's Mark Owen's album, In Your Own Time and in 2008, at the age of 53, finally released his debut solo album, The Chronicles of Modern Life. Never one to stand still, he has written some music for a James Bond Xbox game and for the BBC for their Wildlife on One and Natural World programmes. He has also written the music for a number of televisions commercials, He said, "I'm not stopping those, that's what pays the bills." Still running in London's West End is the show Dreamboats and Petticoats for which Henry composed the title track. In 2012 he co-wrote Lost in the Shadows of Love, Cryin' Time Again and
Puttin' My Faith in Love with Graham Gouldman for Graham's album Love and Work. I spoke to Henry on the week of the 50th Anniversary of The Beatles' Sgt Pepper's Lonely Hearts Club Band and he said, "I'm going to Radio Merseyside tomorrow to sing When I'm 64 live on Billy Butler's special Sgt Pepper at 50" programme."
The Christians are still touring with Garry being the only original member and naturally there's a demand for all the old hits, as for Ideal World, Henry said, "I know that it's a staple of The Christians current live set, and indeed I do it in my own solo set." I asked Henry if it was the song he was most proud of, to which he replied, "No, that'll be the next song I write."