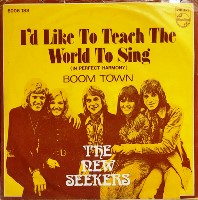 It's every song writer's dream to have just one of their songs used in a film or advert. It makes it more memorable, gives it more exposure and brings them in a lot more money. This week's song, for many, including myself, will be remembered when it was used to advertise Coca Cola. Not only is the song instantly recognisable but so is the advert if you remember seeing it at the time with the group of singers standing in a hillside belting out the words, 'I'd like to buy the world a Coke and keep it company.' That song was very different from that when it was first written.
The Seekers ended when Judith Durham left in 1968 but one member of the group, Keith Potger, felt that there was still a market for a mixed-sex harmony group singing cheerful, commercial, wholesome songs and he formed The New Seekers. He teamed Lyn Paul and Eve Graham from The Nocturnes with Peter Doyle, Marty Kristian and Paul Layton. They had a small hit with Melanie's What Have They Done To My Song, Ma? in 1970 and followed it with Delaney & Bonnie's Never Ending Song Of Love, which went to number two.
I'd Like To Teach… was written by William Becker, Roquel Davis, Roger Cook and Roger Greenaway, Cook recalled to Spencer Leigh, "Roger Greenaway and I wrote a song – well, he wrote most of it – called True Love And Apple Pie' which, let's face it, is a terrible title. We knew a singer called Susan Shirley, who was managed by her husband, and they loved the song. They put it out as a single but it did nothing."
Cook and Greenaway had a couple of hits under the guise David and Jonathan and that got them noticed. Roger Greenaway explained to Songfacts, "In 1966, because The Fortunes had had such a big hit in America with You've Got Your Troubles, I got a call from a guy called Bill Backer who was the account executive for McCann Ericsson on the Coca-Cola account in New York. In those days, if there was a hit group in the charts, they would hire them to sing Coca-Cola commercials. So, we were asked to write a commercial for the Fortunes, which we did, and from that moment on – for literally the next five years – Roger Cook and I wrote dozens of Coke commercials for different acts. We worked with people like Ray Charles, Bobby Goldsboro, The Vogues, OC Smith, Lesley Gore, and we also worked on Coca-Cola commercials for people like The Tremoloes, The White Planes and The Troggs."
Greenaway continued, "They wanted us to write a tune that would incorporate their jingle 'It's the real thing'. They wanted a tune that went from the C chord to the D and we already had True Love And Apple Pie. We changed it to I'd like to buy the world a Coke, collected $5,000 and thought no more about it until the ad was broadcast. So, I'd Like to Buy The World A Coke started out as a radio commercial but it wasn't very successful, but then somebody had the bright idea of using it as the music for a television commercial showing some kids on a hill. The commercial was so popular that Coca-Cola was getting thousands of letters a week. We amended the lyrics to remove all references to Coca-Cola, and I'd Like To Teach The World To Sing (In Perfect Harmony) was a number one hit throughout the world."
Initially The New Seekers thwarted the idea of making it into a full song, so Billy Davis assembled a group of studio singers and called them The Hillside Singers. Their version was released as a single and picked up airplay which then convinced The New Seekers to finally record their own version.
In an interview with the Daily Mail in 2009, Lyn Paul said, "We thought it was a silly, soppy song. So, it was hilarious when they decided to make it into a single. I suppose it was a nice feel-good song, but seven million records! Even now I think, how did this very ordinary song ever do it?" She added this to Spencer Leigh, "It would have been a boring song if it had been recorded by a solo singer, but all the counter-melodies make it." Lyn was doing cabaret once and someone requested I'd Like To Teach The World To Sin.
The group, typically made virtually no money from the song. They were paid around £50 a week until this song got into the charts when it went up to £100. Occasionally, they'd be given a bonus of, say, £1,000 to buy some new clothes. For this song the five group members were paid just a £2,000 session fee and the rest went to charity and their management.
In 1994, Oasis' second hit Shakermaker was released and peaked at number 11 but Roger's Cook and Greenaway successfully sued Noel Gallagher for the unlicensed use of I'd Like To Teach The World To Sing (In Perfect Harmony) and they had to pay out $500,000AUS. When asked about the matter, Noel Gallagher replied, "We drink Pepsi now."