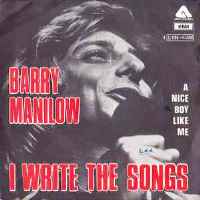 This week's suggestion came from a lady who said that when she heard Barry Manilow sing I Write the Songs on the radio she assumed he did until the presenter said he didn't. That presenter also failed to say who did write it. Naturally, when you read or hear the title I Write the Songs, you assume the narrator did. It's fairly unlikely you will have heard the writer's version of it even though it was released as a single because no one really plays it. Come to think of it, no one plays the original version either which was not by is scribe.
Many people have covered the song but thankfully I've never heard any of its interpreters claim they wrote it. The most well-known is arguable Barry Manilow's version which topped the American singles chart in 1975 giving him his second US chart-topped after Mandy exactly one year earlier. Two versions have charted in the UK, the best-remembered is by David Cassidy who reached number 11 in 1975 and lesser known version by Big Daddy – not the wrestler, but an American 10-piece Rock 'n Roll band doing cover versions of well-known songs in a Doo Wop style. Their only chart hit was the four-track Dancing In the Dark EP which bizarrely listed I Write the Songs as the lead track and it did climb as high as number 21 in 1985.
Anyway, to the origins of the song. It was solely written by Bruce Johnston who was a long-time member of the Beach Boys. It has been rumoured for many years that the song was written about the Beach Boys singer and primary songwriter Brian Wilson but in actual fact that is nonsense. Bruce Johnston explained, "I never wrote I Write The Songs about Brian Wilson. I wrote it about where music comes from (for me, music comes only from God). My song has nothing to do with Brian! I admire Brian Wilson's great melodies and, as a member of the Beach Boys, I'm singing these fantastic songs in concert year after year."
Johnston doesn't have a writing credit on any of the Beach Boys' UK hits although he did soley produce three – Here Comes The Night, Lady Lynda and Sumahama all in 1979.
What probably backs up Johnston's 'God' statement is the opening line of the song, 'I've been alive forever and I wrote the very first song' as well and the second verse beginning with, 'My home lies deep within you and I've got my own place in your soul'.
Despite Johnston writing it he was not the first to lay the track down, "The Captain & Tennille were the first artists to record my song," he explained. The Captain – real name Daryl Dragon – was a member of the Beach Boys from 1967 – 1972 and it was Mike Love from the group who gave Daryl his nickname calling him Captain Keyboard. On the back of that Dragon began wearing naval captain's hat to go with the new name.
When it was first suggested that Barry Manilow should record the song, he wasn't keen. Not because he didn't like the song but because, "I felt that if you didn't listen closely to the words you would think I was talking about me and would sound like an egomaniac." He said to Clive Davis, the head of Manilow's label, Arista, "This I Write The Songs thing Clive, I really don't want to do it. Listeners would think I was singing about how 'I' wrote the songs, when it was really about the inspiration of music." Clive didn't think it would cause an issue and said to Manilow, "Besides, you DO write songs!" Manilow, however, liked the song enough that he decided to record it and added, "Whenever I heard the song in public, I felt the need to run to everyone who was listening and say, 'You know, I'm really not singing about myself!'" Not many people say no to Clive Davis and, besides, it went on to win a Grammy Award for Song of the Year in 1976.
Other artists who have covered the song include, Frank Sinatra, Johnny Mathis, Dinah Shore and Des O'Connor (all in 1976), Vera Lynn in 1979 and Don Estelle (solo) 20 years later.