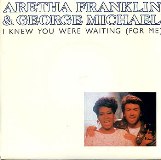 In 1993 when Lulu joined Take That on their chart-topping hit Relight My Fire, she broke a record for the longest gap between debut hit and first number one when she waited almost 29½ years. Four years earlier Gene Pitney had finally made the summit accompanied by Marc Almond with a remake of Gene's own 1967 hit Something's Gotten Hold Of My Heart giving him a gap of almost 28 years. But before those two Aretha Franklin held the record of almost 20 years between Respect in June 1967 and joining George Michael on I Knew You Were Waiting (For Me) in 1987.
The story was quite different for George who, in the UK, was racking up his third consecutive chart topper following Careless Whisper and A Different Corner. Aretha's career had waned in the UK since the mid-70s and it was her appearance in the 1980 film The Blues Brothers that gave her the boost she needed.
The song was written by both Dennis Morgan and Simon Climie. Morgan was born in 1952 on a farm in Tracy, Minnesota and at the age of 11 after seeing the Beatles on the Ed Sullivan show, got a guitar and started playing in bands and writing songs which led to him receiving a solo recording offer with a record company that took him to Nashville for the first time to do some demos. Simon Climie explained how he began, "I started as a songwriter without a huge ambition to be a rock star, but when I met Rob Fisher at Abbey Road (he'd already had some success with his band Naked Eyes as part of the British invasion) we wanted to write songs and both loved experimenting in the studios," and both became session musicians at Abbey Road. Simon's father, David, was a TV comedy writer who had success in the 50s, 60s and 70s with the shows The Army Game, Oh Brother, Bootsie and Snudge and That Was the Week That Was.
Morgan came to the UK in 1983 to see The Everly Brothers' reunion at the Royal Albert Hall. After the show, he went to Stingfellows with Phil Everly and was introduced to Simon Climie. They developed a friendship and mutual interests which led them to begin writing songs together.
Whilst still in the UK, Morgan was in Salisbury Cathedral and he prayed for a good song to take to MIDEM, the industry's musical festival in Cannes. Not surprisingly, he hit upon a song of hope with a strong Christian feeling, and he and Simon completed I Knew You Were Waiting (For Me). It was the third song they'd written together. Morgan explained in The Billboard Book of Number One Hits, "That was one of those songs that came out of mid air – a gift from above, if you will. I came up with the title and we were off and running. We pitched it to Tina Turner, Aretha Franklin and (President of Arista Records) Clive Davis at the same time. The song was not written specifically as a duet. Simon recorded the demo in London for one voice. The first I learned that the song was going to be a duet was when Simon's publisher in L.A had passed on the message that Clive thought the song was perfect for Aretha but decided it would be better as a duet and chose George Michael."
The song was produced by Narada Michael Walden which made things a little tough for George because since the Wham! days he usually did his own production work. Before this song he had only been produced by someone else on one occasion which was Band Aid's Do They Know It's Christmas?
Rumours has always existed that George and Aretha did not meet for the recording of this song. Wrong! Walden remembered, "The day after Aretha had knocked out her stuff, George flew in bright and early on Concorde from the UK. He was very excited and singing with Aretha was a lifelong ambition of his. I could understand him being nervous but he sang his heart out and I was very satisfied with what I was getting." Michael had a difficult time knowing when to stop singing. Walden continued, "He looked at me with those innocent virgin eyes, but I said to him, 'I know you're not used to being produced but we should really stop now.'"
Michael wrote about his experience recording this song in his book, Bare, saying that he and Franklin recorded the song together but did their ad-libs separately. He added, "Narada was brilliant at getting a good atmosphere in the studio and making everybody feel at ease. I was nervous but, vocally, I was getting very confident at the time. I knew that Aretha would get the melody and then take it all over the place, which sounds great, but the thing also needed tying down. And I knew there was no point in trying to take her on in that style. I had heard the thing that Annie Lennox did with her and she had tried to do it like Aretha. Now Annie Lennox is a great singer but nobody can emulate Aretha Franklin; it's stupid to try. I just tried to stay in character, keep it simple – it was very understated in comparison to what she did."
Rob Kahane was George's manager at the time and he recalled the day George and Aretha met, "When George recorded with Aretha, we had to draw on each other's energies because we didn't know anyone else, we were in the ghetto and it was scary. We pulled up outside the building in the ghetto and George and I looked at each other and said – THIS is the recording studio? We walked into the studio and Narada Michael Walden was sitting behind the board and there was incense brining in the room and Aretha was belting out this song, just belting it out. We were standing behind the glass and she was giving us chills. Great singer, she's singing great, there's a lot of her friends around, we're the only two white people in the room, everyone's looking at us. And she's belting it out and when she finishes she looks through the glass, kind of smiles at George and says to Narada Michael Warden – oh, Nada, you know I can do MUCH better than that. And George turned to me and his eyes said – oh boy."
That song was a one-off project. George has since recorded duets with Elton John, Lisa Stansfield, Queen, Mary J. Blige and Whitney Houston. Aretha also recorded duets with Elton and Whitney. She still sounds amazing but if you want to see her live you'll have to travel to the States as Ms Franklin won't travel overseas because she has a phobia of flying.
George also still sounds good and still has an army of fans, but unfortunately it's his 'other activities' and 'failures' that the press only seem to be interested in these days and George really doesn't do himself any favours to counteract that.