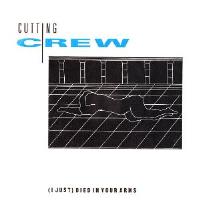 When you hear or read the title of this week's suggestion you either think this is a sad song because someone has passed away in the clutch of a loved one or the night before's prowess was so sensational hey had to shout about it.  Well, it's certainly not the former.
Despite sounding American, the Cutting Crew were a soft rock band formed in London in 1985 by founding member Nick Van Eede. Nick had an attempt at a solo career in the early seventies but then joined a band called The Drivers. They recorded a song called Tears On Your Anorak in 1982 which found its way into the Canadian chart and led to a small tour. During that tour they were supported by a band called Fast Forward which included a guitarist called Kevin MacMichael whom Eede was impressed with and asked him if fancied being in a band together. This happened in 1985 and with the addition of bass player Colin Farley and Martin Beedle on drums, the Cutting Crew were born.
Their debut single, I've Been In Love Before, sank without trace but was a respectable hit when re-issued following the success of (I Just) Died in Your Arms. According to Fred Bronson's Billboard Book of Number Ones, Eede claimed that the title actually came to him while he was having intercourse with his girlfriend at the time and explained that the title was his own version of the French term le petite mort which translates as the little death – a metaphor for an orgasm. It transpires that the girl in question was a gypsy but, "We got back together for one night after a year apart," Eede revealed in an interview with Songfacts, "and I guess there were some fireworks but all the time tinged with a feeling of 'should I really be doing this?' Hence the lyric, 'I should have walked away.' I know it sounds corny but I awoke that morning and wrote the basic lyrics within an hour and wrote and recorded the demo completely within three days." That liaison only last one night but led to them having a daughter called Lauren.
So how did the writing process work? Nick explained to Dave Fawbert, "Like a lot of the old poor musician stories – I was living in a mate's house in Epsom I think, dossing on the settee. I always played guitar – up until that point I'd always been in new wave, rocky, edgy, borderline punky bands and this was something totally different for me. They had this shitty little keyboard, y'know with the drums involved in it, where you press a button and it goes 'boom, tchk, boom, tchk,' and I wrote the opening keyboard riff and we were off and running. That was probably the first-ever song I wrote on a keyboard."
The band were signed to Siren records which was a subsidiary of Virgin, "We were always a little bit on the outside but it was the '80s and they certainly put their money where their mouth was," Eede continued. "We were flown to New York for the initial recordings of the album and this is where we got a great recording of I've Been In Love Before. Then we were flown to Australia to shoot videos, all a bit crazy really. We gave them their first US number one with '(I Just) Died In Your Arms' but the company soon outgrew us as music stars were changing in the early '90s."
The song has been covered and sampled on a few occasions, the American R&B singer Amerie covered it in 2003 under the shortened title I Just Died, but it failed to chart on both sides of the Atlantic. Jason Donovan had a go in 2010 and Bastille also did a cover in 2013. The Germany dance act Resource took it to number 42 in the UK chart in 2003. In 2009, Mika's hit Relax, Take It Easy sampled the song to a great extent and Eede wasn't initially credited as co-writer. Eede later reflected by saying, "I know as well as any other song writer that these things can happen and it's just the way of the composing world. I am completely confident Mika stumbled in to it accidentally and I am proud to be given the co-write. Kerching!"
It got yet another lease of life when it was used in an advert for Planters peanuts when it was aired during the Super Bowl in 2020.