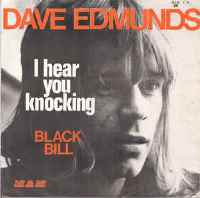 This week's request comes from my good lady who said to me one night, "What's I Hear You Knocking all about?" to which I replied, "I'm not actually sure" so she said, "Ok, you can research it for your Single of the Week feature." So, naturally, not wanting to let the better half down, I got to work.
When Dave Edmunds topped the UK chart in 1970 with the song, many thought it was written by Edmunds as the song was new to the UK chart. Many older people will remember the version by Fats Domino in 1961 but it actually goes back six years before that. It was written by Dave Bartholomew who was a New Orleans trumpet player and Pearl King which was a song writing pseudonym for the guitarist Earl King and first recorded by Smiley Lewis – the same man who recorded the original versions of Fats Domino's hit Blue Monday and Elvis Presley's One Night.
Lewis' version, which featured Huey 'Piano' Smith on the keys and Earl Palmer on drums, reached number two on the Billboard R&B chart and soon prompted a number of cover versions. Gale Storm took the song to number two on the Billboard Hot 100 and Connie Francis released a version in 1959. Bartholomew and Domino began their collaboration as early as 1949 and it was Bartholomew who suggested Domino do a version which was produced by the former and the one most will remember.
The song's meaning is best understood from the Domino version which tells the story of yet another relationship that goes wrong, seemingly, as the song suggests, she had cheated and refused to commit to the relationship and despite him not wanting here to go, ('I begged you not to go but you said, goodbye'),  she leaves nonetheless. But now the ex-girlfriend/lover is back wanting to re-ignite the relationship ('now you come back tellin' all those lies') but he doesn't want to know ('I hear you knockin', but you can't come in') and telling her, 'Go back where you been.'
Domino's version is just a couple of verses, but Dave Edmunds' version has two additional short verses, verse three says, 'You better get back to your used-to-be, 'cause your kind of love ain't good for me' and verse four reveals, 'I told you way back in '52 that I would never go with you,' but who wrote those verses is a mystery as the writing credit on Edmunds version is the same and Lewis and Domino's.
Domino's version is more relaxed in his delivery whereas Edmunds is a bit more forceful cemented by the heavier backing. Domino's middle break is a simple guitar instrumental where Edmunds is heavier and he even credits most of the previous people involved as he sings, 'Child, rave it up, Fats Domino, Smiley Lewis, Chuck Berry, Huey Smith, oh let's do it' over the top.
Dave Edmunds had been part of the Cardiff band, Love Sculpture and his frenzied guitar work on Sabre Dance had taken the single into the Top 10 in 1968. Two brothers, Kingsley and Charles Ward, had converted a barn in Monmouth into a recording studio, Rockfield, and Edmunds was to work there, either producing himself or others in a neo-rock 'n' roll style.
Why did Dave Edmunds choose that song? "I'd heard Let's Work Together by Wilbert Harrison while I was in America, but Canned Heat beat me to it. Instead, I went for I Hear You Knockin'," he explained. "I heard I Hear You Knocking on my car radio whilst I was driving in Britain because the song was getting airplay due to a Smiley Lewis compilation album which had recently been released. "I was absolutely amazed when it got to number one because it had nothing going for it at all. I didn't have a band or a manager and the only publicity was a quarter-page ad in Melody Maker. Number one around the world, amazing."
Edmunds' mechanical version sees him playing most of the instruments and his phase-reverse sounding vocals gives it a very original appeal. But it would be three years until he had another UK hit, how come? Well it wasn't through a lack of trying, the follow up single Down, Down, Down sank without trace as did the next single I'm Comin' Home. Probably frustrated he returned to the Domino/Bartholomew stable and had a go at the aforementioned Blue Monday but that didn't do anything either. When Spencer Leigh said to him about the problem of following up a million-selling, six-week number one, Dave said, "Well, it's a great problem to have. The next couple of records didn't do anything and then I did some Phil Spector-type things, Baby I Love You and Born to Be with You and I was all right then."
He had further hits with I Knew the Bride and Girls Talk written by his friends Nick Lowe and Elvis Costello respectively. In 1980 he returned to the oldies by having a hit with Guy Mitchell's Singing the Blues and John Fogerty's Almost Saturday Night. He has produced the first three hits for The Stray Cats as well as The Polecats' cover of David Bowie's John I'm Only Dancing. In 1984, he produced the Everly Brothers' come-back single On the Wings of a Nightingale but his biggest success as a producer came with Shakin' Stevens on his 1985 festive chart-topper Merry Christmas Everyone.
In the early 2000s, he was touring with his guitar in a one-man show but admits that he needs accompaniment on a backing-track if he is to tackle Sabre Dance again. In 2015, he released his final album called On Guitar…Dave Edmunds: Rags & Classics which was instrumental covers of classic songs like A Whiter Shade of Pale, Wuthering Heights and R. Kelly's I Believe I Can Fly.
In July 2017, Edmunds was among the special guests appearing with Brian Setzer's Rockabilly Riot! at the Rockers Festival in Lahti, Finland and it was to be his final live performance. On announcing his retirement, Brian said, "It's with bittersweet announcement that my good friend and guitar legend Dave Edmunds is retiring, he flew in to Finland to play his final two shows with me. I wish him all the love in the world in his retirement!"