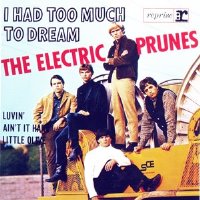 Psychedelia was a short-lived genre in the late sixties. There were a number of psychedelic bands with very extravagant name like New Riders of the Purple Sage, The 13th Floor Elevators, Dantalian's Chariot, Neutral Milk Hotel, The Olivia Tremor Control and this week's subject The Electric Prunes.
The most successful psychedelic tracks came from established bands who were experimenting – The Beatles (I Am The Walrus & Tomorrow Never Knows), Small Faces (Itchycoo Park) and The Pink Floyd (See Emily Play) et al.
There's no doubting that some of these songs may well be better understood if the listener had indulged in some illegal substances and The Electric Prunes' debut European hit, I Had Too Much to Dream (Last Night) is a good example. If you read the opening lyrics, 'Last night your shadow fell upon my lonely room, I touched your golden hair and tasted your perfume, Your eyes were filled with love the way they used to be, your gentle hand reached out to comfort me' you would imagine it to be a romantic love song, but the Prunes turned it into a psychedelic masterpiece.
The Electric Prunes were formed in 1964 in the Woodland Hills area of Los Angeles and first named The Sanctions followed by Jim and The Lords. They originally  comprised lead singer/rhythm guitarist James Lowe, lead guitarist Ken Williams, bassist and keyboard player Mark Tulin and drummer Michael Weakley and often rehearsed in a garage.
Annette Tucker was an L.A based songwriter who had co-written a minor hit called High on Love for The Knickerbockers and she explained in an interview with Tripod.com how the Prunes got started, "My friend at that time, Barbara Harris discovered them, and I hired them to play at a surprise party that I was giving for my husband at that time. I thought they were great & I had just written I Had Too Much To Dream (Last Night) with Nancie Mantz. Barbara took that song to Dave Hassinger (an engineer for the Rolling Stones 1964-1966) and later record producer signed the group and had them record that song." Hassinger also owned the rights to the name.
The lyrics of another Prunes hit, Get Me to The World On Time, could also be interpreted as a love song with some sexual connotations, 'One kiss from you and my whole body starts to actin' strange, you shake up all my hormones, you put me through a change' but how intentional was it? Tucker explained, "We very aware of the sexual overtones. It was definitely well thought out as we were writing it and I took the title from the title of the musical Get Me To The Church On Time."
Tucker played the song to the band on piano and they loved it. It had an underlying Bo Diddley beat which, as Tucker remembered, "The Prunes came up with that riff. I thought that was so creative of them." The band's keyboard player, Tulin recalled, "Get Me to the World on Time' was brought to us primarily because of the title. It was up to [us to] put credibility to their clever lyrics. I can guarantee there was no Bo Diddley beat when Annette played it on the piano."
The band had numerous line-up changes even as early as 1966 and after their two remembered hits, the band released a further 10 singles including Dr. Do-Good, The Great Banana Hoax and Help Us (Our Father, Our King) but none set the world alight and all failed to chart anywhere and, in 1970, the band split up.
In 1981, Thaddeus James Lowe (as he is now known) bought 20-odd acres of land in a remote area of Southern California, in the hills north of Santa Barbara. At the top of one of the hills he physically built a beautiful home. Soon the area became very popular with the rich and famous. It was in this house in 1999 that some original members of the band – Williams, Tulin and Weakley – got together and started recording some tracks and decided to reformed and the release of a new album called Artefact soon followed. The line-up has changed at various times but the only constant member is lead singer James Lowe.