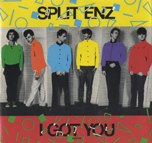 Australia's most successful band, but only in their home territory, are Cold Chisel, New Zealand's most successful band were Split Enz. It took them eight years to find international fame and even then it was just one song.
Neil Finn is a singer/songwriter born in Te Awamutu, a small New Zealand town in May 1958. As a kid he showed his flair for entertainment at the family home where they would regularly hold cheese and wine parties often with business friends of his parents and even catholic priests in attendance and it usually resulted with an obligatory performance from Neil and older brother Tim. Their mother, Mary, was known for her enthusiastic songs on the piano but were all in the same key, which was fine for their dad, Richard, who was tone deaf. The brothers took music lessons, beginning with piano, and their mother taught them to sing in harmony.
Tim was the more reluctant performer of the two, however he decided, in 1972, to form Split Enz but felt that his brother Neil was too young to join the band initially, as he was still in school, but he did occasionally open for Split Enz as a solo artist in the band's early years. When Neil left school, because they would not let him major in music, he took a job as a hospital orderly and formed a band called After Hours.
A couple of years later Tim invited Neil to join the band as lead guitarist. He was fairly proficient on acoustic guitar but not electric, Neil said he would think about it, but eventually agreed to join. Tim was astonished that Neil didn't jump at the chance, but as Neil said, "I had my current band to consider. Split Enz was taking a big leap of faith." He grew with the band, but his real talent was for writing songs.
By 1975 and after various line-up changes Split Enz settled with Noel Crombie on percussion, Eddie Rayner on keyboards, Nigel Griggs – bass and Malcolm Green on drums. Their first three albums, Mental Notes (1975), Second Thoughts (1976) and Dizrythmia (1977) all fared well down under but had limited appeal in the northern hemisphere.
They spent most of 1978 touring Europe and the UK although they had no record contract at the time. They did, however, meet David Tickle an English producer who they invited to work on their next album which was called True Colours and released in 1979. It's the one that shot them to real fame mainly due to the debut single. I Got You.
How did such a simple song come about? Generally a song with be written and a title would follow, but in this case the title came first, Neil explained, "Tim and I were having sessions where he'd throw me a title and I'd throw him a title and we'd go off to our respective rooms and write a song. And he gave me the title I Got You, and I went in and I wrote it, and I thought the verse was pretty good but I thought the chorus was only a bit average and I should change it at some point, but in fact it was never changed and it became a smash hit. It just goes to show I don't know a hit when I hear one really!"
The song topped the chart in New Zealand and Australia, reached number five in Canada, number 12 in the UK and number 53 in America. There was a massive marketing campaign in Australia which saw a new technology being used by way of a laser-etched disc. Limited edition copies of the album were released in the UK too which probably helped the album into the UK top 40. In 2001 I Got You was voted the 11th best New Zealand song of all time by APRA.
They followed it up with Six Months in A Leaky Boat which despite massive airplay and heavily championed by Anne Nightingale failed to make an impact. In the eighties the radio network was owned by the New Zealand Government and it was illegal to broadcast privately, so in protest one station called Hauraki (after the gulf of water surrounding the city of Auckland) started a radio station by broadcasting from a boat in the Hauraki Gulf – hence the lyric I just spent six months in a leaky boat, working just to keep afloat. Sadly, one radio station worker drowned during the time they were at sea.
Their next single, History Never Repeats peaked at a lowly number 63. Their UK record company, A&M, tried again with Six Months in A Leaky Boat and after some airplay got pulled by the BBC because they felt the title was too insensitive to the sailors involved in the Falklands War which was raging at the time.
Split Enz broke up in 1984 with Neil and then Split Enz drummer, Paul Hester forming a band called The Mullanes with two new members Nick Seymour and Craig Hooper. Craig left soon after and Neil changed the name to Crowded House, reflecting the cramped quarters in which they lived while in Los Angeles. They had much success until they broke up in 1996 with their final concert, entitled Farewell to the World, taking place on the steps of the Sydney Opera House in front of 150 thousand people.
Neil went on to release two solo albums, Try Whistling This and One Nil of which both received higher critical acclaim than commercial success. The same is true for the two Finn Brothers albums with brother Tim, Finn and Everyone is Here.
In December 2012, Neil was back in the public eye when he wrote and performed the track Song of the Lonely Mountain which is heard over the closing credits for the current film The Hobbit: An Unexpected Journey. Neil's third solo album, is due out mid-late 2013 and involves his wife and both sons – a true family affair.