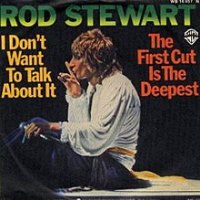 This week's suggestion was purely an album track until the singer pointed out to his record label that it was clearly becoming a crowd favourite and was likely to do well if released as a single. Rod Stewart was a good judge of character when it came to him interpreting other people's songs and he wasn't wrong about this one.
The song has a simple message and, as is often the case, when the public can relate to a story, the song is a hit. The song was written by Danny Whitten a Georgia-born musician who was the guitarist in Neil Young's backing band, Crazy Horse. Nils Lofgren, before joining Bruce Springsteen's E-Street Band was also a member of Crazy Horse and recalled to Spencer Leigh in our 1000 UK #1 Hits book, "Danny was a very soulful man and a good man and he was the one who got me in Crazy Horse. I loved his song, I Don't Want To Talk About It, and I think it is one of the greatest ballads ever. It has a very haunting lyric and I put two lines into the song because Danny was so ill when he recorded it. He could still sing and play but he wasn't bothered with much else. We said, 'Danny, we've got to do this song, it's a great song' and he said, 'It needs a second verse' and this went on for months. He never could get it together and then we were in the studio and got in an argument, and he said, 'Okay, well, one of you write it.' I left the studio and wrote a couple of lines quickly and I said, 'What about these" and he said, 'Fine, let's do it'. Danny and I sat opposite each other with acoustic guitars and Ry Cooder was (sic) playing slide on his lap and it came out beautifully." The song is a moving story about a man who is so upset and heartbroken that he is unable to bring himself to talk about it and just asking his partner to just listen to my heart.
Whitten was born in 1943 and by his mid-20s he had a terrible drug addiction. He had suffered with rheumatoid arthritis and when he started taking heroin he found that it alleviated his pain and so he became addicted. During the recording of the 1970 album After the Goldrush a number of the musicians were unhappy with Whitten's drug taking and when they complained to Young, he got rid of them. Whitten's habit had got so bad that Young had to let him go and therefore never got to perform the song with Crazy Horse. His replacement was George Whitsell.
I Don't Want To Talk About It opens the second side (the slow side) of Rod Stewart's 1975 album Atlantic Crossing. Rod had constantly played the song live and at his Christmas 1976 concerts was when he noticed the crowd singing the song and when Rod stopped, the crowd carried on. One year after Atlantic Crossing, Rod's next album, A Night on the Town was released and Tonight's the Night was the first single released and peaked at number five in the UK. Two months later it was followed by the number two hit, The Killing of Georgie – an epic six-and-a-half-minute song about a gay friend of Rod's. He recalled in Mojo in 1995, "The Killing of Georgie was a true story about a gay friend of The Faces. He was especially close to me and Mac (Faces pianist Ian McLagan). But he was knifed or shot, I can't remember which. That was a song I wrote totally on me own over the chord of open E."
The third single planned was a cover of Cat Stevens' First Cut Is The Deepest and Rod's own Riva label and its management decided, follow the concert reaction, to issue I Don't Want To Talk About It as a double A side even though the song was two years old. The song had been a Top 20 hit for P.P. Arnold, a former member of Ike and Tina Turner's Ikettes, in 1967. Pat, or P.P. said in 2003, "Cat Stevens only lived around the corner from Immediate Records. He came in with the song and my record was produced by Mike Hurst from The Springfields. I am certain that I released the first version of the song and not Cat Stevens." She was right, she recorded it a few days before Cat.
Rod and Riva's decision  proved to be the right because the song went to number one but did it get there fairly and squarely? Why do you ask that I hear you thinking? The song entered the chart in April 1977 as the UK was approaching the Queen's Silver Jubilee and the Sex Pistols were about to release God Save The Queen, their anti-royalty song that clearly mocked the monarchy. It had made number one on various music magazine's own charts. It entered the official singles chart at number 11 on the week Rod was spending his third of four weeks at the summit. Was it going to knock Rod off the following week? No one will ever really know but it did climb to number two and there were many accusations launched that the chart was rigged to avoid much embarrassment on official Jubilee week. The week after that, when Rod tumbled to number two, the Pistols sank to number four and story of Lucille by Kenny Rogers went to the top.
In May 1984, the Yorkshire duo Everything But the Girl launched their career with the song Each and Everyone that just scraped into the top 30. Their next five hit were all low entries and so they decided to try a cover of I Don't Want To Talk About It and it became an unexpected hit. Ben Watt of EGTG explained in an interview with Q magazine why it was unexpected, "When we did I Don't Want To Talk About It, we were almost trying to say, 'F**k you then! We'll do a cover version, that's what you really meant. And of course, it went to number three, and completely backfired again!"
Other versions of the song have been recorded by Rita Coolidge, Dina Carroll, Freddie Starr, Robson Green (without Jerome), Michael Ball, Andy Williams, Joe McElderry and Blue. Nils Lofgren also recorded a new version for his 2015 solo album UK2015 Face the Music Tour.
In early 1972, Young recorded a solo track called The Needle and the Damage Done which was written about Whitten's compulsion but in November the same year, Whitten overdosed on Valium and alcohol and died aged just 29 and never got to know of the success of his song.