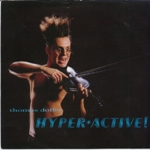 When you look back now at the eighties, the trends, the clothes, the hair and the music, only the music, well some of it, has stood the test of time. Thomas Dolby was one of those people who looked a bit geeky, dressed a bit geeky but was quite innovative when it came to music. Although he's not a regular chart visitor anymore, he's still around doing music, video and production and is now a professor.
He was born Thomas Robertson in 1958 and first hit the chart in 1981 with the minor hit Europa and The Pirate Twins. The following year Windpower peaked at number 31 but it was his next hit, She Blinded Me with Science, that received much airplay but a top 40 placing still eluded him. More people will remember the video which featured the madcap, eccentric scientist Magnus Pyke. His forte was explaining complicated science to youngsters in basic terms which made it enjoyable and, more importantly, understandable.
His biggest hit came in 1984 in the shape of Hyperactive, a song he originally wrote for someone else. Thomas explained, "I wrote it for Michael Jackson because I met with him right about the time that I was doing the video for She Blinded Me with Science and he was down the hall doing the video for Billie Jean. He was already a superstar, but this was before Thriller took off and went multi-platinum and so on. We became friendly and we talked a lot about grooves and about new techniques, and we were both started by hip-hop and things like that. So he told me that, yeah, he was putting new material together, if I had anything to suggest to put his way, then to make him a demo. So, in fact, on the plane back from L.A. to London I put on my headphones and I came up with this groove and bass line for Hyperactive and a melody, which I did send to him. And he said in the end it wasn't appropriate for the new album that he was doing. So that didn't work out. But by that time I was in love with the song so I did it myself." There was also a suggestion at the time that it was written about Jacko's persona, but Dolby confirmed, "I think it described my personality as a kid, if anything."
The female vocal on the single was eventually provided by Adele Bertei, a name you may recognise from the number 13 duet she recorded with Jellybean called Just a Mirage in 1988. Adele wasn't the first choice, it was meant to be Eddi Reader long before she had success with Fairground Attraction. What happened? "She auditioned for me when I was touring The Flat Earth. She was a fabulous singer, but she was unable to reach the high notes," Thomas remembered, "It's very funny to hear her tell the story, but she drove her neighbours crazy for days on end trying to reach the high notes, and couldn't quite do it. And since that was my single, I really, really needed somebody that could nail that part. We stayed friends, and I did some production work later."
The song and video were both innovative, but as Song Facts pointed out, it didn't demonstrate the storytelling that Dolby puts into his more serious work, which his fans appreciate but has little commercial appeal. "I think that the more extroverted side of my songwriting was what made the biggest splash on the commercial mainstream in the eighties," Thomas said, "but anybody that's listening to the albums or came to see me live realised that there was a much more personal and sort of intimate atmospheric side to my music."
Thomas had more success in the UK with his albums than he did with his singles. Hyperactive, was the first single lifted from The Flat Earth which reached number 14 and spent three and a half months on the chart. Incidentally, all four of his charting albums were on four different labels, Venice in Peril, Parlophone, Manhattan and Virgin respectively.
In terms of other projects, Thomas' first chart action came as a writer of Lene Lovich's 1981 hit New Toy. He also worked with Foreigner and appeared on their album 4. He was heard on their hit Urgent, which also featured Junior Walker on saxophone, and memorably played the atmospheric synthesizer intro on their 1981 top 10 hit Waiting for A Girl Like You. He then got involved in early rap when he produced and co-wrote Whodini's 1982 hit Magic's Wand. Realising he liked production work, he then worked with Prefab Sprout where he added his skill to seven of their hits including their most successful song The King Of Rock 'N' Roll.
He played at the 1985 Grammys with Stevie Wonder and Herbie Hancock, then later assembled and played keyboards in the band that backed David Bowie at Live Aid. He also played with Roger Waters when he staged The Wall concert in Berlin in 1990.
After his 1992 hit Close But No Cigar he got fed up with the music business and moved to San Francisco to the area known as Silicon Valley where he started his own electronics company called Beatnik and devised a tiny synthesiser that enabled polyphonic ring-tones. This software is embedded in 65% of mobile phones around the world.
In 2010, Dolby returned to the UK and now lives in a remote village near the Suffolk coast. He has a lifeboat in his garden which he's converted it into a studio and is powered by renewable energy. In 2011 he recorded a comeback album called A Map of the Floating City which is a three-part concept project that has also spawned a complex online game. The album is quite diverse and features guest appearances by Regina Spektor, Imogen Heap and Mark Knopfler. "These new songs are organic and very personal," he said at the time. "A Map of the Floating City is a travelogue across three imaginary continents."
In March 2014, Thomas was awarded the title Professor of the Arts at Baltimore's Johns Hopkins University.