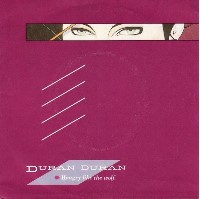 Barbarella, an astronaut from the 40th century, lands on Planet Lythion, while searching for Durand-Durand, the inventor of the Positronic Ray, which could destroy the peace of the Galaxy. The 1964 book was made into a film four years later starring Jane Fonda as the female Flash Gordon and Milo O'Shea as Durand-Durand. Around 10 years later in Birmingham, some musicians started playing together at Barbarella's club; keyboard player Nick Rhodes and guitarist John Taylor are part of a group and they think Duran Duran is a cool name. Which it is. Various changes take place with Nick playing alongside three unrelated Taylors – John (now on bass), Andy (guitar) and Roger (drums) but they did not have a lead vocalist until the barmaid at The Rum Runner suggested her boyfriend, a university drama student, Simon Le Bon. Thinking of Barbarella, they called themselves Duran Duran. Hungry Like the Wolf became their fifth UK hit single and their first Stateside, but what is it about?
"Hungry Like The Wolf was a very easy song to write," John Taylor told Complex. "That whole album we didn't have to try too hard. We didn't have to try at all, actually. That song came about on a Saturday afternoon. I think Nick had a keyboard sequence in line, Andy had a guitar riff and Simon had a phrase. I came in and I started playing bass, Roger came in on drums and the song was written in an afternoon and finished the same evening."
In the same interview, the band said, "The track was inspired by the fairy tale Little Red Riding Hood" which is something Simon Le Bon has always claimed. The rhyme featured the big bad wolf hence the reference 'In touch with the ground, I'm on the hunt, I'm after you.' But John said, "It's most likely about meeting girls, as well as wanting to have sex with someone".
The song is catchy, but it might be fair to say the video had a big part in its success. The video was directed by Russell Mulcahy who not only directed Video Killed the Radio Star but who had also directed the video to Duran's debut single Planet Earth just over a year previous and it was him who  decided on its location which was Sri Lanka. The video begins with members of the band wading their way through the busy streets of Sri Lanka then in a restaurant with Le Bon annoyingly being entertained by a man with a monkey. Le Bon then flips the large round table he was sitting alone at, exits the establishment heads through a busy street market and into a nearby jungle looking for his love. It didn't all go smoothly, Andy ran into trouble when he accidentally swallowed some water from a lagoon and caught a stomach virus which he had to receive hospital treatment for. He later described the video as "Indiana Jones is horny and wants to get laid". The love interest in question was painted as a tiger and was portrayed by Sheila Ming, a model from Bermuda.
In 1985, Starship's hit We Built This City featured the voice of a DJ called Les Garland, but before that Les was one of MTV's senior executives who recalled, "We had our weekly meeting to hear new music on Tuesdays, back then it was a fledgling industry: we'd get maybe 10 videos a week, and everyone would gather and sit through them all. I remember our director of talent and artist relations came running in and said, 'You have got to see this video that's come in.' Duran Duran were getting zero radio airplay at the time, and MTV wanted to try to break new music. Hungry Like the Wolf was the greatest video I'd ever seen." The whole shoot was based on the classic film Apocalypse Now.
According to Songfacts, the night before the shoot, Le Bon went to a stylist to get blond highlights in his hair, but she botched the job and his hair turned orange. That's why he's wearing a hat in the video.
The final version of the song was recorded London's AIR1 studio with the producer Colin Thurston. Andy Taylor told Johnny Black, "He was a great organizer and arranger and we gave him far more ideas and music than the track actually needed, and he was important in the process of whittling them down to the essential elements." Thurston and the band decided to preserve the demo's original electronic backing track and merely re-record the other instruments and vocals. "AIR1 was a big acoustic room with a very warm ambience, which gave the track a distinctive sound," says Taylor.
The song features a couple of sound effects; a laugh at the start and some heavy breathing towards the end, these were provided by Nick Rhodes' girlfriend with Nick explaining, "I taped my girlfriend Cheryl – she was sort of laughing and breathing – and we stuck it right at the start of the track, which gives it a very human quality."