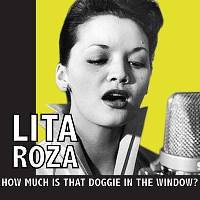 For the last few years, one really great show on Radio Two is Don Black on Sunday nights. He took over from David Jacobs when David passed away in 2013 and continues to play what David called, "Our kind of music" but is mainly crooners, show tunes and lush ballads. No better man for the job as Don had written many of them and has met virtually every songwriter in the business. One of his regular features is, 'And they also wrote this' which showcases two entirely different songs written by the same person. I don't believe he has yet featured a pairing by Bob Merrill who wrote beautiful songs like People for Barbra Streisand and also this week's suggestion, (How much Is) That Doggie I The Window.
The song starting life in 1953 when there were numerous novelty songs around. Merrill, a diverse and talented songwriter, offered the song originally to Mindy Carson, a singer who, in the 1940s, was often heard singing on the radio. She turned the song down so it was then offered to Patti Page who recorded it complete with barks which according to the label were credited to Joe and Mac, but was actually her arranger and violinist, Joe Reisman. It was released on the Mercury label and topped the Billboard singles chart. Her version reached a respectable number nine in the UK but it could have been higher if Mercury had better distribution over here.
Many American hits around that time, and into the early sixties, were covered by British artists and this was no exception, it was offered to the Liverpool-born singer Lita Roza. Lita had made her name after answering an advert in the paper for 'young' dancers – she applied and got the job at the age of 12. Three years later she was working with the comedian Ted Ray and later with the orchestra leaders Harry Roy and Edmundo Ros. At the age of 18, she retired, married an American man and moved to Miami, Florida. The marriage didn't last and she returned to the UK just after the War had ended and picked up where she left off. In 1950, she became the resident singer with the Ted Heath Orchestra.
Now, in 1953, Dick Rowe at Decca records, the man who famously turned down the Beatles, saw the potential of (How Much Is) That Doggie In The Window, and offered it to his newly signed singer, Lita Roza. When I interviewed Lita at her home in Wandsworth in 2004, she told me, "Dick Rowe asked me to sing Doggie in the Window and I said, 'I'm not recording that, it's rubbish.' He said, 'It'll be a big hit, please do it, Lita.' I said that I would sing it once and once only, and I would never sing it again, and I haven't. The only time you'll hear it is on that record."
She was true to her word and even in 1953 when the song made number one she never sang it, but then again there wasn't any music shows like Top of the Pops and Ready, Steady Go as they came later. When she was number one various people in the media tried to persuade her to sing it, she refused and in doing so she retained her integrity and it seemed to work as she won polls in both the Melody Maker and NME as the UK's Favourite Female Vocalist.
In 1955, Lita had hits with two songs she liked, Hey There and Jimmy Unknown and then contributed A Tear Fell to the All Star Hit Parade, a charity single for The Lord's Taverners Association, which made number two. The following year she married Ronnie Hughes, a trumpet player from Heath's band and although their marriage did not last, their friendship has endured. She retired in the early eighties saying, "I spent 30 years on the road, sleeping in strange beds and now I have a nice home and I want to live in it. I keep reading about people making comebacks, but I have never wanted to do that. I like my life the way it is."
The song was kept alive on children's shows like Hello Children Everywhere which was presented by Uncle Mac and also on Junior Choice where is was regularly requested.
Merrill wrote over 20 hits in the UK mostly during the fifties and 15 of those made the top 10 including the number ones She Wears Red Feathers and Look At That Girl for Guy Mitchell and Mambo Italiano for Rosemary Clooney. Sadly, Merrill committed suicide in 1998 at the age of 76 and Mark Steyn, a columnist with Slate magazine (who?) unkindly branded him the worst songwriter of all time.
In 2001, a Liverpool music Wall of Fame was unveiled in, guess where? Yep, Liverpool and every Liverpool-related number one act were credited with each of their songs, so the Beatles got 17 mentions. Liza, as the first female chart-topper from the city, was asked to unveil it saying at the time, "I think my voice can be attributed to a good pair of lungs and the Liverpool air." She also admitted, "I didn't want to do these songs. I saw myself as a torch singer and I wanted to sing nice, sentimental songs."
Doggie had another chance for a lease of life in 1973, but it didn't happen. Robert Stigwood had just launched his RSO label and had already signed The Bee Gees and Eric Clapton, but as it wasn't a great start. The label's president, David English recalled, "Eric wasn't well and the Bee Gees had sibling rivalry; so we had a massive big office in Brook Street with chandeliers, secretaries and marketing managers, but no product! The first thing I did was to release How Much Is That Doggie in the Window as Window in the Doggie (That Is Much How), because Tim Rice and Andrew Lloyd Webber came into the office and we recorded it and put it out as Rover, it sold eight copies and we sent every producer a dog bowl.