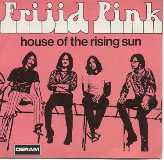 It's often made me wonder why a one-hit-wonder is just that. Is it because they tried but were unsuccessful with a follow-up? Sometimes, yes of course. Others just haven't bothered even contemplating going back into the studio ever again. I guess if you have one hit and it lives forever you can probably live on the proceeds for the rest of your life, but if you only have one hit that rarely receives airplay, do you give up?
One such act was Frijid Pink who had one top five hit in 1970 with a cover of a song that topped the chart only six years previous. That song, albeit a very old one, was The House of The Rising Sun and it even spent four more weeks on the chart than the Animals did.
Frijid Pink was formed by Rick Stevers and was completed by Gary Thompson, Kelly Green and Tom Harris and was one of the most successful hard rock bands emanating from Detroit in the late sixties. They formed in Allen Park, a suburb of Detroit located in the southern part of Wayne County, a picturesque locale with tree-lined streets and neat brick houses and was once closely associated with the Ford Motor Company. Many of the auto company's offices and facilities are still located within the city limits as is the Uniroyal Tyre Company.
Rick Stevers, who was the son of a police officer remembered, "Going through elementary school and junior high with my father was a bitch. I wore glasses and my old man was a cop; back in those days you couldn't get much worse than that". He revealed that this combination made him a frequent target of bullies and often resulted in him "walking blocks out of the way so I could get home without getting my ass beat". His interest in music started with his grandfather who gave him a small phonograph when he was three-years-old. Rick would listen to music for hours and wore out several copies of a Nat 'King' Cole record his parents had purchased. His introduction to rock and roll came when his older cousins began playing him their record collections which included Elvis Presley, Buddy Holly and the Everly Brothers. Stevers started playing instruments in elementary school and was a drummer in both the marching bands and concert bands in high school.
Tom Harris' home situation was very different from Rick's. His family came from Alabama and music was an important part of the family dynamic. Harris moved to Allen Park when he was two-years-old and every Sunday the family would gather for what they called pickin' and grinnin' sessions at his grandparents' house and he too began playing music in the school band in elementary school. His dad bought him a guitar and at the age of 13 and he was invited to jam with his neighbour's band. They needed a bass, so they took two strings off his six-string guitar and painted it black. Harris became a bass player from that point on.
That band began as The Detroit Vibrations in 1964 in Stevers' basement. They were basically a teen R&B band that covered a number of Motown hits. Besides Stevers and Harris, the other original members were lead singer Billy O'Reilly, lead guitarist Cary Dayton and rhythm guitarist Tim Machnik and it was Rick's parents who, not only, managed them but transported them to all their gigs.
After a couple of years, there were a few line-up changes, Rick recalled what happened, "Gary Thompson and Kelly Green showed up at a gig one day at The Chatterbox in Allen Park and approached my dad and said 'We're a lot better than the guys you got on stage'. So we tried them out and they ended up being in the group. We let Tim Machnik go. He really wasn't doing the job, didn't care about playing guitar, and just wanted to look good for the babes. As for Cary Dayton, I believe it really came down to his father who was pretty controlling and just didn't want him in a band." They briefly brought in another guitarist, Dan Yehlely, but he was forced to leave the group when he was drafted into the Army. Yehley was sent to Vietnam and killed in an enemy ambush just two weeks into his deployment.
According to Stevers: "We were pretty good, but we were playing backyard parties, teen clubs, and sometimes two shows a day at The Chatterbox – one for kids with no alcohol, then one at night for the over-21 crowd with alcohol. When Kelly Green and Gary Thompson joined that's when we decided to write and record original songs. It made for an interesting combination as Harris and I were more R&B and Green and Thompson were more rock".
They wanted to change their name, but what to? Rick's sister Clara got the ball rolling when she suggested frosted pink after seeing the pink paint in both Dan Yehley's and Rick's hair and on their clothes after painting the family bathroom. The decision was made one Friday evening when they were sitting in Rick's kitchen and the name frosted pink came up again and Tom's sister, Judy Harris, suddenly changed it to frigid pink after staring at the Stevers' Frigidaire refrigerator. Clyde Stevers then suggested using the 'j' instead of the 'g' because it was both different and looked German; and a classic band name was created.
Their first release in 1969 was a song called Tell Me Why, but went nowhere. They recorded an album's worth of songs at the Pioneer Studio in Detroit. The band had bought several blocks of studio time, but they were so well rehearsed that they had time left over in the session. The band was asked if they had anything else ready to record, and they tried a rock version of The House of the Rising Sun. Their fuzz-drenched arrangement had only been worked on by Stevers and Thompson. It was Thompson's idea to do the cover, not as a recording but as a song to be played in the band's live set. With 20 minutes left in the session, Stevers, Thompson, Harris, and Green did a quick run-through and then recorded it in just in one take.
Now for the song; which was originally recorded in 1933 by Tom Clarence Ashley & Gwen Foster as The Rising Sun Blues, but the story is a bit mixed. It is claimed that the melody is based on an English ballad written in the 1800s. There was also a suggestion that the tune originated from a 1928 song called The Risin' Sun by Texas Alexander, but that seems unlikely once you've heard it. According to the song historian, Alan Lomax, who said, "Many so called jazz musicians from New Orleans have known this song for ages and no wonder: the old city centre was literally cradled with Houses of the Rising Sun: there was a Rising Sun Coffee House at #9, Old Levee Street (nowadays 115 Decatur), there was the Rising Sun Hotel in Conti Street which burned down in 1822 but recent archaeological excavations reveal a more than average amount of lipstick & rouge recipients along with masses of empty liquor bottles. The house the song refers to is in most cases unmistakeably a whorehouse, but the original house, the one all these Houses of The Rising Sun where named after, may have been something completely different. And, another suggestion has been made that the song was about a women's prison with a rising sun emblem on its entrance.
A more popular version was covered in 1937 by Georgia Turner and it was her version that was circulated among New York folk revivalists, although, according to Lomax again, heirs of Georgia cashed a mere $117.50 royalty check. Many have covered the song since including Josh White in 1942 (as House of the Rising Sun) first as a soloist and later as the guitarist for Libby Holman. He was black and she was white so when they played live together they encountered controversy. Libby Holman was well placed to sing such a sad song because her first husband got killed, her lover died in a plane crash, her second husband committed suicide, her son died while climbing Mount Whitney and she committed suicide in her own Rolls Royce in 1971.
Other cover versions came via Lead Belly (1948), The Weavers (1949), Lonnie Donegan (1959), Joan Baez (1960) and Nina Simone (1961). The Animals had heard the Josh White version and although their version went to number one in 1964, it had restricted airplay by the BBC due to lyrical content. The track first appeared on Bob Dylan's eponymous debut album in 1962 and he also cut an electric version which was eventually released on his interactive CD-Rom Highway 61 Interactive. The list of covers goes on and include; Marianne Faithfull (1964), Ventures (1964), Duane Eddy (1966), The Everly Brothers (1967), Dolly Parton (1981), Tracy Chapman (1990), Wyclef Jean (1997), Toto and Muse (2002).
Things changed for Frijid Pink after the success of their version which also reached the top 10 in America. They were on the road constantly sometimes driving hundreds of miles. They were making lots of money but had no time to spend it. Stevers said that both he and Harris had stacks of uncashed checks in their dresser drawers during that amazing first year of success.
Later in 1970 they covered Elvis' debut hit, Heartbreak Hotel and for the same reason they covered House…but it only reached number 72 in their homeland. Cracks began to appear within the band and Gary Thompson and Kelly Green were described by Stevers as "hard to work with" and so left during a tour. They do, however, still receive royalty checks from the first two Frijid Pink albums because they are listed as the composers of most of the albums' songs. Stevers and Harris, on the other hand, never thought to insist on composer credit for their contributions and earn nothing in songwriting royalties.
The Animals had a similar story because it was Alan Price's decision after adding a slightly new arrangement to include his name to the writing credits and thus the royalties went into his bank account and that eventually split the band.
Frijid Pink continued touring until 1979 with Rick being the only original member but as the eighties dawned it ground to a halt and Rick briefly played in a bar band for a time before taking up a regular job with a Jeep Truck Engineering company in Ohio.
In 2006 Rick decided to revive the name and explained his motivation to the Toledo Free Press: "We had a lot of fans and it's a great name. I decided I wanted to put a band back together and do what I had the opportunity to do the first time, which was to make some really, really good music." In 2011 they began re-recording some old tracks for a compilation called Frijid Pink, Frijid Pink, Frijid Pink and the following year they released a four-track EP called Frijid Pieces. In 2014, they signed with Dynasty Records and released a new album called Made in Detroit which contained eight new songs.