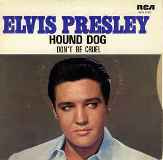 Bing Crosby's White Christmas was the first to do it and Gene Autry's Rudolph The Red-Nosed Reindeer was the second, this week's suggestion was the third, but first non-seasonal song, to do it. Do what? Sell three million copies in America. Yes, Elvis Presley's Hound Dog did it in 1956 and helped by the facts it spent 11 weeks at number one on the Billboard singles chart.
Hound Dog in its original incarnation doesn't sound much like we know the Elvis version. It was written by the Jewish American songwriting and record producing partnership of Jerry Leiber and Mike Stoller in 1952 and first recorded by the blues singer Willie Mae 'Big Mama' Thornton in that year but not issued until March the following year. Her version spent 14 weeks on the US R&B chart, seven of them at the top.
In an interview in 2001, Jerry Leiber, who often considered himself and Mike Stoller as black songwriters, said, "We'd actually written Hound Dog 90% on the way over in the car. I was beating out a rhythm we called the buck dance on the roof of the car." The original lyrics were 'You ain't nothin' but a hound dog, quit snoopin' 'round my door, You ain't nothin' but a hound dog, quit snoopin' 'round my door, You can wag your tail, I ain't gonna feed you no more. You told me you was high class, but I can see through that.' "We got to [producer] Johnny Otis' house and Mike went right to the piano, didn't even bother to sit down, he had a cigarette in his mouth that was burning his left eye, and he started to play the song. We took the song back to Big Mama and she snatched the paper out of my hand and said, 'Is this my big hit?' Next thing I know, she starts crooning Hound Dog like Frank Sinatra would sing In the Wee Small Hours of the Morning and I'm looking at her, and I'm a little intimidated by the razor scars on her face, and she's about 280-320 pounds. Johnny brought Mike back in the room and asked him to sit down at the piano, which was not easy because Johnny had this female piano player who was built like Arnold Schwarzenegger. They finally exchanged seats and did the song the way she thought it should sound. I said, 'It don't go that way,' and she looked at me like looks could kill and said – and this was when I found out I was white – 'White boy, don't you be tellin' me how to sing the blues.' We finally got through it and we both said 'that's a hit.' And I thought immediately: We both said it, it's gonna put a hex on it!"
The producer credit states Johnny Otis, but he didn't actually produce it, it was produced by Mike and Jerry themselves and Jerry explained to Sylvie Simmons in Mojo magazine why, "Johnny Otis was supposed to run the session and when we rehearsed he played drums. When we got in the studio it was his regular drummer on the stool but it wasn't happening. I said, 'Johnny, you've got to play the drums, do what you did in rehearsal.' So he said, 'Who's going to run the session?' I said, 'we will.'"
In 1955 Elvis Presley was booked in for a two-week residency at the New Frontier hotel in Las Vegas and one evening visited the Sahara Hotel on the Strip and there he was a group called Freddie Bell and The Bell Boys performing a kind of parody version of Hound Dog. They had just released their version on the Teen label but if failed to sell, however, Elvis was impressed with their version and decided to covered it in a similar style even keeping the slight change of lyric where Big Mama Thornton sings, 'You told me you was high class, but I can see through that whereas Bell's sang 'Well, they said you was high-classed, but that was just a lie.'
Elvis recorded his version in early July 1956 and it was released as a double A-side with Don't Be Cruel. Around the same time, Mike Stoller got married and was on honeymoon on a cruise of Europe. It was whilst returning on the SS Andrea Doria that in thick fog the ship collided with the MS Stockholm just sound on Nantucket Island there was 1,134 passengers on board and 50 of them died, but luckily, Mike and his new wife abandoned ship in a lifeboat and were rescued. When Mike arrived at the dock in New York, Jerry was there to give him the good news that they had their first ever hit with Hound Dog. Mike asked, "By Big Mama?" to which Jerry replied, "No, some white guy, a newcomer called Elvis Presley." Mike later said, "When I heard the record I was disappointed. It just sounded terribly nervous, too fast, and too white. But you know, after it sold seven or eight million records it started to sound better. I should also say that the other things we did with Elvis I liked very much."
There was much controversy about Elvis' gyrating hips in the 1950, so when he performed the song on the Steve Allen Show he was told that his movements were not be received well on a family friendly show, so instead Elvis sang the song to a bassett hound.
The song, was featured in the 1994 film Forrest Gump where Gump remembered an occasion when a young Elvis stayed at his home and when he played Hound Dog, Gump, in his leg braces, began to dance and claimed that it inspired Elvis' famous dance moves. The song has been covered by a number one acts including John Lennon, James Taylor, Jerry Lee Lewis, The Everly Brothers, Jimi Hendrix, Little Richard, Status Quo, Van Morrison, Robert Palmer and The Muppets.
The one thing Jerry Leiber didn't like about Elvis' version was the added line, 'You ain't caught a rabbit, and you ain't no friend of mine' saying of it, "that was inane, it doesn't mean anything to me."