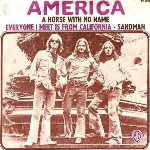 It's a wonder that this week's song was ever a hit at all given what people thought about it when it first surfaced. The song in question is America's 1971 hit A Horse with No Name. On the face of it, it makes no sense at all and people, as they do, jumped to conclusions, the most popular being that it was about drugs because, in the States, 'horse' is a slang term for heroin and thus many radio stations refused to play it.
America were a trio comprising multi vocalists and musicians Dewey Bunnell, Dan Peek and Gerry Beckley. They were so named because all of them are sons of American military personnel who were based in the UK when they met at the Central High School in Bushey Park. The school was predominantly for children from military family backgrounds. They all had a love of music and first played together as a five-piece called Daze.
Gerry began learning piano when he was three and, as a teenager he learned bass and started playing in school bands at the age of 15. As late teenagers they came together as an acoustic trio and auditioned for a concert promoter called Jeff Dexter who placed bands at the Roundhouse in London. Jeff had a songwriter and record producer friend called Ian Samwell at Warner Brothers, he was the same man who wrote Cliff Richard's debut hit, Move It, and signed them to the label.
He asked the band to come up with some songs especially ones that would break them on the radio. The band went into Morgan Sound Studios (where Beckley had played bass on demo sessions a few years before) to record some tracks, with Samwell producing and Kim Haworth who was brought in on drums. The first was an enigmatic Bunnell number with a catchy rhythm that was initially called Desert Song, but at Samwell's suggestion it was retitled A Horse with No Name.
So what is the song all about? The song's writer, Bunnell explained, " "I was messing around with some open tunings, I tuned the A string way down to an E, and I found this little chord, and I just moved my two fingers back and forth, and the entire song came from basically three chords. I wanted to capture the imagery of the desert, because I was sitting in this room in England, and it was rainy. The rain was starting to get to us, and I wanted to capture the desert and the heat and the dryness." There was also some inspiration from his childhood, "I had spent a good deal of time poking around in the high desert with my brother when we lived at Vandenberg Air Force Base in California," he continued, "And we'd drive through Arizona and New Mexico. I loved the cactus and the heat. I was trying to capture the sights and sounds of the desert, and there was an environmental message at the end. But it's grown to mean more for me. I see now that this anonymous horse was a vehicle to get me away from all the confusion and chaos of life to a peaceful, quiet place."
The song aroused some controversy at the time because of its resemblance to Neil Young. What did Bunnell think about that? "I know that virtually everyone, on first hearing it, assumed it was Neil and I never fully shied away from the fact that I was inspired by him. I think it's in the structure of the song as much as in the tone of his voice. It did hurt a little, because we got some pretty bad backlash. I've always attributed it more to people protecting their own heroes more than attacking me." Coincidentally perhaps, but A Horse With No Name, which spent three weeks at number one in America, knocked off Neil Young's Heart Of Gold. The song reached number three in the UK.
Unbelievably, the song came in for more criticism for its banal, oddly phrased lyrics, including 'The heat was hot', 'There were plants, and birds, and rocks, and things' and 'Cause there ain't no one for to give you no pain'. Bunnell explained, "I have taken a lot of poetic license in my use of grammar, and I always cringe a little bit at my use of 'aint's,' like 'ain't no one for to give you no pain' "I've never actually spoken that way, but I think it conveys a certain honesty when you're not picking and choosing your words, and you use that kind of colloquialism."
America's follow-up in the UK was Ventura Highway, which was far more melodic but only reached number 43. Their third and final hit came 10 years in the shape of You Can Do Magic, which, again, despite a fair amount of airplay, only reached number 59. In the States they amassed 19 hit singles and even managed another number one in 1975 with Sister Golden Hair which was produced by George Martin.
In 1972 they relocated back to America. Peek left the band in 1976 and the remaining members decided to continue as a duo. Peek eventually died in July 2011.
Bunnell and Beckley continue to record and tour to this day and their last album was called Back Pages which was recorded in London in 2011 and featured a special guest appearance by Mark Knopfler.