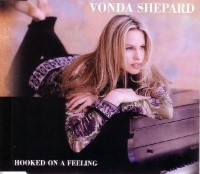 I always welcome suggestions and ideas for my music quiz rounds from the hundreds who attend and one suggestion came in a few months ago which was songs with unusual intros and this week's suggestion immediately sprang to mind. What is that strange gobbledegook sound at the beginning of Hooked on a Feeling and where did it come from? Because it wasn't on the original. Let's find out.
The song was written by Mark James, a name you may not know, but his songs you will. He famously wrote a number of hits that Elvis Presley covered including Suspicious Minds, Moody Blue, Always On My Mind, Raised on Rock and It's Only Love. He was born Francis Rodney Zambon in Houston, Texas in 1940 and began his career in 1968 as a staff songwriter for a publishing company owned by record producer Chips Moman, but by the early 70s, he was a successful songwriter in his own right.
James recorded a number of his own songs, but not Hooked on a Feeling, instead it was first recorded by B.J. Thomas, another singer who recorded many original versions of songs that included Dave Berry's Mama, and the aforementioned Always On My Mind and It's Only Love. His only UK hit was Raindrops Keep Falling On My Head which peaked at number 38 in 1970. It's a rarely heard version, so the one you may know or remember is one that featured the unusual Ooga-Chaka Ooga-Ooga chant at the beginning which came courtesy of the Swedish act Blue Swede who topped the Billboard Hot 100 with it in 1974, but even their intro wasn't original, but Blue Swede were the first Swedish act top the U.S singles chart.
The only UK hit version of the song came in 1971, when the singer/songwriter, producer, entertainer and manager Jonathan King covered it. King was a pop music fan who began his music career in 1965 with the top 10 hit Everyone's Gone To the Moon. He had further hits in the 70s often with cover versions of European hits and generally under a pseudonym. Hooked on a Feeling was under his own name and his fourth UK hit after a cover of the Hombes' Let's It All Hang Out and the Hoagy Carmichael/Johnny Mercer-penned Lazybones which was first recorded by the Casa Loma Orchestra in 1933. His version of Hooked peaked at number 23 but was the first to include the Ooga-Chaka Ooga-Ooga which he was inspired to write after hearing Johnny Preston's 1960 number one Running Bear which has a similar chant that was performed by the backing singers who were the Big Bopper and the country singer George Jones. Blue Swede heard King's version and performed it live but making the chant a little more aggressive and always inviting the audience to chant along.
The song was a fairly innocent song about love with the first verse saying, 'I can't stop this feeling deep inside of me, girl, you just don't realise what you do to me', when it came to the third verse which begins, 'I got it bad for you girl but I don't need a cure, I'll just stay addicted if I can endure' people raised an eyebrow and suspected it might have been about drugs. It wasn't. To avoid any bad press and possible radio play restriction, Blue Swede changed the third verse to, 'Got a bug from you girl, but I don't need no cure, I just stay a victim if I can for sure' but the writing credit remained solely with Mark James whose original inspiration came from his feelings from a childhood sweetheart.
When this song came in as a request, it was for the Vonda Shepard version which I hadn't realised she'd covered. How come she did? Well in 1998, the Blue Swede version was featured in the television series Ally McBeal, about a fictitious law firm in Boston, Massachusetts, in which Shepard played the title character and joined the law firm which was run by a former school friend. In 1998, there was one scene where McBeal, who realised that her biological clock was ticking away and began having strange hallucinations one of a dancing baby. She'd been laying on her bed reading and dropped off, soon to be awoken by the Ooga-Chaka Ooga-Ooga and then watching this baby dance to it. Later the same year, Shepard recorded an album called Songs From Ally McBeal which included her version and the album peaked at number three in the UK and spent nearly nine months on the album chart. Thankfully, she left off the Ooga-Chakas. The song also found a new life when it was used in the Marvel film Guardians of the Galaxy.