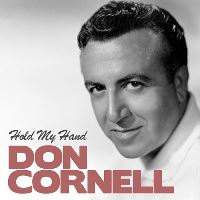 This week's suggestion comes from a long-forgotten singer who charted two songs in the 1950s. One was a virtually never-played number one and the follow up was a much more well-known song that's played even less. What's more the number one hit came from a long-forgotten movie even if it did star Debbie Reynolds. Let's revisit the year 1954 and Don Cornell's hit Hold My Hand.
Don Cornell was born Luigi Francisco Varlaro in New York on 21st April 1919. In the 1940s and 1950s, a clutch of Italian-American balladeers, most of them from New York, achieved international success. They included Frank Sinatra, Dean Martin, Perry Como, Vic Damone, Tony Bennett and Don Cornell. Cornell's warm baritone was appreciated by millions.
As a teenager, Luigi Varlaro was a singing waiter at the Embassy Club, a haunt for noted jazz musicians opposite the Bronx Zoo, said Spencer Leigh in The Independent. He hoped to be discovered, and he was, but not as he expected. He fought someone over a racist remark and a boxing promoter was so impressed by his innate skill that he invited Varlaro to be a sparring partner for his clients. He proved better than his opponents and was soon fighting professionally. He won 20 fights and then, in what could have been the inspiration for the film Pulp Fiction, he walked away when he was asked to throw a fight for gambling money.
He turned to music and worked as a guitarist in Red Nichols' Five Pennies, but he was soon concentrating on singing. He was spotted by the bandleader, Sammy Kaye, but Kaye thought his name was cumbersome and introduced him one night as 'Don Cornell' without telling him first. He based the name on his former trumpet player, Dale Cornell. Cornell sang on a succession of Kaye's hit records including That's My Desire, The World Is Waiting for The Sunrise, Careless Hands (later a UK hit for Des O'Connor), It Isn't Fair and Room Full of Roses. "I have always believed a song tells a story," Don recalled, "it must be interpreted through feelings, the message must be conveyed by the singer to the listener."
Don Cornell went solo in 1950 and signed with Coral records in 1952 but they did not have a UK outlet for their releases. As a result, Eddie Fisher had a UK hit with Cornell's American success, I'm Yours. Eventually, in 1954, Coral found a distributor and Hold My Hand went to number one.
Jack Lawrence and Richard Meyers wrote the song for a light-hearted film called Susan Slept Here, about a Hollywood scriptwriter (Dick Powell) and a delinquent girl (Debbie Reynolds). Cornell's record is played by Reynolds as she makes breakfast in Powell's apartment. The powerful ballad received an Oscar nomination, but lost to Three Coins in The Fountain.
Hold My Hand wasn't without its share of criticism; it was condemned by Geoffrey Fisher, the-then Archbishop of Canterbury and, in turn, the BBC objected to the line, 'This is the kingdom of heaven', although now it is hard to fathom why they thought it profane. An amended line, 'This is the wonder of heaven', was agreed and, by overdubbing, Cornell recorded a revised version for airplay. The commercially available record still contained the original words, but the sheet music gave the lyric as 'This is the wonder of heaven'.
When Cornell came to the UK, he learnt that the Archbishop of Canterbury had been criticising his record; "It was all over the newspapers," said Cornell, "and I was so annoyed that I broke some furniture in front of the press. The headline was 'Archbishop of Canterbury angers US singing star'. The audiences were wonderful: they would shout out, 'Sing your banned song, Donny boy!'"
Don's only other UK hit was a pleasing version of Stranger in Paradise which petered out at number 19. "This was now the rock 'n' roll era," said Cornell, "and Coral had the bright idea that I should be recording for teenagers. I did some horrible songs; Sittin' In the Balcony, for instance – and it was humanly impossible for me to do these well."
When the hits stopped, Cornell toured the States in The Pajama Game, A Streetcar Named Desire and other well-known productions. In 1963 he was among the first stars on the Hollywood Walk of Fame and, in 1993, he was inducted into the Big Band Hall of Fame. Throughout the sixties and seventies, he was performing in nightclubs and making occasional guest appearances including the TV series, Miami Vice.
In 1979 Cornell moved to Florida in semi-retirement and spent his time playing golf with his old friend Perry Como. Don passed away in February 2004 in Aventura, Florida, from emphysema and diabetes. He was 84.