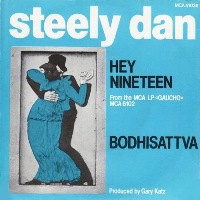 Yelling out for a Paul Hardcastle UK number one hit – could be a cryptic crossword clue for this week's single of the week, but what is Hey Nineteen by Steely Dan all about? Let's find out.
Steely Dan were essentially the duo Donald Fagen (vocals & keyboards) and Walter Becker (guitar & bass) who formed the partnership in 1972 and used an ever-changing cycle of musicians. They took their moniker from the name of a female sex toy featured in Naked Lunch by William Burroughs. "We had to come up with a name in a hurry and Walter and I were both Burroughs fans, though he was not known at the time," Fagen explained in an interview with Mojo. "It was an in-joke, who's going to know what Steely Dan was? We figured that, like most of our bands in the past, it would fall apart after three months, so we didn't think much about it. The name had less to do with sex than a rebel spirit, a beat consciousness that we grew up with."
They originally met in the late sixties whilst attending Bard College in New York. The first band they put together was called Bad Rock Group and their drummer was another fellow Bard member, Chevy Chase. If you listen to their third album, 1973s  Countdown to Ecstasy, the track My Old School talks all about it.
Hey Nineteen is taken from their eighth album Gaucho in 1980 which featured 32 different musicians on the album and ones heard on Hey Nineteen are, Hugh McCracken on guitar, Rick Marotta on drums and both Victor Feldman and Steve Gadd on percussion. Other notable musicians on the album are Mark Knopfler, Joe Sample, Michael McDonald, Patti Austin and David Sanborn. One of the engineers, Roger Nichols devised a drum machine which was showcased on this track. They even gave it a name, Wendel and it was used to record the drum part and play them back with absolute precision? Incidentally, the only musician to have played on all eight albums was Victor Feldman. Feldman, who died in May 1987 aged just 53, was a British Jazz musician who had played with the Glenn Miller Orchestra when he was 13 years old.
Gaucho means Latin-American cowboy but meant in this context they've used it as a play on the French word gauche meaning socially awkward or uncomfortable with other people, especially the young and inexperienced.
Becker and Fagen were 30 and 32 respectively in 1980 and the song tells of an 'older' man trying to seduce a 19 year-old girl and realising they have nothing in common except sex and drink. He talks about 'That's 'Retha Franklin' explaining that 'She don't remember Queen of Soul'. He says she thinks he's crazy and says they can't even dance together. Then plying her with the Cuero Gold (tequila) and the fine Colombian (possibly coffee but more likely marijuana). This was not the basis for a serious, meaningful and long-lasting relationship!
Although released as a single it failed to make the UK chart, it did, however, reach number 10 in the States. They were unlucky in the UK singles stake with their best showing being Haitian Divorce which reached number 17 in 1976, Do It Again only just crept into the top 40 the year before and FM (No Static At All) and Rikki Don't Lose That Number both failing to make the top 40 altogether. In 1989, De La Soul sampled Peg, a track from their 1977 album Aja, on their hit Eye Know.
In 1981, they stopped recording with Fagen launching a solo career but they reunited in 2001, the same year they were inducted into the Rock And Roll Hall Of Fame. Also, that year they received honorary degrees from the Berklee College of Music in Boston, where their music is a large part of the curriculum.
Tragedy struck on 3rd September 2017 when the musical world lost Walter Becker who succumbed to oesophageal cancer. According to Scott Bernstein at Jam Base he said, Hey Nineteen was the third most played song of the band's live performance career. Live performances of the tune would usually include a portion in which Walter Becker bantered with fans about a variety of topics. Sometimes, Becker would tell a story involving the city where the Dan was playing. Other times he'd take aim at Ticketmaster and the high price of tickets. Most times he'd encourage the audience to imbibe tequila. Regardless of the topic, Walter would always fit his incomparable wit and humour into the 'rant.'
One of Walter Becker's last performances took place at Humphrey's By The Bay in San Diego on April 18. The evening featured a version of Hey Nineteen in which Walt cracked up the crowd throughout his speech. Becker seemed to know the end was coming and gave tons of props to his band, told a bit of the history of Steely Dan and praised the audience. At nearly five minutes, the San Diego Hey Nineteen speech displayed Walter Becker wasn't just a world-class songwriter, composer and guitarist, he was also one hell of a human being."