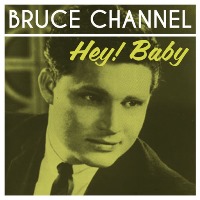 It often amazes the kids when they sing a song that is in the chart and turn around and find their parents are singing it too and wondering how they know it. Then mum or dad explains that it's an old song and the offspring is puzzled not realising it's either a cover version or a sample. This week's suggestion, which was a number one in the summer of 2001, was recorded by the Austrian DJ Gerry Friedle and did it in his own energetic style that the kids at the time couldn't possibly imagine Hey Baby being a recorded some 40 years earlier.
Bruce Channel, who was born in Texas in 1940, began singing country music at the Louisiana Hayride where he met the musician Delbert McClinton. Both men were born in the same month in the same year just 24 days apart and began working together. Bruce explained to Bert Herbison how it all began, "My brother worked for a company called Texas Tank, a manufacturer of butane tanks. I went over there, and he talked to his boss and they gave me a job, I was about 17.  I worked there for a while and I met a guy named Buddy Combs. Buddy was a guitar player and we would pick together. He said, 'I want you to meet my sister, her name is Margaret and she's a songwriter.' He took me over to Margaret's house and I met her. I started going there and hanging out. Buddy would come and play guitar sometimes and I'd do little gigs here and there. Buddy would play guitar with me. He was an excellent guitar player. Margaret and I were trying to write songs, so that's how our association started.
Bruce's favourite vocal group were The Platters and wrote a song for them called Dream Girl. It was in 1959 that Bruce and Margaret wrote Hey Baby together which Bruce had performed in various venues for a couple of years before Margaret introduced Bruce to another friend of hers called Marvin Montgomery who suggested they submit some of their song to Bill Smith, a record producer in Fort Worth, Texas. They played Bill Dream Girl and Hey Baby and Bill preferred the latter but didn't like the guitar intro but suggested a harmonica would sound better at which point Bruce called up Delbert knowing how well he played the instrument.
They laid down the song and Bill took it to a radio convention in Nashville where lot of deals were done. There was a lot of interest but Bill decided to offer it to Mercury records, but they initially showed no interest so Bill pressed copies on his own LeCam label and touted around radio stations. Once it received some airplay, Bill was contacted by Mercury who offered to buy the master tape for $500 and Bill agreed. Unfortunately for both parties, other labels had heard the song on the radio and the owner of Dot records called Bill to offer him money for the master tape of the song, but he was too late, the deal had been done with Mercury and Bill and Bruce lost out on £10,000.
When Bruce and Delbert toured the UK in early 1962, one of the dates took in Liverpool where The Beatles were lower down in the bill and an impressed John Lennon asked Delbert to show him how to play the harmonica. A few months later that inspired sound could be heard on the intro to Love Me Do.
DJ Ötzi was born Gerry Friedle in Tyrol, Austria, the result of a one-night stand. His mother put him up for adoption and he spent two years with foster parents. Then his grandmother discovered his existence and brought him back to her hometown of Seelen-Dorf on Ötz, the place he would later take his name from. At 19 he left his grandmother's home and ended up living rough on the streets for a few months. One day when he heard a passer-by call him a tramp, he decided enough was enough and became motivated to do something with his life.
His initial ambition was to be a farmer, but then discovered he had a fear of cows. After singing karaoke in local bars, he became a DJ. Taking the moniker DJ Ötzi he moved to Mallorca where he was well received. In 1998 he discovered he had testicular cancer, but after a short spell of chemotherapy, he made a full recovery. One day in his DJ set, the tall, bleached-blond Ötzi was winding the crowd up into a frenzy by playing Bruce's Hey Baby and adding his own Uuh Aah's and the crowd were copying. So, he recorded it and it was released by EMI's subsidiary label, Liberty across Europe. It went to number one in Austria and Ireland, number two in Germany, Holland, Italy, Poland and Switzerland and number three in Belgium and Denmark. On import it reached number 45 in the UK, but such was its popularity that import copies ran short and EMI were forced to bring its UK release date forward. It was released the following week and sold over 90,000 copies. The song rocketed from 45 to number one but because the UK release carried the same catalogue number as the import, its leap to the top was not considered a new entry. At the time, it held the record for the biggest climb to number one in chart history with Ötzi insisting, "I know I am no Mozart, but I am the guy who can make any party rock. I'm successful because I am who I am and not a manufactured personality. The biggest leap to number one feat has been achieved a further six times and the current record holder is Pixie Lott whose song Boys and Girls sprang from number 73 to the top in September 2009.
"I loved DJ Ötzi's version very much," said Bruce Channel in 2004. "It went platinum, so not only did it make me a whole heap of money, it brought the song to a whole audience and I'm very grateful to him for that. It also shows how it has stood the test of time."