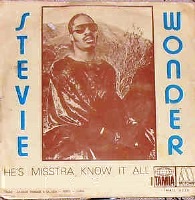 Can you believe it? In the same week, I get requests for two different songs by the same artist. Last Week I wrote about Superstition by Stevie Wonder and this week mummybear wants to know all about He's Misstra Know It All. Well, this might be slightly more complex and not as definitive as last week, but I'll give it a go.
Stevie Wonder is quite well known for writing songs with a political stance and indeed, in the 1980s, he campaigned to have a national holiday in America known as Martin Luther King Day. There had been attempts from 1979 but not enough votes were registered, but its success came when Stevie released the single Happy Birthday in 1980 in America (1981 in the UK) and it's observed on the third Monday in January.
By the early seventies, Stevie Wonder had proved his worth to Motown. He'd been with them about 10 years, he wrote and produced his own material as well as doing the same for other acts and played multiple instruments. He'd married another Motown singer, Syreeta Wright and things were looking good. Berry Gordy, the label's founder had to make sure he kept his genius and so negotiated a new contract that would grant Stevie full artistic control over all his music, allow him to have his own publishing company and an unparalleled royalty rate was agreed. No one else, certainly at that time, had been granted that much freedom. It was revolutionary. The only person who came close was Dave Clark.
In 1972, Stevie, now with a new contract, got to work on his 15th album, Talking Book and for many it's said to be the start of his classic period. Although it spent nearly a year on the UK chart it climbed no higher than number 16. The following year he released Innervisions, that spent just over a year on the chart and gave Stevie his first top 10 UK album. Higher Ground, which all about reincarnation, was the first single from it followed by Living for the City, a funky but serious song examining systemic racism and in April 1974, He's Misstra Know It All was released and peaked at number 10.
It's a song with some mystery. Who is it about? Why Misstra? Was he a real person? Well, there are no definitive answers because Stevie has never really revealed, but it has been cited over the years that it was having a dig at the 37th President of the United States, Richard Nixon. Just bear in mind that Nixon's nickname to those close to him was Tricky Dicky.
Now the character portrayed in the song is, to say the least, a little shady. He comes across as untrustworthy and devious – the opening line, 'He's a man with a plan, got a counterfeit dollar in his hand' really set the scene. Each short version adds a line to raise an eyebrow, verse two – 'talking fast, making sure that he won't be the last', verse three 'Makes a deal, with a smile knowing all the time that his lie's a mile and verse four, 'He's the coolest one with the biggest mouth', you get the picture. He's learning along the way that the more clued up people will not deal with him and only the stupid will. Any of this sound familiar in 2019 politics?! Another clue that Stevie Wonder was way ahead of his time.
You might also get the feeling that Stevie himself might have been on the receiving end and you can tell as the song moves on that Stevie is getting irritated by the conman. The lyrical comment, 'If we had less of him don't you know we'd have a better land' makes him realise how bad things have got and that he can't abide someone who doesn't honour a handshake and someone who can't accept criticism. It all comes to a head at two minutes 55 seconds in when Stevie starts to growl. He has had enough.
As for the title, if someone is so bad to you might find you can't bring yourself to address them properly by name or title. There's certainly one pop star that I find hard to call by name, but that's a different story. In this case, there is no name given but maybe calling him Mister which is a title of respect and Stevie couldn't bring himself to say that so a little jig around to still make it fit with the melody. This is not unheard of for songwriter to do that.
The parent album, Innervisions, was released on 3rd August 1973 and just three days later, whilst on his way to a radio station in North Carolina to promote the album, Stevie was involved in a serious car accident that left him in a coma for four days. It was only when his friend and singer of the lead gospel group The Dixie Hummingbirds, went to visit him did he get a response. Ira Tucker recalled at the time, "I got right down in his ear and sang Higher Ground. His hand was resting on my arm and after a while his fingers started going in time with the song. I said yeah, yeah! This dude is going to make it!"
As previously mentioned, President Nixon's spurious Tricky Dicky nickname was earned for a reason and it's because he had a bit of a reputation for not being a man of his word and having other people's best interests at heart. Harry Truman said of Nixon, "If he caught himself telling the truth, he'd lie just to keep his hand in".