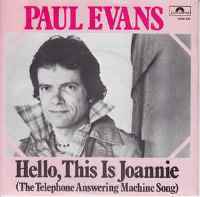 Paul Evans is one of the unsung songwriters of the 20th Century. So many of you will know songs he has written, but his name is not as well-known as say the likes of Burt Bacharach and Carole King, both of whom have had fewer UK chart hits as artists than Paul. His career, as a songwriter goes back to the fifties.
Paul, who recently turned 82, was born in the Queens Borough of New York and has lived there all his life. He was born into a musical family – his mother taught him piano and his sister taught him guitar. His father was a flautist and legend has it that he sold his flute to buy his son his first guitar. At Columbia University, he achieved a scholarship in engineering then decided to leave it all behind to go into the music business. Firstly, as a singer on the SS France and then singing in night clubs in New York.
His first hit as a songwriter came in 1958 with the song When which went to number five in the States and number one in the UK for the Kalin Twins. A cover version by Showaddywaddy went to number three in the UK in 1977. The following year, he had his first hit with a cover of a song he didn't write called Seven Little Girls Sitting in the Back Seat which stalled at number 25, but he was competing with and lost out to a UK cover by The Avons who got to number three. The following year he had his second hit, as a writer, when George Formby scraped into the top 40 with Happy-Go-Lucky Me and his second hit as an artist when Midnite Special stalled a place lower. In 1961, Pat took Johnny Will to number four and in August 1962 both Bobby Vinton and Ronnie Carroll entered the chart in the same week with their versions of Roses Are Red (My Love) and both made the top 20 and both written by Paul. In 1966, Elvis Presley took Paul's song Blue River to number 22 and Lulu's Let's Pretend reached number 11 the following year.
In 1978, 18 and a half years after his last UK hit, Paul was back with a song he had co-written with Fred Tobias (his collaborator on Johnny Will and Blue River) a death song called Hello, This Is Joannie (The Telephone Answering Machine Song). He recalled in an interview with Song Facts, "I did a trick on the guitar, and I was writing to that trick. It's a way I play chords way up on the neck of the guitar. I couldn't write a lyric to it – my co-writer's the one that came up with the lyrics, and that was Fred Tobias. It was a death song, for sure."
The song tells the story of a couple who end up having a row after a drinking session and she storms out and drives off. He feels bad so the next morning he tries to call her phone but gets no answer. Back in the seventies, an answering machine was quite a rare thing, but this girl had one and so he heard her voice which said, 'Hello, this is Joanie, I'm sorry I'm not home, but if you leave me you name and number I promise soon as I get in I'll phone.' He left a message saying, 'Joannie I'm sorry and I'm feelin' oh so small' and he waited anxiously for her to call. She didn't call.
Then, things change. He sings, 'My phone rang and my heart sang, my baby's called at last, instead it was a friend who said that Joannie's car had crashed' at that point he realises he'll never see Joannie again, but then takes comfort by ringing her number, at least he'll keep hearing her voice.
"The funny thing about the song, it was a bigger hit in England than it was here," Paul explained. "Here it was a country hit, big city country stations, there it was a pop hit. The funny thing was that answering machines were not very popular in England at the time. I can't explain that. They liked the record more than we did."
When I was in New York in 2004 researching for my Number Ones book, I did a brief interview with Paul. He was a lovely man, but what I wanted to know more than anything was the name of the female who provides the voice of Joannie, "No problem," he said, "her name is Lea Jane Berinati but the lady in the video was a model called Susan Brooks."
Paul, like Albert Hammond, goes out on tour on the oldies circuit and performs all the songs that have made him famous either as an artist of a songwriter, I suggest if you're in New York try and catch a show, you'll be singing along to the majority of his material.