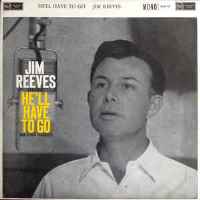 Over the years, a number of singers have turned into radio broadcasters and using Radio 2 as an example, Jimmy Young, Michael Ball, Elaine Paige & Ana Matronic have all done just that but the other way round is quite a rarity. Jim Reeves is one but he never considered himself a singer despite charting over 25 UK and US hit singles as well as 73 hits on the Billboard Country chart. This week we look at his debut UK hit.
James Travis Reeves was born in Panola County, Texas in August 1923 and after completing his education had aspirations to become a baseball player, but due to an ankle injury that ambition was short-lived. So instead he moved to Shreveport, Louisiana and began work as a radio announcer on KWKH. With his deep rich voice he was occasionally encouraged to sing in between announcements. He got his first recording contract with Macy's in 1950 and joined the Louisiana Hayride cast three years later, two years after that he joined the Grand Ole Opry.
His first country hit was Mexican Joe in 1953 which spent nine weeks at the top and followed it with Bimbo which topped the country chart for three weeks. His 1957 eight-week chart topper became his first Billboard Hot 100 hit. The following year the Roger Miller-penned Billy Bayou gave him another five weeks at the top. But it was in 1959 that he really hit the big time when the Joe and Audrey Allison song He'll Have to Go gave him his first UK hit and spent a whopping 14 weeks at number one on the U.S. country chart.
The song is seemingly about a man ringing his wife or girlfriend and feeling that she is cheating on him because he thinks there is someone there with her and explaining that he can't say the intimate things he normally would when another man is on the scene.
Jim Reeves made that song his own making you believe that the problem was between him and his significant other, but in truth, it's not a true story and no one else was involved, but it was a real phone call that inspired it.
The song was written by the husband and wife song writing couple, Joe and Audrey Allison and one day Joe was out and called his wife to check everything was ok, but the trouble was that Audrey had such a soft voice that Joe couldn't hear what she was saying and kept asking her to repeat herself. He asked her one more time to speak up and put her mouth closer to the receiver so he could hear her properly which she finally did and all was ok.
When Joe arrived home he saw a piece of paper which was always kept by the phone and saw a single line of writing which Audrey had written that read, 'put your sweet lips a little closer to the phone'. After realising it was from their earlier conversation he noted that Audrey had changed mouth to lips and thus inspired a memorable song which now felt like it was a conversation between two lovers. Instead of talking to Audrey about what she had written and asking if she wanted to add to it, he just carried on writing and within a matter of minutes, Joe had just about finished the song.
It seems unlikely that either of them would have come up with that song alone, but it was her line that triggered the song. They called it He'll Have to Go and gave it to Columbia records who got one of their new signings, Billy Brown, to record it first. The label failed to promote it properly and song only got occasional airplay on the country stations. One of those few occasions was lucky for Jim Reeves who heard it and wanted to record it straightaway. He was advised to hold off just to see if Brown's version would do anything. Jim just knew that this song was the one saying to his close associates, "This is going to be the big one. No matter what I've done in the past, or ever will do, He'll Have to Go is going to be the one that will live on." Thankfully, Brown's version didn't go anywhere and it was agreed that Jim would record it in Nashville.
The recording sessions at the Little Victor studios in Nashville usually took place in the afternoons and evenings, but Jim asked for an early morning recording session because he knew his deep voice sounded more resonant in the morning and knew he could do it justice. Jim's regular musicians were known as the A Team and all were there in the morning and they comprised, Floyd Cramer on piano, Hank Garland on guitar, Bob Moore on bass and Buddy Harman on drums. The backing voices were the Anita Kerr singers and producer Chet Atkins brought Marvin Hughes in to add a touch of vibraphone. It was the third take that nailed it and in the same session three other songs were recorded, one of them being In A Mansion Stands My Love, which was put on the other side of the record.
Just when it was time to sit back and watch the record fly, a spanner was put in the works by RCA. Jim's label had decided in their infinite wisdom to relegate He'll Have to Go to the B-side and, instead, promote In A Mansion Stands My Love. Jim and Chet were furious. Once the record was serviced to radio stations, many of the DJs agreed with Jim and Chet by actually playing the B side and thus He'll Have to Go became the big hit and his first UK hit reaching number 12.
Jim had taken a pilot's test and qualified but, like Roger Peterson – the pilot of the Buddy Holly plane crash – he was only qualified to fly VFR (visual flight rules) and on the afternoon of Friday 31st July 1964, Jim, and his manager Dean Manuel, were en route to Nashville International Airport from Batesville, Arkansas when they encountered a storm and heavy rain and literally within 60 second the plane had nose-dived and both men died instantly. There was a lot of confusion surrounding the moments leading up to the crash with one story being that he was flying upside down, but this was incorrect and attested by an eye-witness and singer Marty Robbins who remembered hearing the crash and helped direct investigators to the location. More confusion was added when the Nashville Controller John Hettish pinpointed the exact spot of the impact but investigators still took a couple of days to locate the wreckage. There is further fascinating reading on this in Jim Reeves: His Untold Story which was published in 2011 by author Larry Jordan.
The week Jim died, ironically I Won't Forget You was on its way down the UK chart from number four but went back to a new peak of number three. Two years later Jim had his only UK number one with Distant Drums which he'd originally recorded purely as a demo for Roy Orbison.
In 1967, Jim Reeves was posthumously inducted into the Country Music Hall of Fame and 31 years later, he was inducted into the Texas Country Music Hall of Fame. That is where his Memorial is situated with the inscription, 'If I, a lowly singer, dry one tear, or soothe one humble human heart in pain, then my homely verse to God is dear, and not one stanza has been sung in vain.'