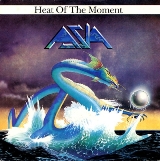 The term Supergroup is generally accepted that all members are famous and have had a notable career of their own prior to becoming a member. Humble Pie are often cited as the first but I disagree as Jerry Shirley hadn't had a career as he was only 17 when he joined. As Guitar World once headlined, Supergroup is a word that doesn't sit well with a lot of people. For some, it conjures thoughts of bloated egos battling for creative control. For others, it brings to mind flash-in-the-pan projects that lacked a lasting impact. Indeed the latter is true and probably the most famous Supergroup of all time has to arguably be the Traveling Wilburys whose career was sadly cut short following the death of Roy Orbison in 1988. Today's subject features the fine rock outfit Asia and their debut hit Heat of the Moment which bizarrely missed the top 40 completely.
Asia were the epitome of a prog-rock band as all four members had served their time in various bands of that genre; lead singer and bass player, John Wetton had been, at varying times, a member of King Crimson, Roxy Music, Wishbone Ash and Uriah Heep, guitarist Steve Howe was formally with Yes as was keyboard player Geoff Downes who had also been in the Buggles with Trevor Horn and finally, Carl Palmer, one third of Emerson Lake and… as well as The Crazy World of Arthur Brown and Atomic Rooster. Asia were brought together by John Kalodner, an executive at the Geffen Records who had a notion that, despite past membership of the various bands, the combination would work. Yes were still active but were on a fallow period and their next big hit, Owner of a Lonely Heart was still nearly two years away so it wasn't bad idea of Kalodner's to 'borrow' the two Yes members.
How did the band feel about their assembly? "It was the early 1980s and Emerson, Lake & Palmer could not have carried on as we were," Carl Palmer explained in an interview with Team Rock. "We were not being played on the radio. America had gone very, very corporate and so it was a case of repainting the armour. Asia's music was pop music, but with an edge." Wetton added, "Prog still lived deeply inside the four of us, but with Asia we sliced away the fat. We took our 12-minute songs and removed the 10 minutes of noodling around. The ingredients that we'd grown up with were kept, but we transposed them into a more succinct setting. Heat of the Moment had its root back in 1980 when Wetton began writing the song whilst still a member of Wishbone Ash who were mid-way through recording their album Number the Brave at Criteria Studios in Miami. "Sessions would end around 6pm,"Wetton told Song Facts, "and I would stay late in the studio and come up with ideas, many of which made their way onto the first Asia album. I couldn't waste a studio like that with the best time in it. I originally composed Heat of the Moment in the style of a country and western ballad. It was in 6/8 time and would have made a very good country song," laughs Wetton now. "But, as happened so many times with that first Asia record, Geoff (Downes) had a verse that dovetailed perfectly with my chorus, or vice versa." Downes admitted that his input with Asia was similar in meter to The Buggles' Video Killed the Radio Star. "That's frequently been pointed out to me," he laughs, "but plagiarising yourself is okay. It wasn't until we got into the studio that we thought of adding the power chord intro that makes the song so distinctive."
Some of the best love songs are in rock, but Heat of the Moment is not a love song, its opening line, 'I never meant to be so bad to you' sort of gives it away. Is it autobiographical? "The whole song is just an apology," John Wetton told Song Facts. "It's just saying I f**ked up. I hold my hand out and I got it wrong. I never meant it to be like that. I didn't want it to be like that. And so I'm sorry. It's the only song I've ever heard that begins with an apology," he added. "It was written for my girlfriend Jill, who later became my wife." The pair divorced after 10 years.
The third verse opens with the line 'And now you find yourself in '82, The disco hot-spots hold no charm for you', the '82 is only a coincidence of the year the song was released, but as John Wetton once explained in an interview with QFM96 in Columbus Ohio, it refers to a tally kept on groupies he'd had sex with on a past tour.
The prog clues are still there; it contains a complex middle-eight section, which Wetton and Downes came up with whilst sitting around the piano. Wetton said, "I still remember John Kalodner saying: 'It would never have been a hit but for the guitar intro', to which I replied: 'but what about the chorus, the lyrics or the chord sequence? What about the unusual drumming?'"
"I'm still amazed that the song never actually gathers momentum," commented Carl Palmer to Team Rock. "it stops and starts and stops and starts, but it really connected with people. I wish that John and Geoff could write another one like it." Steve Howe was the hardest one to convince about the song's potential. They needed a distinctive guitar intro but Steve wasn't convinced. "Once the song was written all we had to do was persuade Steve to play it," Wetton said. "In fairness to Steve," added Downes with a feeling of triumph, "it was a very, very un-Steve part. He definitely felt it was too poppy for his taste, and it was a bit of a struggle, but eventually he stepped up to the plate."
The accompanying video for the single was created by Kevin Godley and Lol Creme who were being commissioned to direct many videos at the time. Throughout the song the screen shows a grid of 16 squares constantly changing showing images of the band singing and playing or images that reflect the lyrics. The eponymous parent album performed better than the singles reaching number 11 on the UK album chart.
The song has cropped up in video game Guitar Hero Rocks the '80s which enabled the budding muso to play along with this song with a virtual guitar, an episode of South Park and in the 2005 film The 40 Year-Old Virgin, leading Wetton to comment, "I loved the scene where the main character, Andy Stitzer, played by Steve Carell, is accused of being gay by a couple of his mates, because he has an Asia poster on his wall!"
Once it was in the can, Geoff remembered how he felt at the time, "John and I were in the States and our song came onto the car radio, we twizzled the dial and it was also being played on another station. It was crazy and very exciting."
The band's 1983 album Alpha which, despite reaching number five in the UK, sold poorly and Wetton departed, but bizarrely no one is quite sure how. The band statement said he quit and yet Wetton's version was that he fired by telephone. They already had a tour booked in and Greg Lake from ELP was drafted in. The toured was well received even though the band weren't happy with it musically and Lake left once the tour was complete with Wetton returning in time to continue the 'A' album theme with Astra, which had the original working title Arcadia.
Following Astra, which spent a solitary week on the chart at number 68, various member came and went including Wetton again and Steve Howe. In 1991, John Payne became the permanent new lead singer and the first album with Payne on vocals was, yet another 'A' title, Aqua in 1992 but it failed to make an impact and did three further 'A' albums, Aria (1994), Arena (1996) and Aura (2001).
In 2006, all four original members reunited for a tour which sadly left Payne without a band, so, after legal wrangling over the name, Payne decided to formed his own band called Asia featuring John Payne and went out on tour, meanwhile the real Asia hit the road under the moniker All Four Original Members of Asia, so the fans didn't book tickets to the wrong Asia concert. They also recorded two further albums, but not on the same 'A' theme, Omega was released in 2010 and XXX two years later.
In 2013, Steve Howe announced that he was retiring to focus on other projects and was replaced by a 27-year-old Sam Coulson. In March the following year Asia released their 14th album called Gravitas. The band then had to take a hiatus due to Wetton discovering he had abdominal cancer. A statement on John's website dated May 2015 read, 'On May 16, John underwent surgery for the successful removal of a 1 kilo [2.2lb] malignant mass. John wishes to extend his thanks to Mr Chan and his team. John is also beyond grateful for the wonderful wishes and prayers received.' In August John, now in recovery, posted, "I start chemo 2moro – I urge everyone to be checked for cancer regulary (sic) 'cause cancer growth is rapid – and before you know it – agonising." According to the official Asia website, they hope to back on the road towards the end of 2016.