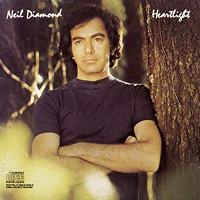 Films and their title or characters have been many an inspiration for a song and Steven Spielberg's 1982 alien character is no exception. Michael Jackson was a fan as he narrated the story, which was released as a box set and was also inspired to record and song about it called Someone in the Dark which was written by Alan and Marilyn Bergman and Rod Temperton. In 2011, Katy Perry had a UK top three hit with E.T. and some bizarre spin-off's include E.T. & Me by The Chipmunks, E.T. Boogie by the Extra T's and I Had Sex with ET by Barnes & Barnes. One you may not have known was a minor UK hit for Neil Diamond called Heartlight.
When Neil first saw the film, he was so enthralled by it that he immediately wrote the song. For anyone who hasn't seen the movie, E.T – standing for Extra Terrestrial – it is about an alien who came to Earth but missed the spaceship to take him back and ends up being adopted by a family and befriends a little boy called Elliot. When he flies his heart glows hence the song's title.
Diamond was invited to a promotional screening of the film and there was the husband and wife couple Carole Bayer Sager and Burt Bacharach. Once the film had finished the three of them went straight back to Carole and Burt's apartment to write the song. Neil said of it, "We wanted to express how all of us felt about the little alien who suddenly appears in a strange world and to create a simple musical statement that we all felt very sincerely."
Once he had recorded the song he suddenly wondered how the younger generation would perceive it so Neil played it to his son Jesse using him as a sounding board to which he gave it the thumbs up.
Heartlight also became the title of the parent album which spent 10 weeks on the UK album chart but just missed the top 40. In his homeland, it reached number nine. As a single it became Neil's last of eight number one hits on the US Adult Contemporary Hits chart.
Seemingly totally inoffensive the song did cause Neil one hindrance. The MCA company who was in charge of merchandising for the film threatened to sue Neil which seemed a slightly odd move given the song does not mention the film by title, nor any of its characters, but in order to avoid any court proceedings, he agreed to pay the company $25,000.
After the mid-eighties, Neil's chart career dropped off, but had constantly remained a massive crowd puller when playing arenas and stadiums all over the world. He still wears that glittery silver and blue jacket from the 70s but he can be forgiven for that I guess.
Neil, who is just coming up to his 79th birthday, announced this time two years ago that he would retire from live performances with immediately effect due to having been diagnosed with Parkinson's disease, he was in the middle of a 50th anniversary tour at the time and dates in Australia and New Zealand were cancelled.