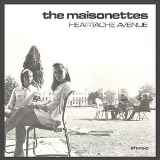 Back in the late 1970s, a Birmingham rock band called City Boy finally hit the big time after three years of hard graft. Their single 5-7-0-5 climbed the UK chart to number eight and despite a couple of lower charting follow-ups, What A Night (no.39) and The Day The Earth Caught fire (no.67) they've been labelled as one-hit-wonders by which time the band had really had enough.
Lol Mason was the lead singer and had co-written 5-7-0-5 but wasn't keen on touring so eventually broke and band up. Before long he formed another band with a songwriter and keyboard player Mark Tibbenham, "City Boy were on their last legs in 1981" Mark explained in an interview with Kieron Taylor about how he and Lol got together, "they used to rehearse at a studio where I was a trainee engineer. We had a drink and Lol said 'Let's do some Northern Soul.' We were sick of the New Romantics."
They formed a band called the Maisonettes – which was a play on Lol's surname – and comprised Lol (vocals), Mark (keyboards and guitar), Elaine Williams (vocals), Denise Ward (vocals) and Nick Parry (drums). It turned out that Elaine and Denise could not harmonise sufficiently so two other singers were drafted in, but by the time their first single had been recorded all the publicity material had already been published.
That first single was Heartache Avenue which was recorded as a demo but it was agreed that it sounded good enough to be the finished article, so they sent it round to a number of record companies who all turned it down. Mark explained how they eventually got a record deal, "Our drummer, Nick, said he knew David Virr who ran UB40's Graduate label so we gave him a cassette and within a week he told us he was interested in publishing it." It was eventually released on a Graduate subsidiary label called Ready Steady Go! The song was, as Lol and Mark wanted, Northern Soul influenced with a touch of Motown which was more well-known and thus caught the public's attention and climbed the chart to number seven.
They released two follow up songs; Where I Stand and Say It Again but they sank without trace, they even released a 10-track album called Maisonettes for Sale which only charted in Canada. With no further chart action, they broke up.
Heartache Avenue got a new lease of life in 2011 when the grime outfit, Roll Deep sampled it in their UK number 11 hit The Avenue.
Lol remains an in-demand session musician, Mark, after Where I Stand flopped, said, "I wasn't bothered. Heartache Avenue irritated the hell out of me. I was more impressed by the later single This Affair. It was a beautiful ballad, which appeared regularly on a local radio station, but sadly not a hit. I was worried it would be found out we were not a real group." He went on to play bass in a bluegrass band called the Toy Hearts. He said, "When I joined the Toy Hearts they never knew about Heartache Avenue – but thanks to Roll Deep, they do now."