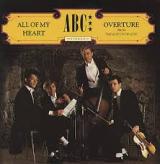 When you look back at the eighties especially the fashions, Duran Duran and Spandau Ballet particularly come in for more ribbing than most, but ABC, especially lead singer Martin Fry, was right up there with the dodgy hair and that gold lamé suit, but his name rarely crops up. Maybe it was the music that stood out and the fact that their debut album, The Lexicon of Love, is still a classic?
ABC began as Vice Versa in 1977 by Steve Singleton and Mark White. Fry was a writer for a fanzine called Modern Drugs and he went to interview Vice Versa. Singleton and White were impressed with Fry and asked him to join the band as a keyboard player. By 1980 they had evolved into ABC, Fry had taken over lead vocals and the band was completed when drummer David Palmer joined. They founded their own Neutron record label but it when they were teamed with producer Trevor Horn that they really honed their unique sound.
Fry and White were the main songwriters and all their songs were on subjects that your everyday folk could relate to. "We'd made the top 20 with our first single, Tears Are Not Enough, in 1981," Fry recalled in an interview in The Guardian, "and wanted the album to be more polished. After hearing Dollar's Hand Held in Black and White, which had this panoramic, widescreen sound, we approached its producer, Trevor Horn. He got what we were trying to do immediately. We were full of ideas and thought we could change rock'n'roll – very ambitious for guys who'd just been signing on the dole in Sheffield. Lyrically, while I loved the likes of Gary Numan and OMD, I wanted to take my songs to a more emotional level, along the lines of Rodgers and Hammerstein or Cole Porter. At that time, there were few songs about really loving or hating someone; and, whereas punk had been quite blokey, women make their presence felt in Lexicon. It was unusual to feature strings so prominently, too, unless you were Cilla Black or Cliff Richard. The Look of Love, which got to No 4, had all these pizzicato arrangements over a moog bassline, while All of My Heart was very Bridge over Troubled Water."
Fry knew exactly what he was looking for, "I loved the strings on the Chic records, and the whole soundscape of Earth, Wind & Fire. Fusing that with the likes of the Cure and Joy Division was what we were after – while Mark White, our guitarist, was keen to give the album the feel of a film soundtrack. The highly theatrical sleeve even had a touch of that old movie classic The Red Shoes to it: that was a pretty bonkers film, more intense and emotional than factual. The Lexicon of Love is a bit like that. I used a lot of falsetto, partly to convey the rollercoaster ride – the elation and despair – of being in love. The gold lame suits and dinner jackets were us turning away from punk. There was an element of James Bond to it all, very aspirational and cosmopolitan," Fry reasoned.
When Fry moved from keyboards to lead singer he wasn't replaced so ABC had no keyboard player, "so Trevor Horn brought me in," explained Anne Dudley. At some stage during the recording of The Look of Love, he decided it needed a real string and brass section. With the confidence of youth, I volunteered to do the arrangement, even though my experience was minimal. When we recorded the 30-piece string section at Abbey Road, I was often the youngest person in the room. I'd always loved the orchestral flourishes in Gamble and Huff's disco classic The Sound of Philadelphia. These became my chief inspiration, alongside the soaring yet simple string lines in Bee Gees records; and there was even a bit of Vaughan Williams in there, too."
Every song was an opus in its own right. Poison Arrow, in February 1982 was their first top 10 hit making number six and three months later The Look of Love went two places better. Arguably the masterpiece became the final single taken from The Lexicon of Love and that also reached the top 10. "To be honest, I thought All of My Heart was rather weak at first, until Trevor added the dramatic pause at the end of the chorus, before the line 'all of my heart'. We then mixed in some timpani, while the fadeout was a chance for me to have an English pastoral moment", recalled Anne. In the end, it was probably Martin's best vocal performance, and it became a stand-out song. But the tracks were all outstanding, Martin's witty and effortless lyrics encapsulating the trials of young love." In 2012, Anne added, "I'm delighted with how it sounds 30 years on – and not too embarrassed by my youthful efforts." At the same time, Martin recalled "30 years on, I'm performing these songs with a full orchestra. I've lived a full life and have two children now, so it's interesting coming back to All of My Heart – and singing it as a man rather than a boy."
ABC's career waned a little after the passing of the new romantic era, but they still managed a number of hits throughout the eighties with their next most successful single being the 1987 tribute to the Motown legend Smokey Robinson in the shape of When Smokey Sings. After that they never troubled the top 30 again. Part of the reason for this maybe that in 1985, at the age of 28, Fry was diagnosed with Hodgkin's Disease, a lymphatic cancer and had to have chemotherapy and radiotherapy as well as several operations. He lost his flowing blond hair but refused to let cancer beat him and kept working for the three years of his treatment. "We had a record in the American charts," Fry said, "And I was doing Top of the Pops in the UK and this cancer just came slap-bang down from the sky and I was fighting for my life. Last year he said, "I'm fine now, but I was only a young man when I got cancer. I couldn't go on the road and enjoy the success we had. I wonder if that's why I climbed on stage in 2014, because I felt I missed out on some key years."
Along with legwarmers and the Rubik's Cube, Martin's suit is an instantly recognisable eighties image. He laughed: "People certainly remember that gold suit. Originally I wanted to get a mohair one and thought maybe I could get something shinier. It wasn't about copying Elvis who had worn one, it was about being in your face. You can't get much more in your face than a man wearing a gold lamé suit."