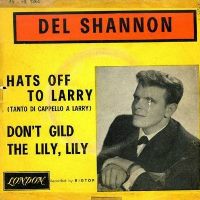 Two weeks ago, I lost my dearest best friend Larry Foster to that wretched COVID-19 virus. I'm still desperately sad and when this request came in from jukeboxdil I pushed it to the front of the queue. jukeboxdil was a regular attendee at one of Larry's music quizzes and they'd become friends. He had also become a regular at my Start of Year quiz so I got to know him too. He wrote, "As a little tribute to the Mad Hatter (one of Larry's early DJ names) would you consider doing Del Shannon's Hats off to Larry as single of the week soon – I've never asked before – so now so seems a good time." That song was also Larry's mobile ringtone. When I spoke to Larry's son Scott following the tragic news, he said, "That ringtone was so annoying. It was so loud and it used to drive us all mad. Now, I just want to hear it again."
Battle Creek, Michigan is affectionately known as the Cereal City USA as Kellogg's has its headquarters there. In 1959, the workers would unwind at the Hi-Lo club and listen to a 25-year-old Charles Westover fronting the resident band. "There was a guy in the club who wanted to be a wrestler called Mark Shannon," Del explained in an interview with my Number Ones book co-author, Spencer Leigh, "and I thought Shannon was a great name and borrowed it. Mark Shannon wasn't right though as it sounded like a detective. I was selling carpets by day and the guy who owned the store had a Cadillac DeVille, which was beautiful and so I became Del Shannon."
A modest man, Del never claimed he was doing anything original with his vocal, saying that it borrowed from The Ink Spots' We Three, Jimmy Jones' Handy Man, Bobby Darin's Dream Lover and Dion & The Belmonts' I Wonder Why.
His first hit was the multi-million selling Runaway and firmly established Del on the music scene. Hats off to Larry became the follow up in September 1961 and is a break-up song with sweet revenge. Just after Runaway had been a hit, Del was making his debut stage appearance at the Brooklyn Paramount Theatre in New York where he was sharing the bill with Dion Dimucci. They also shared a dressing room and as Del explained on his website, "I wrote Hats off to Larry in the dressing room that night with Dion and fellow rock 'n' roller Bobby Vee present."
Hats Off, which was solely written by Del, tells the story of his heartbreak when his girl goes off with another man. That is reflected in the slow one piano chord intro and Del telling that her name doesn't even matter now and how she went off with another guy who now, doesn't even look at her. But then the beat kicks in and suddenly it's upbeat because he's realised that the new man, Larry, has already dumped her and Del is happy to take her back but not until he's reminded her that Larry told her lies like she did to Del and it's her turn to cry, cry, cry when Larry said goodbye to her.
Shannon was signed to Big Top records in the States and like most record companies they think they know best. They were not too happy with the slow intro. They told Del that it should have been faster to hook the listener in earlier and seemly ignoring the song's sentiment. Del wrote it, he should know best. He said in an interview with Ted Yates, "I had to fight for about two hours to get that the way I wanted it. They didn't want to listen to me. I was just the singer." Thankfully, Del rightly got his way.
The song features a similar instrumental break to Runaway;  that familiar sound is an electronic keyboard called a Musitron and played by Max Crook. Max had auditioned for Del's band and brought his prototype synthesiser that could copy violins and other instruments. As soon as he heard it, Del said, "Man, you're hired." A music publisher, Ollie McLaughlin, was impressed with the group and asked Del and Max for original songs. Max wrote the instrumental, Mr. Lonely which appeared on the B-side of Johnny & The Hurricanes' 1961 hit, Ja-Da.
In January 1961 Del and Max and their wives, Shirley and Joann, went to New York and the two men recorded with session musicians. While they were recording, Shirley and Joann joined the audience of a TV show and Joann ended up as a winning contestant on Beat the Clock. Almost nine months to the day, Shirley gave birth to their daughter, whom they named Jody, after the B-side of Runaway and itself named after a girl who went to the Hi-Lo.
Anyone who has toured with Del Shannon knows he was full of obsessions – one day he was attacking sugar and the next day scooping down ice cream – and he went from one fad to another. His songs reflect his paranoia and he took his own life in 1990.
Larry Foster was my closest friend for 37 years. He had celebrated his 50th anniversary of DJing last year and was, by far, the world's best music programmer. Nobody, but nobody could touch him for his knowledge of how to read an audience. He just knew what to play as well how and when to play it. When an evening fell apart he could fix it quicker than anyone I know or will ever know and to that I take my hat off to Larry! RIP my dear friend.