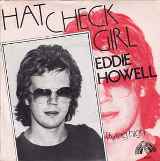 There was an expression many years ago called turntable hit. Some younger people reading this won't even know what a turntable is, but basically it describes a song that was played numerous times on the radio but failed to make the chart. It usually applies to national radio rather than local radio. One such song was called Hatcheck Girl by a singer called Eddie Howell.
When I was working at the BBC in the late seventies and early eighties, I received copious amount of vinyl and if something caught my ear I could get it some airplay in the hope of it being a hit. There were some that I succeeded in and was rewarded nicely, others, I tried, but did not make it to chart status. It happened to Eddie Howell twice firstly in 1976 when he recorded a song called Man from Manhattan despite having Queen connections as Freddie Mercury played piano on it and produced it and Brian May played guitar and provided backing vocals, but more about that later.
When a record plugger from Gem records gave me a copy of Hatcheck Girl in 1980, I loved it instantly and got it some airplay on both Peter Powell and Kid Jensen's show. They loved it too. Six years ago a woman wrote into Graham Norton's Radio Two show to request a song on his Tune With A Tale feature and it was Hatcheck Girl. Graham admitted he'd never heard of it and what's more, the BBC never had a copy in its library. Shameful! They had to download it and it a got an airing.
When this song came in as a request for Single of the Week, I set about trying to track Eddie down. Initially I had no luck, but by chance a friend of mine tracked him down on Facebook and Eddie gave his contact details and so I got to find out about the story behind the song.
When I made contact, I learned that Eddie was originally from the Midlands and was living in London, "I am a Birmingham lad though and through," he admitted prooudly, "I've noticed you don't see many Birmingham people in London and I have no idea why. I know it's the second city but you see many Mancunians, Liverpudlians and Welsh people, but not many Brummies."
Eddie is still making music and he told me, "We've just re-recorded Man from Manhattan with Mike Moran (who co-wrote and produced Barcelona). We've kept Brian's guitar and Freddie's vocals and I've done it because someone contacted me about doing it for Freddie's AIDS charity, the Mercury Phoenix Trust. I agreed and then we had to get the original multitrack from Warner's in Burbank, California where they've been since 1975, but we got them and we recorded it in the Czech Republic with a 17-piece brass section would you believe. It's going to be available through the fan club."
How come Freddie and Brian got involved? "I was doing a promotional gig one night at Thursday's club in Kensington," Eddie explained, "I had Jack Lancaster on saxophone and Robin Lumley on keyboards and Phil Collins on congas and during the set my manager, David Minns, walked in with a man that I thought looked like Freddie Mercury, then I realised it actually was Freddie. It was there that he first heard Man from Manhattan, which was a newly written song, I included in the set but it, wasn't on the album. After the gig, Freddie made a beeline for me and said, 'I love that song Man from Manhattan, can I produce it?' Then we all went down to The Elephant on the River to celebrate, in fact Kenny Everett and his wife were there too. I gave Freddie a two track guitar/vocal demo of the song and a couple of days later he called and said let's get going. Studio time was booked at Sarm East Studios and true to form, Freddie quickly took control of the sessions, he did lots of pre-production work on the song's structure and the harmony arrangements. He had a mini cassette recorder loaded with ideas for the track, backing vocals and answering phrases."
I asked him why he thought it wasn't a hit first time round, "We had great radio play and Top of the Pops lined up and then, all of a sudden, the musicians union mysteriously discovered that Jerome Rimson, the American bassist hired by Freddie for the sessions, had been working in Britain without a permit. This obliged them to place a ban on all further UK media exposure due to his 'illegally' recorded playing, a decision which effectively killed off the record."
So, onto Hatcheck Girl. "Well, there was a club I used to go to in Birmingham called The Cedar Club, I saw The Move there before they were famous, Jeff Lynne had a great band called The Idle Race and I just used to go up there and watch them and that's where I met the cloakroom girl. I remember her name, it was Melissa and I just used to watch here because she was so typical of the kind of girl who was doing a job and hanging around with the stars and the musicians in the hope of moving up to the big time. I changed cloakroom to hatcheck and obviously she was the catalyst of the song, but the rest of it was made up." I asked him how he came up with the club name, "Reno seemed to fit, it had to be a two syllable word and flow well, Cedar club wouldn't have worked. I toyed with the idea of Vegas, but that didn't flow too well either. I was thinking about a kind of Caesars Palace casino scenario, alluding to my fascination with the Mafia and the girl in the song would have been checking hats in that kind of club, mingling with the stars and the gangsters."
I heard a rumour at the time that Eddie had married the hatcheck girl, but that wasn't true, but as Eddie continued, "Funnily enough I did meet my wife at that club. She was Finnish and she came over from Finland and got a job as an au pair girl in Little Aston and we met at the club. But Melissa left before I met my wife (to be) and I admit I was a bit heartbroken."
Eddie admitted, "I like the song and I like the arrangement, but I always thought it was a bit heavy on the strings," I disagreed with him explaining that as a listener, when you hear a song you either like it or you don't. If it was done in a different way it may not have the same appeal. "This is why most artists have producers I think because the producer should have a totally objective view of the song. If you wrote it and you're singing it then you've got your own little ideas on how it should be, well that true's with me anyway."