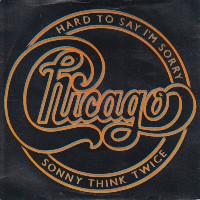 This week's suggestion is by a band that fall into the minority category of having success, and two resurgences each about six years apart and both times hitting the top five. How did they manage it? Let's find out.
Chicago formed back in 1967 originally as The Big Thing, but just about a year later their manager, James Guercio renamed them The Chicago Transit Authority. Guercio said, "I came up with the name because I grew up on the northwest side of Chicago and I had a hell of a time getting to school on a bus that was run by the Chicago Transit Authority." The name didn't last long either because, "I was not authorised to use that name and I hadn't copyrighted it," he explained. "I also hadn't paid them a royalty so we would've got sued if we'd just used CTA." It was David Geffen who was a long-time friend of Guercio's who convinced him to shorten it to Chicago.
They must hold the record for the most boring and un-inventive sequence of album titles. Their debut, in 1969, was called Chicago Transit Authority then, after the name change, their chronology was Chicago II – Chicago Twenty 1 in 1991. Interestingly most were in Roman numerals apart from Chicago 13 and then 16 – 19. There is no Chicago 9, 15 nor 20. The only side track is between Chicago 11 and Chicago 13 there was Hot Streets but no Chicago 12. The roman numerals made the occasional appearance again with the 2006 LP being called Chicago XXX and in 2014 we saw Now: Chicago XXXVI.
Their first two hit singles were I'm a Man and 25 Or 6 To 4 which both reached the top 10 in 1970 then came their first six year wait until they came back with If You Leave Me Now – a gooey Peter Cetera penned and sung song which the record label loved (well they would, it went to number one and made them a pile of money) and so they wanted more of the same but the band were not too keen on this. They followed it a year later with Baby, What A Big Surprise but that missed the top 40.
In 1978, the band's guitarist, Terry Kath accidentally shot himself to death while playing with a gun at a party, he was just 31. Later the same year, The band got a feeling that Guercio wasn't being straight with them and they parted company. Two years later their record label dropped them. Before long, they teamed with a new up and coming producer, David Foster and signed to the new fledgling Full Moon label which had a distributing deal with Warner Brothers.
The band's lead singer, Peter Cetera and Foster got together an wrote Hard To Say I'm Sorry, a song initially required for a film as Chicago's trumpeter, Lee Loughnane recalled, "The film was in the process of being created when we presented the song to them." The film was called Summer Lovers a story of a three-way love affair between one man and two women in the Greek Isles. It bombed.
The film may have flopped but the track didn't. Typical of a David Foster composition, this song has little in the way of verse but seemingly two choruses. There's the, 'Hold me now, it's hard for me to say I'm sorry' section as well as the, 'After all that we've been through, I will make it up to you'.
The premise of the song tells of the protagonist trying, in typical fashion, to hold on to a crumbling relationship caused by his indiscretions and then pleading with her to believe, 'all that we once had' type of saga. Simple answer, don't play around. but if he didn't there wouldn't be a good song to write about. If you think the theme is familiar, you're right. Think back three years prior, does the lyric, 'Somethin' happened along the way, what used to be happy was sad' ring a bell? Yes? Well it should. It's from a song with a similar story by Earth Wind and Fire called After the Love As Gone. Guess who co-wrote that? Yep, David Foster.
Foster, as good as he was, did upset some members of the band. Remember, these guys had played all their own jazz-fusion-rock music for nearly 15 years, but Foster decided to bring in three of his own musicians to play on this track, namely the Toto A-team – guitarist Steve Lukather, keyboard players David Paich and Steve Porcaro, but Foster knew exactly what sound he wanted and got it.
Hard to Say I'm Sorry went to number one on the Billboard Hot 100 singles chart and the AOR chart too. It also topped the charts in Italy, Ireland, Canada and Switzerland, in the UK it peaked at number four.
A couple of years later the band achieved their final UK top 10 hit with the similar tempo-ed Hard Habit to Break. Within a year, Cetera left for a solo career and had a big hit from another movie, this time from Karate Kid II and the song The Glory of Love went to number three in the UK. Cetera's final chart appearance came in 1997 when the American R&B group AZ Yet did a cover version of Hard To Say I'm Sorry and invited Cetera to sing a couple of lines and thus was credited as AZ Yet featuring Peter Cetera. Just to enhance and ensure its success it was remixed by David Foster.
The single version runs to three- and three-quarter minutes but the album version features an added horn section outro which was separately titled Get Away and composed by long-time band member Robert Lamm and last just over five minutes.